"In life sometimes, you have to choose the work as per the time and condition rather than your desire.
But, if you do not give up on the dream-profession, you are destined to make it up to there." This lesson is best taught by the mixed martial artist, Alex Oliveira AKA Cowboy.
Indeed, the boxer reached the highest peak in the UFC with his full-dedication.
If he were in his past job, then he would not have gained immense fame. Well, we will talk about his past in the article below.
Not only the fame but, the Cowboy has also achieved several honours and awards. His accomplishments include three times Performance Of The Night, two times Fight Of The Night, and more until now.
Alex's life, which is very secretive and out of the media, is full of mystery and more. To give you more closure about him, including family, net worth, wife, controversies, and more, the following article is presented.
Quick Facts
Full Name
Alex de Oliveira
Nick Name
Cowboy
Age
33 Years Old
Height
5 feet 11 inches (1.80m)
Weight
171 lbs (78 kg).
Horoscope
Pisces
Date Of Birth
February 21, 1988
Birth Place
Três Rios, Rio de Janeiro, Brazil
Religion
Not Available
Nationality
Brazilian
Ethnicity
Not Available
Hair Colour
Black
Eye Colour
Black
Skin Colour
Black
Marital Status
Married
Wife
Mariana Cassiano
Kids
More than ten children
Father's Name
Not Available
Mother's Name
Not Available
Siblings
Three brothers and four sisters; two brothers deceased in a violent crime
High School
Not Available
University
Not Available
Graduated Year
Not Available
Profession
Mixed Martial Artist
Years Active
2011- present
Division
Lightweight/Welterweight
Stance
Orthodox
Current Team
ATS
Former Team
Tata Fight Team (2013-2018)
Rank
Dark blue prajied in Muay Thai
Blue Belt in Brazilian Jiu-Jitsu
Accomplishment in the Ultimate Fighting Championship
Three times Performance of the Night.
Two times Fight of the Night
Net Worth
$1.5 million
Salary
$700k (As of 2019)
Social Media
Instagram
UFC Merch
Gloves, Punching Bag, Shorts
Last Update
October, 2021
Who Is Alex Oliveira Married To?
Contrary to his professional career, Alex's marriage and love-life are incredibly mysterious. Still, the news of him being married is suspicious as he has not given a rigid statement on any of his marriages.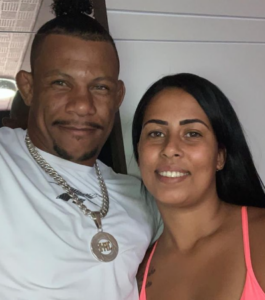 However, Alex commented on his estranged wife, Mariana Cassiano, in one of his interviews in March 2020. He told that the pair never separated anyway.
Also, the Cowboy said that she is the woman he is deeply in love with. Despite their controversial past, the two never separated.
Detail On Alex Oliveira Children And Other Affairs
Marissa is indeed the only woman in Alex's life, but the same cannot be said about his children. According to the different sources, Alex is the father to more than ten children from several relationships.
The names and other information regarding the children are missing at the moment. Moreover, the Cowboy became blessed with another child from Mariana Cassiano in late 2020.
Controversies
On 24th May 2019, Alex attended one of the parties, where he had got involved in a fight with a security guard.
At that time, the Cowboy was under the influence of drinks. As per the report, the MMA fighter threatened the guard.
Well, this is not his first assault that got out in public. Similarly, Alex made headlines for assaulting his ex-wife Mariana Cassiano in his hometown, Tres Rios on 26th May 2019.
According to some sources, the Cowboy punched her and even broke down their house's windows and doors.
Moreover, under the influence of alcohol, Oliveira insisted on riding a motorcycle while carrying his infant son.
Also, the infant was found at his sister's apartment later on. Despite the gravity of the incident, Marissa refrained from reporting to the police.
Likewise, the Cowboy was not seen until his must-win battle in early March 2020. When asked about the incident, he denied every accusation by saying,
"I'm a famous guy, so it's easy to come to me. But nobody knows the whole story. But we're together, yes, and she's pregnant again, thank God. We're very happy. Like a normal family. I'm happy because she's the woman I love.
Also, in that specific interview, Alex stated that they just had a usual fight like every couple. In conclusion, the blame on him dissolved within that time.
Similarly, Alex confessed that he is ashamed about the incident and how it affected his family. The 32-year-old also swore that he is a changed man and have learned from his mistakes.
Alex Oliveira | Age, Childhood, and Family
Alex, the renowned MMA fighter, was born Alex de Oliveira on 21 February 1988. His was raised in the city of Três Rios, Rio de Janeiro, Brazil. As of writing this article, he is 32 years old.
Also, being born in February, his zodiac sign is Pisces. And from what we know, this sign is known for being creative and skilled personal.
Family And Childhood
The Welterweight UFC fighter, Oliveira was born to an unnamed father and mother. Likewise, he has four sisters and had three brothers.
Just like his parents, even their names and information are missing from the public.
Get To Know The Personal Life Of Jimi Manuwa | Jimi Manuwa Bio: Wife, Career, Net Worth & Stats
Sadly, the fighter lost his two brothers due to a violent crime. Along with the loss of loved ones, some sources claim he had a hard time growing up.
As a matter of fact, Alex used to work as a construction worker and bull rider.
Alex Oliveira Body Measurements | Height and Weight
Moving onto Alex's physical measures, he has a pillaring height of 5 feet and 11 inches (1.80m). And his listed weight is 171 lb (78 kg).
Yet, the size of the chest, waist, and shoe is out of reach.
Nonetheless, there is no doubt that he has a robust physique, obtained from his well-maintained diet and exercise regime. His online pictures are evidence enough.
Alex Oliveira Ethnicity
The mixed martial artist is originally from Brazil. As a result, his nationality is Brazilian. However, the ethnicity of Alex is unknown.
Detail On Alex Oliveira Education
Up to this date, Alex has not revealed his educational background. There is not much information about his school and degrees.
So, the information on his education is not uncovered.
Alex Oliveira Net Worth | Salary and Career Earning
Alex is one of the top fighters, who has collected colossal money. As of early 2019, his net worth was about $700k. But, the Cowboy's fortune kept on expanding along with his professional career.
As per some reliable sources, Alex Oliveira has a net worth of $1.5 million in 2021.
Besides, the Cowboy earns a hefty salary per fight. For instance, he made about $500k from the Ultimate Fighting Champions match in 2015. The amount included endorsement earning as well.
Next Richest UFC Fighter | Felice Herrig Bio- MMA, UFC, Next Fight, Nationality & Net Worth >>
Similarly, Alex made $64k per fight in 2020. Also, he got a raise in sponsorship earning by $15k per row.
Unfortunate Grenade Encounter
It was the time of Christmas Eve and the year was 2018. Alex walked out of the house in his hometown to get gasoline for his mother's car.
While the Cowboy was on his way, some thugs threw the grenade over him, which injured his leg.
At the same time, his parents were in an altercation with the thugs who were heavily armed.
Furthermore, Alex had to undergo surgery to remove the grenade's fragments.
Alex Oliveira MMA
After training in Muay Thai for a couple of years, Alex made his entry into the Mixed martial artist at 22.
He fought for the first time in the welterweight division in December 2011. Oliveira was into the MMA until UFC signed him in 2015.
UFC Career Highlights
The Cowboy made his UFC debut on 21st March 2015 against Gilbert Burns at UFC Fight Night 62. But, he lost it in the third round via submission.
Again, Alex battled against the K.J. Noons on 30th May 2015 at UFC Fight Night 67. And the Cowboy got his first UFC victory.
Plus, his success continued in his third row, though Alex competed for almost three months.
Then, the Cowboy fought in opposition to Piotr Hallmann in a lightweight bout at UFC Fight Night 77 on 7th November of 2015.
After reaching in the third round, he knocked down the opponent. Not only did Alex win the match but also achieved his first Performance of the Night bonus award.
Likewise, the Cowboy has fought against fierce fighters like Piotr Hallmann, Donald Cerrone, James Moontasri, Will Brooks, Tim Means, Ryan LaFlare, Gunnar Nelson, Nicolas Dalby, and several others until now.
Similarly, Alex will face Randy Brown on 27th February 2021 at the UFC Fight Night 188.
Alex Oliviera Vs Shavkat Rakhmonov
To date, the Cowboy has competed against numerous fighters in the Ultimate Fighting Championship, and every match has become the highlight of his career.
In the same way, on 24th October 2020, he fought with the opponent Shavkat Rakhmonov at the event, UFC 254 in Abu Dhabi, United Arab Emirates.
As expected the fight was the highlight of the championship this year, and many people talked about it.
Do you know that many social sites, including YouTube, began predicting the scheduled battles?
Eventually, the most awaited fight between Alex and Shavkat took place on a specific date. Both of them were having a fierce riot against each other from the first round already.
But, when the time exceeded not more than 4 minutes and 40 seconds, Shavkat used his arms around the Cowboy's neck similar to a guillotine. As a result, Alex lost his match in opposition to Rakhmonov.
Social Media Presence
Instagram: alexcowboyofficial
Exciting Facts About Alex Oliveira
Oliviera's reach is 76 inches (193cm).
Similarly, Alex's fighting style includes Muay Thai and Brazilian Jiu-Jitsu.
Oliveira has a black belt in Brazilian Jiu-Jitsu. Plus, Alex holds the dark blue prajied in Muay Thai.
Alex's nickname is Cowboy. He received the name because of his old job as a Rodeo Bullrider.
His trainer is André Tadeu.
As of writing the article, Alex has about 124k followers on his official Instagram account. And he has shared about 1.2k posts, including videos and photos.
In 2017, Alex faced the opponent Yancy Medeiros. They two had a furious fight in which Yancy won. However, the Cowboy earned his first 'Fight Of The Year' from the news channel ESPN.
Also, Alex has won 22 MMA fights in a total of 34.
Common Queries About Alex Oliveira
What is Alex Oliveira's net worth?
Alex Oliveira has a net worth of $1.5 million as of now.
What is the nickname of Alex Oliveira?
Alex's nickname is Cowboy.
How many children does Alex Oliveira have?
As per the report from many online sources, the UFC fighter, Alex is a father to more than ten children.