If you are debating who the current best young head coach might be in the NBA, James Borrego has got to be in the conversation.
The reason is that the 43-year-old nearly led the Hornets to the playoffs in just his first entire season.
Although James is in his first job as a head coach, he has been involved in the NBA since 2003 in various roles for organizations such as San Antonio Spurs, Orlando Magic, and New Orleans Hornets (now New Orleans Pelicans).
Thus, it is fair to say that Borrego is a veteran of the league with 17 years of experience.
And that is the main reason for our article, to tell our dear readers about Borrega's early life to his present days in the NBA and all that happened.
We will also inform you about his net worth, salary, age, family, and social media.
Quick Facts
| | |
| --- | --- |
| Full Name | James Borrego |
| Birth Date | November 12, 1977 |
| Birth Place | Albuquerque, New Mexico, U.S.A |
| Nick Name | Not available |
| Religion | Not available |
| Nationality | American |
| Ethnicity | Latin-American |
| Education | University of San Diego |
| Horoscope | Capricon |
| Father's Name | James Borrego Sr. |
| Mother's Name | Lydia Borrego |
| Siblings | Jessica Borrego |
| Age | 45 years old |
| Height | 6'5″ (1.98 m) |
| Weight | Not available |
| Shoe Size | Not available |
| Hair Color | Black |
| Eye Color | Black |
| Body Measurement | Not available |
| Build | Lean |
| Married | Yes |
| Girlfriends | No |
| Spouse | Megan Borrego |
| Profession | Basketball (NBA) |
| Position | Headcoach |
| Net Worth | $3 million |
| Clubs | Charlotte Hornets (Current), San Antonio Spurs, Orlando Magic, New Orleans Heat (Former) |
| Years Active | 2003- |
| Social Media | Instagram |
| Shoes | Not available |
| Last Update | June, 2023 |
James Borrego: Early Life & College
James Borrego was born to his parents, James Borrego Sr. and Lydia Borrego, on November 12, 1977, in Albuquerque, New Mexico.
Likewise, young Borrego grew up alongside his sister Jessica Borrego with whom he still shares a strong bond.
Unfortunately, we could not find further details regarding James' childhood. It seems like the 43-year-old has managed to keep his early years private.
Nonetheless, we found out that Borrego attended Albuquerque Academy and then enrolled at the University of San Diego.
Furthermore, during his time in San Diego, Borrego played on the college basketball team as a forward. The 42-year-old was even named to the West Coast Conference All-Academic Team.
James Borrego: Career
Although Borrego was a good player during his college years, deep down inside, James knew he was not good enough to play in the NBA. Thus, the New Mexico native decided to take his talents to the coaching department of basketball.
In his first job, James took the assistant coach's role with his alma mater, the University of San Diego, from 2001 to 2003. Furthermore, the 43-year-old had some memorable moments with San Diego Toreros during his three-year stay.
The team won the West Coast Conference Championship and consequently earned a trip to the prestigious NCCA tournament in the 2002-03 season.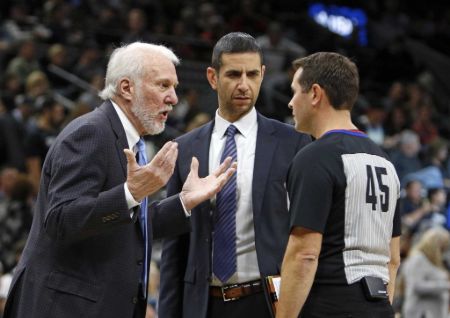 Following his impressive tenure with the Toreros, Borrego got the opportunity of his life as he got the chance to work under one of the greatest coaches in basketball history, Greg Popovich.
Although James started as an assistant video coordinator, he quickly gained Popovich's trust and earned a promotion to assistant coach.
After that, the New Mexico native stayed with the San Antonio Spurs for seven years, winning two championships in 2005 and 2007.
However, at the end of the 2009-10 campaign, James decided that a change in the surrounding was needed.
Hence, Borrego decided to move to the New Orleans Hornets (now New Orleans Pelicans), and Spurs' assistant Monty Williams took the head coach role.
Subsequently, the duo's stay together lasted only two years as James decided to leave the job in 2012.
At that time, the reason for his departure was not made public. However, it later turned out that Borrega had been offered the lead assistant job at Orlando Magic.
Subsequently, he took the job and, after a while, got the most significant break of his career.
Call it fate or call it a chance, James got the opportunity to become the head coach of Orlando Magic, albeit for a short period of time when then-head coach James Vaugh got fired.
Nonetheless, the New Mexico native won his first game against the world-renowned Los Angeles Lakers. Thereafter, Borrega guided the team to a respectable finish and left at the end of the season.
Soon after leaving, it was announced that James had signed with San Antonio Spurs as their assistant coach.
Subsequently, the 42-year-old relished the chance to work with his first mentor in NBA, Popovich, with whom he learned a lot.
After that, he enjoyed three relatively successful years with the Spurs, but Borrego was never really satisfied as he wanted to be the man calling all the shots.
Then, on May 10, 2018, James got the ultimate job he had worked for 15 long years, the Charlotte Hornets head coach.
Added to that, the contract was a four-year deal, unlike his last stint with the Magic. Thus, upon signing with the Hornets, James also became the first Latino head coach in the NBA's 72-year-long history.
Subsequently, in his first year with the Hornets, Borrego nearly managed to take them to the playoffs.
Furthermore, the Charlotte-based franchise only missed the playoff spot by two games. Nevertheless, there were many good moments for Borrego and Charlotte Hornets to take into the next season.
Talking about his current 2019-20 season, the Hornets sit in the 10th spot in the Eastern Conference standings. However, due to the world pandemic of Corona Virus (COVID-19), the NBA has been postponed until further notice.
In conclusion, we would like to wish the Charlotte Hornets franchise good health and hope they stay virus-free.
Furthermore, whenever NBA resumes, we have full confidence that James will lead his team to better performances than pre-virus.
James Borrego: Lamelo Ball and Michael Jordan
Borrego has been a while part of the team. As a coach, he has flourished himself and also helps Lamelo Ball to thrive on his own. Also, working under Michael Jordan, he has been packed full of energy.
As per him, Lamelo has been doing great in his rehabilitation process ever since his surgery not so long ago.
Indeed, his wrist injury bought a set of disappointment; however, James has been all concerned with him intending to make him a strong player.
As a worker alongside Michael Jordan, he takes him as his internal drive. Moreover, he understands the hard work and effort put into it.
James Borrego: Age, Height & Nationality
Having been born in the year 1977 makes James 43 years old currently. Likewise, Borrego was born on November 12, which makes his horoscope Scorpio. Moreover, Borrego was born in Albuquerque, New Mexico, which makes him American by nationality.
Furthermore, James stands at 6 feet 5 inches (1.98 meters), making him stand out from most other coaches.
As a result, the New Mexico native is also one of the most well-known figures in the game. Besides, Borrego used his height during his college days, playing as a forward for the San Diego Toreros.
James Borrego: Net Worth & Salary
As of 2021, Borrego has a net worth of $3 million accrued mainly through his NBA coaching career. Likewise, he has been involved in the NBA for almost 17 years. Thus, his net worth should not surprise anyone.
Furthermore, James earns a yearly salary of $2 million with Charlotte Hornets as their head coach.
Although this is his first-ever job as a head coach, Borrego worked as an assistant for 15 years before landing the job. Moreover, the New Mexico native is one of the brightest young coaches in the NBA currently.
James Borrego: Contract
Talking about his contract, James landed the head coach job back in 2018 after reaching an agreement with the Hornets over a four-year deal. Since then, he has somewhat stopped the decline of the franchise.
James Borrego: Wife & Kids
James Borrego is happily married to his wife, Megan Borrego, with the couple being blessed with three children.
But we could not find the exact date of the pair's wedding day. Nonetheless, through hours of hard work, we were able to find the three kids' names.
For example, the two lovers have one daughter, Grace Borrego, and two sons, Nicholas Borrego and Zachary Borrego.
Moreover, the family of five is living a prosperous life with Megan and her kids, often visiting the Hornets games during their free time.
Social Media Presence
Charlotte Hornets Instagram: 1.2 million followers