Teresa Lourenco is famous as the former wife of Richard Jefferson, a known American basketball player and sports commentator who played professional basketball for eighteen years.
After his retirement, he became a sports analyst on YES Network in 2018. Jefferson works for ESPN, Fox Sports 1, and the Pac-12 Network.
As of 2023, Jefferson is engaged with his podcast 'Road Trippin,' which he runs with his two other co-hosts, Allie Clifton & Channing Frye.
Jefferson was married to model Teresa Lourenco in the past, but it was a short-lived romance.
The two folks have moved on with their lives. But people are still curious about the brown-haired beauty that won Jefferson's heart.
You might remember Lourenco from a Lenny Kravitz music video for the song Again. It came out in 2000, and every Kravitz fan was intrigued by her.
Please stick till the end for more intriguing details about Teresa.
Quick Facts
| | |
| --- | --- |
| Full Name | Teresa Cija Lourenco Antebi |
| Nick Name | Teresa |
| Date Of Birth | January 25, 1981 |
| Birth Place | Trinidad, Trinidad Tobago |
| Residence | New York City, New York |
| Age | 42 Years Old |
| Gender | Female |
| Sexual Orientation | Straight |
| Height | 5'10″/1.78 m/178 cm |
| Weight | 50 kg/110 lb |
| Shoe Size | 9 (U.S.) |
| High School | Not Available |
| University Name | Not Available |
| Zodiac Sign | Aquarius |
| Religion | Hinduism |
| Nationality | Trinidadian |
| Ethnicity | East-Indian, Trinidadian |
| Father's Name | Kevin Joseph Lourenco |
| Mother's Name | Vinnie Samday Bastiansen |
| Siblings | Eleven |
| Hair Colour | Dark Brown |
| Eye Colour | Brown |
| Skin Colour | Brown |
| Marital Status | Married |
| Partner | Marcus Antebi |
| Kids | Zaria, Lion, Nova Shakti |
| Former Partner | Richard Jefferson |
| Profession | Model |
| Net Worth | $1 Million – $5 Million |
| Salary | $100k – $150k |
| Social Media | Instagram |
| Merch | ELLE Magazine (Cover), Richard's Autographed Jersey |
| Last Update | November 2023 |
Early Life, Family & Education
Teresa Cija Lourenco was born in Trinidad and Tobago on January 25, 1981. She is the daughter of Vinni Samday Bastiansen and Kevin Joseph Lourenco.
Lourenco has a brother named Kevin John Paul Lourence. Likewise, she has eight stepsisters and two stepbrothers.
She moved to Hamburg, Germany, with her mother in 1994. Teresa and her mother shared an incredible bond; they were there for each other during difficult times.
Moreover, Lourenco was still in high school when she began modeling. Hence, she would fly to Paris with her mother to shoot editorials and walk runways.
It was very tiring for her to balance school and her modeling career. But her mother was there with her in those difficult moments.
Career
Teresa Lourenco is a professional model and was discovered by a modeling scout at fourteen.
In 1996, Lourenco won the Les trophées de la Mode for Best New Face. She was only sixteen, so it helped her gain much recognition.
She signed with Mega Model Agency in Hamburg, Germany, then moved to Paris. Lourenco walked her first Dior show in 1995. Moreover, she received an International Design Award for the best new-generation model.
Lourenco modeled for renowned fashion brands like Victoria's Secret, Christian Dior, and Ralph Lauren. Likewise, she worked with designers like Tommy Hilfiger and Valentino.
During the peak of her career, Lourenco was featured in many popular fashion magazines. Similarly, she appeared in Vogue, Elle, Harper's Bazaar, Cosmopolitan, etc.
In 2010, Lourenco signed a contract with Expecting Models Inc. Meanwhile, she modeled for Motherhood Maternity, Thyme Maternity, and other similar companies.
Currently, Teresa Lourenco works with the Iconic focus modeling agency.
Marriage & Kids
Lourenco and Marcus Antebi started dating in 2016. However, they had been friends for ten years.
Antebi is a businessman and dietician. He is the founder of Juice Press, a company that sells plant-based food like smoothies, shakes, soups, salads, etc. In addition, he is the host of the Good Sugar Podcast.
Teresa and Marcus got along well since they lived a similar lifestyle. The couple got married on October 22, 2017, and their wedding occurred in Tulum, Mexico.
Moreover, Teresa had two children from her previous relationship.
Her elder daughter, Zaria, was born on June 20, 2010. Lion, her second child, was born on September 14, 2014.
After three years of marriage, Teresa and Marcus welcomed their daughter. Nova Shakti was born on April 16, 2021.
Past Relationships
It is unclear when she started seeing Richard Jefferson. They were most likely together during the beginning of Jefferson's NBA career.
Lourenco and Jefferson were very private about their relationship. However, they did make a few public appearances together.
After their separation, Lourenco dated model Anderson Noel. They had two children together.
Teresa and Anderson were together for more than seven years. They broke up in 2015 but remain on good terms.
The estranged couple shares custody of their children. Also, Zaira and Lion split their week between their mother's and father's places.
Spirituality
Lourenco is very spiritual, practices yoga daily, and has encouraged her children to live the same way.
Lourenco follows her spiritual lifestyle with a plant-based diet. Therefore, she loves to eat organic raw vegetables and smoothie bowls.
Her husband, Marcus, shares her passion for yoga and healing. So, they often visit the pilgrimage sites in India for their spiritual growth.
Teresa's mother followed the Hindu religion. Therefore, her mother's teachings had a significant influence on her.
Richard Jefereson
Richard Allen Jefferson was born in Los Angeles on June 21, 1980. His parents, Meekness LeCato and Richard Jefferson Sr. were Christian missionaries. Therefore, they moved from one place to another quite often.
Jefferson went to Moon Valley High School in Phoenix. He led his high school basketball team to the 4A State Championship win in 1998 during his senior year.
He attended the University of Arizona in 1998. Jefferson was a part of the basketball team, the Arizona Wildcats.
In the 2001 NBA Draft, the Houston Rockets selected him in the first round. They traded him to the New Jersey Nets before his first season.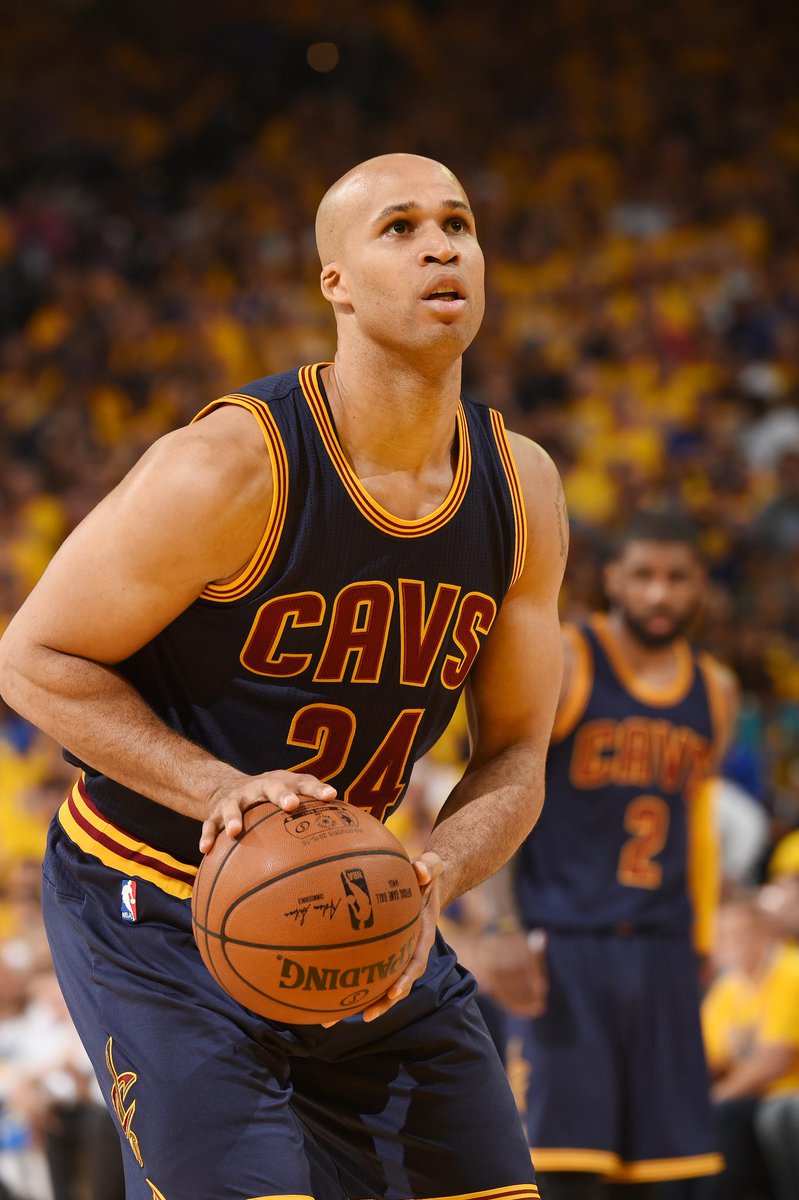 He played the small forward position, and his mid-range and long-range shooting skills were remarkable. As a result, he won the NBA All-Rookie Second Team with the Nets in 2002.
After seven seasons, the Nets traded him to the Milwaukee Bucks in June 2008. But he only played with the Bucks for a year. Then, in 2009, he was traded to San Antonio Spurs.
On March 10, 2012, he got inducted into the Pac-12 Basketball Hall of Honor.
In August 2015, he signed with the Cleveland Cavaliers and was part of the team when they won the NBA Championship in 2016.
Jefferson played his final NBA season with the Denver Nuggets in October 2017. After that, he officially retired in 2018 and became a sports analyst.
Moreover, Jefferson is now engaged in his podcast with two other co-hosts, Allie Clifton & Channing Frye; 'Road Trippin' is the premier podcast for entertaining and insightful NBA stories told directly by your favorite players.
In the most recent 2023 episode of 'Road Trippin,' Richard Jefferson had a heated argument with his co-host Channing Frye over Giannis Antetokounmpo & Nikola Jokic's comparison.
Net Worth
In the United States, a professional model makes around $100-$150k annually. However, this is the average salary of a model.
Lourenco's estimated net worth is $1- $5 million as of November 2023.
Lourenco was highly popular in the late 90s. She walked runways and appeared in famous magazines all the time.
She still collaborates with different fashion companies. Lourenco also endorses yoga studios on her social media. Therefore, there is no doubt makes a good earning is a model.
Recently with her kids, Teresa modeled for Gap on the issue of public breastfeeding.
Social Media
Teresa Lourenco is active on Instagram. She shares bits and pieces of her life on the platform.
Likewise, Lourenco loves to share pictures of her children and husband.
As a yogini, she also likes to share her spiritual lifestyle with her followers.
Instagram: 6.6k followers
View this post on Instagram
Frequently Asked Questions (FAQS)
Is Richard Jefferson married?
After separating with Teresa Lourenco, Jefferson is currently single.
Where is Richard Jefferson now?
Richard Jefferson's playing career ended in 2018. Currently, he works as a sports commentator. He is also a well-known basketball analyst on ESPN.