Football coach Nick Sirianni is the son of former high school football head coach Fran Sirianni. Learning from their father, all three of his sons, including Nick's brother, Mike, pursued a coaching career.
Nick and his brothers began playing football early in their lives and later played Division III college football for the Mount Union Purple Raiders.
While Mike is currently a head coach at Washington & Jefferson College, Nick's other brother, Jay, coached at Southwestern Central High School for many years.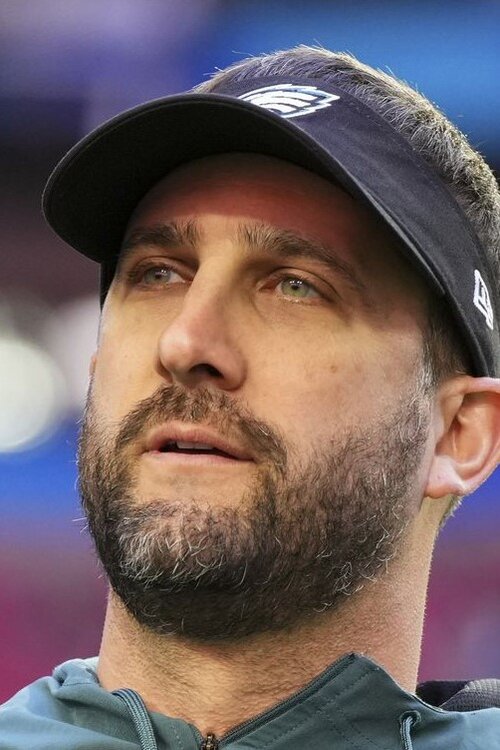 Nicholas John Sirianni, better known as Nick Sirianni, is an American professional football coach who currently works as a head coach of the Philadelphia Eagles of the NFL.
A native of New York, Nick attended Southwestern Central High School, where he played football as a wide receiver under his dad, Fran, who was his head coach there.
Following his graduation, Sirianni moved to Alliance, Ohio, where he joined the University of Mount Union, where he won three national championships consecutively in 2000, 2001, and 2002.
Nick Sirianni graduated with a degree in Education from Mount Union in 2003. Although he played professional indoor football for a year, he started his coaching career just two years after college.
Nick Sirianni Brother: Mike And Jay Sirianni
The Eagles head coach was born to his parents, Francis and Amy Sirianni, on June 15, 1981, in Jamestown, New York. Besides him, his parents had two older sons, Mike and Jay Sirianni.
Nick's dad, Francis, was the son of Italian immigrant parents and was raised in Pennsylvania. He attended Clarion University, where he played college football as a defensive back. However, he did not turn professional.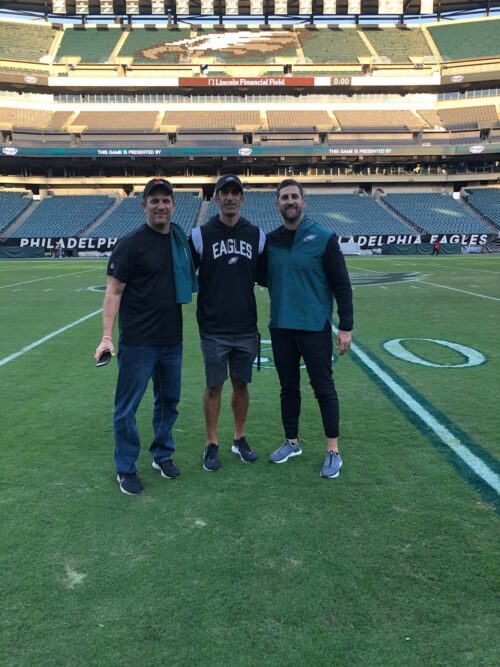 Following college, he shifted to New York, where he started coaching football. In 1976, Fran joined the Southwestern Centra HS as their football coach.
Growing up, all three kids played high school football under his guidance. His middle child, Jay, was more into basketball, even though he played as a quarterback for their varsity team.
After graduating, he followed his older brother, Mike, at Mount Union, where he played collegiate basketball for three years before leaving it in his senior year because of injuries. However, he served as the backup QB for the Raiders that year.
Jay later coached football at the Southwestern Central for around 12 years but now teaches track and basketball to middle school kids, aside from assisting his wife with the high school's girl's basketball team.
Nick Sirianni Brother | Mike Sirianni Is A Coaching Phenom
Nick's oldest brother, Mike, was born on March 22, 1972, in Jamestown, New York. He played high school football at Southwestern Central HS before moving to Mount Union.
He was part of the Purple Raiders team that won the 1993 national championship. Besides, he was equally involved in track games for his college team, becoming conference triple jump champion four times.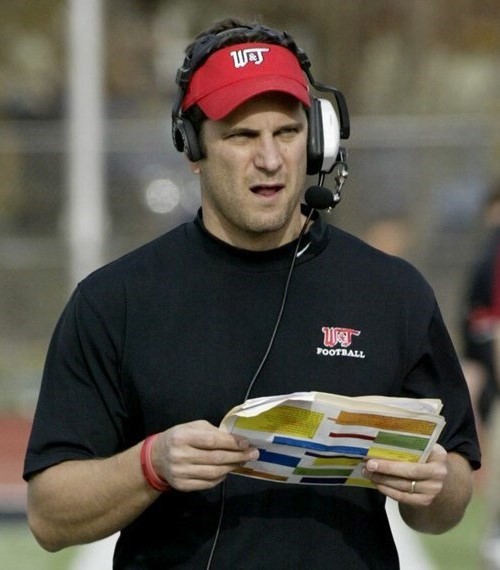 Mike started his coaching career in 1996 as an assistant coach at Mount Union.
He joined the Washington & Jefferson College football coaching staff in 1999, where he has been serving as a head coach since 2003.
A veteran in his field, Mike has been hailed as a coaching phenom in college football.
Sirianni's winning percentage of .807, with a record of 176- 42, is among the best stats among the NCAA football coaches, making him one of the best college coaches in the States.
He currently lives with his wife, Jennifer, and two daughters, Jenna and Jordan, in Hopewell, Pennsylvania. His daughter, Jenna, is a track and field athlete at Baldwin Wallace University.