Adam Mokoka is a French professional basketball player who currently plays for the Oklahoma City Blue of the NBA G League.
Talent has no specific jurisdiction. You can fly as high as you wish to and jump with no restrictions.
Adam Mokoka, a French national, is currently shining bright in the United States and throughout the globe among basketball enthusiasts.
He was previously associated with the Chicago Bulls of the NBA. Likewise, he also had a two-way contract with the Windy City Bulls, an NBA G League affiliate of the Chicago Bulls.
After that, he played for the Austin Spurs, an NBA G League affiliate of the San Antonio Spurs.
Today, we will dive deep into the personal and professional life of Adam Mokoka without excluding anything worth mentioning. Let's get started!
Quick Facts
Full Name
Adam Mokoka
Birthdate
July 18, 1998
Birthplace
Paris, France
Nationality
French
Horoscope
Cancer
Age
24 Years Old
Father's Name
Not Known
Mother's Name
Not Known
Sibling
A Sister
Sister's Name
Yelena Mokoka
Marital S
Unmarried
Relationship Status
Not Known
Height
6 feet 4 inches/1.93 m/193 cm
Weight
86 kg/190 lbs
Body Type
Athletic
Eye Color
Black
Hair Color
Dark Brown
Profession
Basketball Player
Position
Shooting Guard
Teams

Chicago Bulls of NBA (2019-2021)
Windy City Bulls of NBA G League (2019-2020)
Austin Spurs of the NBA G League (2021)
Nanterre 92 of the Pro A (2021-2022)
Oklahoma City Blue of the NBA G League (2022-Present)

Jersey Number
95
NBA Debut
2019
Past Affiliations

BCM Gravelines-Dunkerque (2015-2018) (France-based)
Mega Bemax (2018-2019) (Serbia-based)

National Team
French
Career Highlights And Awards
Pro A Best Young Player (2018)
Net worth
Around $1-$ 5 Million
Social Media Presence
Instagram, Twitter
Last Update
April 2023
Early Life & Family
Adam Mokoka was born in Paris, France, on July 18, 1998. Unfortunately, much information about his parents and other family members is not out yet.
However, it is believed that his family tree can be traced back to the Republic of Congo.
Adam grew up with a sister, Yelena Mokoka. In fact, he is not the only one in sports in the family, as Yelena is also an athlete.
He was raised in Paris playing soccer but switched to basketball at the age of 11. He remembers playing basketball on one side while people played soccer on the other.
Mokoka went to northern France to play in the Gravelines-Dunkerque youth academy when he was just 14. He stayed there for almost five years and played in Serbia for a year.
Along with playing basketball dedicatedly, he went to school till 16. But when he turned 17, he chose the other path to pursue basketball as a full-timer.
Promising Career & Family Support
Mokoka left home to pursue his love of basketball. He started playing for one of the top men's professional French basketball teams at the early age of 17.
Again, he dreamed high and, in fact, achieved a bulk of it very early, but his mother didn't like the path he chose.
However, she let her go so that he would work hard to accomplish his goal.
Mokoka remembers starting on a fun note, enjoying and cherishing the moments for the first three years before switching to a professional player.
He was incredibly proud and happy to be on the court as a professional. Hence, he knew that he had to work even harder so that he could be even better.
Adam remembers competing against players from other countries in under-16 and under-18 championships and then knitting the NBA dream. He told himself that if they could compete in the NBA, then I could too.
Physical Appearance
Likely for a basketball player, Mokoka stands 6 feet and 4 inches (1.93 m) tall and weighs around 193 lbs (86 kg).
Mokoka follows a strict routine when it comes to staying fit, like most NBA players. He has an amazing athletic body, which he sometimes flaunts on Instagram.
Basketball Career
Mokoka has always been on the defensive and strives for the better. He has called defense his strength ever since he started.
Inside or outside, he always receives good comments for his defensive skills. The coaches usually praise him, asking him to work even harder on his defense so that he could shine even brighter on the court.
National Team Career
Adam represented the French national men's basketball team in the under-16 and under-18 European championships.
In fact, he played for the gold-winning French basketball teams at 2014 under-18 and 2016 under-18 European Championships.
Similarly, he represented France in the 2017 FIBA Under-19 Basketball World Cup, averaging 6.4 points a contest in the championship.
Professional Basketball Career
Mokoka started his professional basketball career playing for the Basket Club Maritime (BCM), a French basketball club.
He represented the French top-flight Pro A team during the 2015–16 seasons.
NBA
Adam first applied for the 2018 NBA draft. However, he took his name out and instead went to Serbia and played for the Serbian club Mega Bemax.
He again went into the draft in 2019 with no plans to move out. However, he was not drafted.
Nonetheless, the Chicago Bulls had noticed him play in Serbia and brought him to play in the summer league. He then signed a two-way contract with the Chicago Bulls on July 2, 2019.
G League
The Chicago Bulls G-League affiliate team, Windy City Bulls, elected not to participate in the G-League's bubble season in Orlando.
Hence, Mokoka played as the shooting guard for the Austin Spurs of the NBA G League following a two-way flex transfer on 27 February 2021.
Mokoka returned to the French league when Nanterre 92 signed him on November 25, 2021.
He was signed by the Oklahoma City Thunder on October 12, 2022, but released three days later.
Finally, Adam was added to Oklahoma City Blue's opening night roster on November 3, 2022.
Career Stats
| | | | | | | | | | | |
| --- | --- | --- | --- | --- | --- | --- | --- | --- | --- | --- |
| Year | G | PTS | TRB | AST | FG% | FG3% | FT% | eFG% | PER | WS |
| Career | 25 | 1.9 | 0.6 | 0.4 | 40.4 | 28.0 | 40.0 | 47.9 | 6.2 | 0.0 |
How Good is Adam Mokoka?
Mokoka has a body rightly made for the NBA. He had 3-and-D potential; added to that, he always seemed energetic in the field and had a big and strong torso.
His wingspan is measured at 6-10 feet. Similarly, he is very good with leaps, either with both feet or with one foot.
When it comes to defense, Adam is the man as he does the job rightly. Similarly, he is good at dunking. In fact, he can play above the rim.
Likewise, he is a good passer and has improved a lot compared to when he first started. He is also a good rebounder for a guard on both ends of the court.
To conclude, Mokoka is a great athlete with natural athletic instincts.
Jersey
Previously, Mokoka used to wear jersey number 20 for the Chicago Bulls of the NBA. Here's a picture of him wearing his Bulls jersey.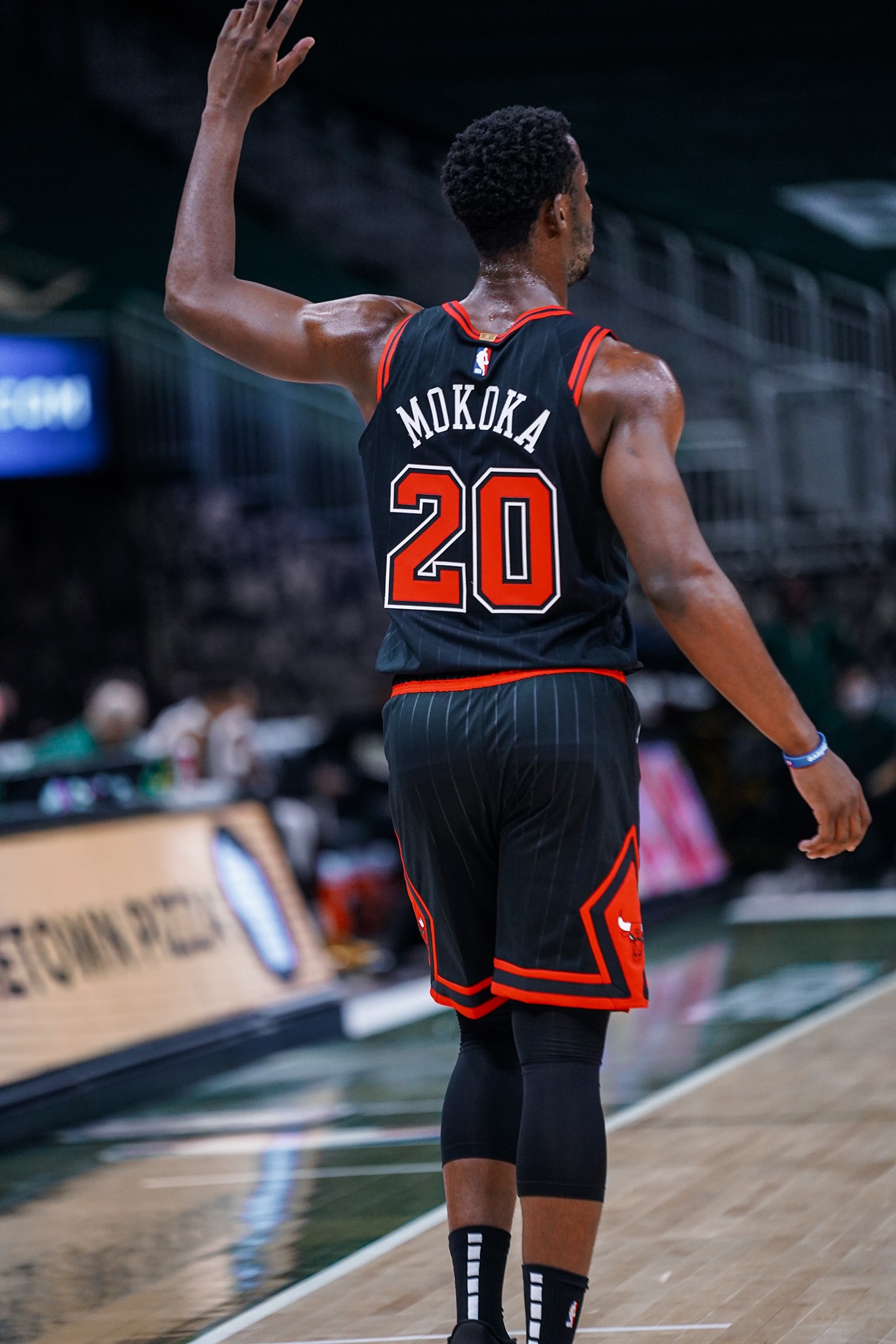 Right now, he wears jersey number 95 from the Oklahoma City Blue.
Relationship Status
Mokoka seems to be single from what he shows on social media. He is private and has not displayed his love life online yet.
Since he is not married, we can assume that he is single. If it is so, he is hands down one of the most eligible bachelors in the town.
But right now, he mostly seems to be focused on building his career and getting back into the NBA.
Career Earnings & Net Worth
Mokoka has been in the NBA for just a few years but still has much to grow. However, he has already accumulated quite a fortune from his career.
Adam Mokoka's net worth is estimated to be between $1-$5 Million.
He received a salary of $79,568 in the 2019-2020 season, followed by $449,115 in the 2020-2021 season from Chicago Bulls.
He earns more than enough to live lavishly on his own in his early 20s, which is commendable. We wish him all the luck so that he receives bigger victories in the coming days.
Social Media Presence
Mokoka seems to be a reserved and private person. However, you cannot hide from the world after entering the NBA.
Mokoka occasionally posts pictures of himself on his social media handle.
Instagram: 1.1K Followers
Twitter: 407 Followers
Popularity Graph
The up-and-coming basketball player is famous, and many NBA fans are searching for his information online.
The line graph demonstrates his search interest in the last 12 months.
Frequently Asked Questions (FAQS)
How much is Adam Mokoka's wingspan?
Adam Mokoka's wingspan is measured at 6-10 feet.
What record did Adam Mokoka set?
In a game against the New Orleans Pelicans, the former Bulls' shooting guard made 15 points in his five-minute playing time with 3/3 twos and 3/3 threes. Moreover, no NBA player has ever recorded 15 or more points in less than five minutes in a single match. Hence, the rookie set a record that will go down in franchise history.
Who is Adam Mokoka?
Adam Mokoka is a French national and a basketball player who currently plays for the Oklahoma City Blue of the NBA G League.