Alan Karaev is a former sumo wrestler, arm wrestler, and mixed martial artist from Russia. He is famous for winning multiple world championships and his massive muscular body.
The former wrestler was born in 1977 in North Ossetia of Russia in indigenous Digor heritage. He was a heavy child and outgrew everyone he knew by the time he was 17.
His massive body encouraged him to try arm wrestling and, eventually, sumo wrestling.
Besides that, Karaev has also participated in few fights in M.M.A. Likewise, he is a seven times world champion of arm wrestling and has multiple championships in sumo.
At present, the sumo champion is a famous figure in Russia as well as in Japan. Since 2012, he has been living a retired life with his family and kids.
In 2016, he was elected as president of the sumo wrestling federation of Russia.
In this article, we will explore his personal life and career achievement. But, before that, here are some interesting quick facts!
Alan Karaev | Quick Facts
| | |
| --- | --- |
| Full Name | Alan Taymurazovich Karaev |
| Native Name | Алан Таймуразович Караев |
| Common Name | Alan Karaev |
| Nick Name | N/A |
| Birthdate | May 19, 1977 |
| Age | 46 years old |
| Zodiac Sign | Taurus |
| Mother's Name | N/A |
| Father's Name | N/A |
| Siblings | One Sister |
| Birthplace | Digora, North Ossetia, Russia |
| Home Town | Digora, North Ossetia |
| Citizenship | Russian |
| Residence | Vladikavkaz, North Ossetia |
| Religion | Christianity |
| Ethnicity | White |
| School | N/A |
| College | North Ossetian State University |
| Education | commodity science |
| Height | 6 ft 7 in (2.01 m) |
| Weight | 403 lb (183 kg) |
| Eye Colour | Black |
| Hair Colour | Black |
| Shoe Size | 52 Russian size |
| Martial Status | Married |
| Wife | N/A |
| Ex-Wife | None |
| Children | Three: Two daughters & a son |
| Profession | Former Arm Wrestler, Sumo Wrestler, M.M.A. fighter |
| Starting playing | 1994 |
| Team | RINGS Russia |
| Championships | 7 arm wrestling world championship |
| Total Fights | Mixed Martial Arts (5 fights, 2 wins) |
| Status | Retired |
| Retirement | 2012 |
| Net Worth | $1 million |
| Affiliated with | Russian Sumo Wrestling Federation |
| Social Media | Wikipedia |
| Website | No |
| Merch | M.M.A. shirts |
| Last-Update | December, 2023 |
Alan Karaev | Early Life, Family & Education
Alan was born in May 1977 in a small city called Digora in North Ossetia, Russia. Much information about the family is not available, but we know that he belongs to the ethnic group of 'Digors.'
Likewise, Alan was on the heavier side right since he was born. As an infant, he weighed 7 kgs!
The mother of the famous wrestler recalls how the midwife was surprised to witness such a heavy baby.
He grew rapidly and reached 19 kgs just at six months. Alan's maternal grandfather was also a huge man of about 130 kg. So this might have been due to genetics.
Many people believe fighters tend to be aggressive since their childhood. But Alan was a peaceful kid who didn't cause trouble. In an interview, he mentioned that he has never had any enemies.
Education
Karaev completed his studies at the reputed North Ossetian State University.
He graduated from the chemical-technological faculty, specializing in commodity science and examining consumer goods.
Later in life, he joined 'Modern Humanitarian University at the law faculty. This proves that he is not only a good sportsman but also equally passionate about education.
You might be interested in reading: >>>Takanori Gomi- UFC, MMA, Record, Tapology & Wife>>>
Alan Karaev | Career Summary
Beginning with Arm Wrestling
Alan began his sports career as an arm wrestler. In 1995, he met Petr Nikolaevich Dzboev, who was a prominent weightlifting coach.
He initially talked to him about arm wrestling and encouraged him to try. Quickly he was notified by Kazbek Zoloev, who offered to coach him.
Notably, Kazbek Zoloev is a seven-time arm wrestling world champion. Alana started to do great in no time!
A year later, Karaev was already a world champion. His massive body and hard work both worked in his favor.
Alan became so good at the sport that he eventually started to get bored. He felt like he already had conquered so much and had very little to do.
So he decided to try sumo wrestling as well. For a few more years, he played both sports, excelling in both.
He went on to win the arm wrestling world championships a total of seven times!
Switching to Sumo
At the time, the president of the North Ossetian arm wrestling federation was Marat Gusov.
He motivated Alan to start sumo wrestling and even said he could quit sumo anytime if he didn't like it.
However, Alan barely knew anything about sumo wrestling. His general thought was that sumo was just fat men fighting.
When he started sumo, the Russian-born was just 17 years old, but he already weighed 117 kgs.
In most martial arts sports, the most spectacular fights are always between heavy men. And in sumo, all of the fighters are heavyweights. So, Alan decided to give it a try.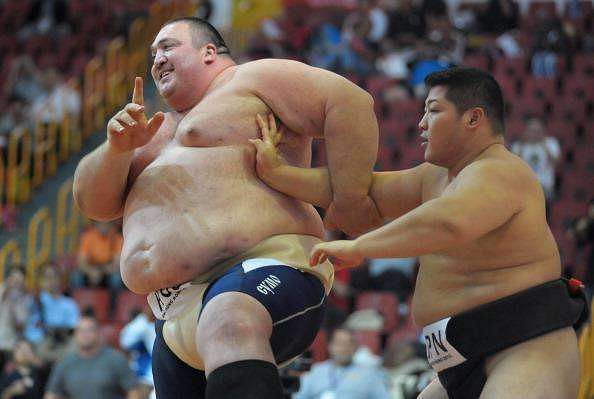 Since he was heavier than all the weight categories, he fought in the 'absolute' category. The switch was difficult at first, but he started warming up slowly.
However, the switch caused his multiple injuries, and the doctor even advised him to quit sports. But the determined Alan didn't give up.
Subsequently, Karaev became the amateur sumo world champion in 2002.
Following that, he won the Russian national championship in 2003. He has a total of 5 heavyweight championships.
Mixed Martial Arts
Well, Alan hadn't stopped exploring just yet. He discovered mixed martial arts and decided to try on that stream too.
But Karaev made a trivial mistake which cost him a lot on this journey. He went straight to the battle with strong opponents who had been doing mixed fights for a long time.
He chose a less powerful opponent after that and finally saw some progress. Unfortunately, he lost his first two fights.
But after a few more fights, he realized this was not for him. So he left mixed fights and dedicated all his effort towards sumo.
Mixed Martial Arts record
Also, check out the M.M.A. record of Alan Karaev.
Professional record
5 matches
2 wins
3 losses
By knockout
1
2
By submission
1
1
By decision
0
0
Retirement
Following his long and successful career, he retired in 2012 at the age of 38. In March 2016, Alan was elected President of the Russian Sumo Federation.
Alan Karaev | Height & Weight
As mentioned earlier, Alan was born a heavy man. His 200 kg and 6'7″ body fits his sumo wrestler image very well but causes significant difficulties sometimes.
Alan lives in Vladikavkaz, where he can't find anything that fits him. Most of his shopping takes place in Moscow in special stores. Even there, finding the right clothes is very difficult.
Moreover, the heavyweight fighter gets his suits custom-tailored from a friend. He also has difficulty traveling on trains and planes.
Diet & Love for Sake
Regarding his food habit, he didn't follow any special diet to maintain his weight during his career. In fact, he didn't even have restrictions on alcohol.
The sumo wrestlers have a proverb, "He who does not take risks, he does not drink sake!"
Like most sumo wrestlers, he shares a love of sake, Japanese rice beer. But besides sake, he didn't indulge in drinking.
Sumo is a fast sport where mobility can make or break your performance. To maintain that speed despite the heavyweight, wrestlers have to undergo special training.
There are forms of squats, bench press, and other exercises that include pumping and running. Wrestlers also undergo annual training camps.
Well, his weight has not caused a significant hindrance in his gameplay. But he has time and again said how it impacts his daily life.
For instance, he hates going outside as he has to climb lots of stairs. In that regard, he has shared that he would love to lose a few dozen kilograms.
Also, check out: >>>Akebono Taro Bio: Early Life, Net Worth, Career & Wife>>>
Alan Karaev | Health Issues
Being on the heavier side sure has many effects on the health. Similarly, Alan has suffered many big and small difficulties in his well-being that have threatened his career and his life!
When he had just switched to sumo, it took time for his body to adjust. Since arm-wrestling is an all-hands sport, his legs were not very athletic.
So both his knees got injured, and he even had to undergo an operation. In mid-January of 2019, Alan was taken to the hospital due to a health emergency caused due to an 'aortic aneurysm.'
He underwent three complicated surgeries to regain his health back. One of the surgeries even consisted of complex heart surgery that lasted for 12 hours!
An Icon both in Russia and Japan
When he was hospitalized in the north Caucasus multidisciplinary medical center, doctors assed a critical situation.
Not only the family but the whole wrestling world prayed for their favorite wrestler.
Japanese prime minister Shinzo Abe learned about the situation and offered to transport him to the best hospitals in Japan if necessary.
Fortunately, the team of specialists did a great job, and Alan regained his consciousness after three days.
The vice president of kickboxing of Russia, Eduard Adaev, broke the good news via his social media and the fans were finally relieved.
Later, he had to be flown to Germany for another critical operation.
Don't forget to check out: >>>Alexey Kunchenko: U.F.C., M.M.A., Wolverine, Guns & Wife>>>
Alan Karaev | Relationships, Family Life, and Kids
Karaev is married and has three children: two daughters and a son. He lives in Vladikavkaz, the capital city of North Ossetia.
Besides his children and wife, his family also has his mother and a sister. By this statement, we can guess that his father is not with him now.
However, there is no information about other relationships that he has had. In fact, there is no information about who the wife of this wrestler is!
Alan is passionate about sports of all sorts and wants to give his children a chance to do it. He believes sports are great for learning discipline, diligence, and maintaining health.
Likewise, his eldest son is Taimuraz, who is also into sports, mainly football. Second daughter Elizabeth is passionate about swimming. The youngest one is Sophia.
Social Media Presence:
As of now, Alan is not active on any social media platforms. He is a very private person and likes to keep his matters out of the media.
However, he happily takes part in interviews whenever he can. Alan is considered a pride of Russia for all his contribution.
Especially in the republic of North Ossetia, he is taken as a representative of the state.
If you want to read more about Alan, there are multiple articles on the internet and videos on youtube.
Alan Karaev | Net Worth
Alan's net worth is expected to be around $1.5 million. Sumo wrestling is not a sport that pays very much, and with his health problems, it gets even more difficult.
In fact, in 2019, when he had to be admitted into hospital, a fundraiser was done to cover his health expenses.
A joint effort of family, friends, and well-wishers collected around 7-million rubles (Russian currency) to send him to Germany for further operation and treatment.
Some FAQs:
Is Ruslan Karev brother of Alan Karev?
Contrary to popular belief about these sportsmen being brothers, they are just good friends who happen to share the same last name.
Who won Alan Karev vs Koji Kanechika?
Alan Karev won the fight via submission. Alan faced Koji Kanechika at the MARS event on February 4, 2006.
Who won between Alan Karev and Tomohiko Hashimoto?
Alan Karev won the fight via T.K.O. punches. Alan faced Tomohiko Hashimoto at the G.C.M.: D.O.G. 3 event on September 17, 2005.
What is Alan Karev's fight record?
Alan Karaev has a professional fight record of 2 wins, 3 losses, and 0 draws.