Being disowned by family and dropping out of high school can undoubtedly be immense lows in someone's life. However, Takanori Gomi didn't give up and pursued his passion for boxing.
Takanori Gomi, aka The Fireball Kid, is a Japanese professional MMA fighter who became famous worldwide because of his successful matches in the Pride Fighting Championships.
Moreover, Gomi has also fought in the UFC and became one of the four Pride World Champions to compete in the UFC.
One of the notable achievements of his career is recording his twelve-fight winning streak. Likewise, Gomi is also a 4x All-Japan Combat Wrestling Champion.
Furthermore, let's get to know Gomi in more detail. First, look into some of The Fireball Kid's quick facts.
Takanori Gomi | Quick Facts
Full Name
Takanori Gomi
Birth Date
September 22nd, 1978
Age
44 Years Old
Birth Place
Kanagawa, Japan
Nickname
The Fireball Kid
Religion
Not Available
Nationality
Japanese
Education
Kanagawa Prefectural Aikawa Higashi Junior High School
Horoscope
Virgo
Father's Name
Not Disclosed
Mother's Name
Not Disclosed
Siblings
Not Disclosed
Height
5'8" (1.73 m)
Weight
155 lbs (70 kgs)
Build
Athletic
Shoe Size
Not Available
Eye Color
Black
Hair Color
Platinum Blonde (colored)
Marital Status
Not Disclosed
Spouse/ Girlfriend
Not Disclosed
Children
One
Profession
Professional Mixed Martial Artist
Reach
70 inches
Rank
A-Class Shootist
Years Active
1998- Present
Net Worth
$3 million
Awards and Achievements
Pride Lightweight Championship
Mixed Martial Arts Hall of Fame
Fighter of the Year etc.
Social Media
Instagram, Twitter, Youtube
Last Update
June, 2023
Takanori Gomi | Early Life, Family & Education
Takanori Gomi, The Fireball Kid, was born on September 22nd, 1978, in Kanagawa, Japan. Gomi has kept most of his life private. Thus, there is no information regarding his parents or siblings.
According to zodiac charts, Gomi's birthdate falls under the sun of Virgo. The most common traits in men with the Virgo sun sign are observant, practical, and honest.
Age, Height, and Body Measurements
The Japanese UFC fighter, Takanori Gomi, turned 44 years old and stands at the height of 5'8″ (1.73 m) with a 155 lb (70 kgs) weight.
Likewise, Gomi possesses an athletic build and has black-colored eyes. He is also known for constantly changing his hair colors. Currently, he has platinum blonde colored hair.
Education
As a child, Takanori Gomi attended Kanagawa Prefectural Aikawa Higashi Junior High School, located in Kanagawa, Japan. In 1994, while attending high school, Gomi started to learn boxing in Sagamihara Yonekura Gym.
Gomi was very athletic and played baseball representing his school's baseball team in a pitcher position. However, in 1996 Gomi dropped out of high school as he failed to move to the next grade.
Moreover, Gomi and his Father argued about the issue, and as a result, his Father ended up disowning him. After leaving home, Gomi learned to catch wrestling and freestyle wrestling at Kiguchi Dojo.
Takanori competed in several wrestling tournaments throughout Japan. One of his significant grappling careers was winning over many of the country's top grapplers.
Takanori Gomi | Career and Profession
Mixed Martial Arts Career
Shooto
Moreover, Gomi entered the official Shooto gym in 1997 and began training. In addition, he took part in various amateur Shooto contests.
Gomi made his professional mixed martial arts debut at Shooto Las Grandes Viajes 6 in Tokyo on November 27th, 1998, where he won over Hiroshi Tsuruya through the decision.
Likewise, Takanori won his first 14 MMA competitions, mainly in the Shooto organization. He also competed in Hawaiian-based organizations SuperBrawl and Vale Tudo Japan.
Choupo Moting- Agent, Salary, FIFA 20, Transfer & Wife >>
Furthermore, the rising champion unanimously became the Shooto World Lightweight Champion on December 16th, 2001, after winning over Rumina Sato, a former teammate.
Similarly, he beat Chris Brennan, a highly regarded American grappler, on September 16th, 2002, by unanimous decision.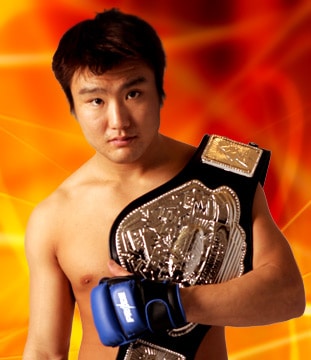 Gomi also retained his Shooto crown in 2002 by winning against Dokonjonosuke Mishima with TKO during the second round.
Takanori's first-ever loss was his last fight in Shooto for six years, which took place at the Yokohama Cultural Gymnasium on August 10th, 2003.
Rumble on the Rock
Gomi then fought B.J. Penn, a former UFC Lightweight Champion and former UFC Welterweight Champion, at the Rumble on the Rock 4 event on October 10th, 2003.
Moreover, in Gomi's first fight following unified rules, he was beaten during the third round by rear-naked choke submission.
Pride Fighting Championships
Following Gomi's back-to-back losses, he found a new home in the Pride Fighting Championships, Japan's most prominent MMA organization.
Takanomi made his first appearance with the organization on February 15th, 2004, fighting against Jadyson Costa.
Moreover, Takanori faced the undefeated Ralph Gracie at Pride Bushido 3. He scored a six-second KO during his fight, which was the quickest fight in the organization's history.
After defeating Fabio Mello, he stated that-
"Apart from being a fine striker and skilled wrestler, Gomi knows how to defend against the ground. He is a real fighter who develops as the bout unfolds because of his MMA experience."
Takanori began season 2005 with a victory at Pride Bushido 7 while fighting against Luiz Azeredo.
Lightweight Grand Prix Champion
Furthermore, in August, Pride announced they would host an eight-man Lightweight tournament in September, where the first round will be between Gomi and Tatsuya Kawajiri.
Japan advertised the fight as "the fight of the twenty-first century boys" because of both fighters' popularity and world-class match.
Several MMA analysts ranked Gomi as number one and Kawajiri as number two in the Lightweight division.
Thus, Takanori won the match, and after defeating Luiz Azeredo, he became the finalist for the 2005 Lightweight Grand Prix. During the finals at the official Shooto gym, Gomi faced Hayato Sakurai, his teammate.
Check out John Laurinaitis: Net Worth, Wife, Brothers, WWE & Career >>
Takanori won the match during the first round and became the Pride 2005 Lightweight Grand Prix Champion. Likewise, Gomi won the 2005 Fighter of the Year award due to his impressive victory.
Title Defend
Moreover, The Fireball Kid faced Marcus Aurelio, one of the American Top Team, on November 5th, 2006, his second fight with the opponent.
This time, his title was on the line. Again, the fight was thrilling as both were some of the best.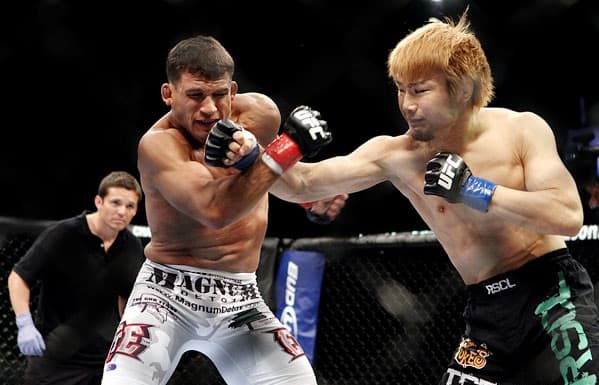 The winner's decision was sent to the decision, and Takanori successfully retained his Pride Lightweight Championship title.
Takanori Gomi vs. Nick Diaz
Indeed, Nick Diaz versus Takanori Gomi is an all-time MMA classic. As the bout took on February 24, 2007, in Las Vegas, Nevada, United States, Nick Diaz won Gomi.
During the fight, they first started with wild punching exchanges, and in the second round, Gomi passed a punch right under the eye of Diaz. As they took a break to check Diaz's injury, it felt like Gomi won.
However, after the return, as Gomi made a mistake, Diaz applied one of Jiu-Jitsu's rare and more exotic submissions. In addition to that, the match ended with Diaz winning.
Altogether, Diaz had earned $15,000 for the fight. However, in the end, Diaz tested positive for marijuana in his post-fight drug test.
In addition to that, as he was found with extremely high blood THC, the win slipped from his record.
Overall, they ruled the game as no contest. Diaz was fined $3,000 and then suspended for six months.
World Victory Road
Following Zuffa, an American Sports promotion company, UFC's parent company bought Dream Stage Entertainment's Pride Fighting Championship.
Takanori signed a contract with World Victory Road, a Japanese mixed martial arts organization.
After repeated defeats, he returned to Shooto and faced Takashi Nakakura, a former Shooto Champion, where he won the match in the second round by KO.
Moreover, in October 2009, Takanori fought and won his final fight in Japan against Tony Hervey before leaving for the U.S.
Ultimate Fighting Championship
Furthermore, Takanori signed with the UFC on January 1st, 2010. He made his official UFC debut against Kenny Florian at UFC Fight Night 21.
Likewise, Gomi's next opponent was Joe Stevenson, but due to Stevenson's injury sustained while training, Gomi faced Tyson Griffin.
Takanori beat Griffin via one-punch KO during the first round. Gomi became the first person to defeat Griffin by knockout, as all his previous defeats were due to the judge's decision. Because of the performance, Gomi won the Knockout Of The Night bonus.
Moreover, Gomi faced Clay Guida during the UFC 125, and after a one-sided first round, Gomi was defeated by Clay by guillotine choke during the second round.
In the next fight, Takanori faced Nate Diaz at UFC135 on September 24th, 2011, where he was again defeated during the first round via submission.
Similarly, Takanori had another fight with George Sotiropoulos, an Australian fighter, on February 26th, 2012, at UFC 144.
However, he couldn't compete because of an injury. Thus, Gomi faced Eiji Mitsuoka instead and defeated him by TKO during the second round.
Downfall at UFC
On March 3rd, 2013, at UFC on Fuel TV 8, Gomi faced Diego Sanchez and lost because of a split decision.
However, the fight became controversial as all media outlets believed that TheFireball Kid dominated the fight.
Dana White, UFC President, went on to Twitter and proclaimed that Sanchez didn't do enough.
Takanori won his second Fight of the Night bonus honor after defeating Isaac Vallie-Flagg on April 26th, 2014.
Following his victory, the next match, Gomi faced Myles Jury on September 20th, 2014, which became his career-first knockout loss.
The UFC released Takanori on October 23rd, 2017. Gomi recorded four wins and nine losses during his time with the UFC. Additionally, he lost all of the last fights of his UFC career during the first round.
Rizin Fighting Federation
After returning to the Japanese promotion after seven years, Takanori faced Yuzuke Yachi in the Rizin Fighting Federation on December 31st, 2017. Unfortunately, submission defeated him in the fight during the first round.
Gilbert Burns- Early Life, Career, UFC, Covid-19 & Net Worth >>
Moreover, in Rizin 11, Takanori faced Melvin Guillard, a UFC veteran, and won by KO in under three minutes during the 1st Round.
Kickboxing Career
Moreover, Takanomi had his first Kickboxing debut during an exhibition fight against Masato on December 31st, 2016, at KYOKUGEN 2016.
However, no winner was decided under official Kickboxing exhibition rules as the match went the distance.
Takanori Gomi | Quotes
I was nervous [against Kenny Florian]. Now when I look back, I think I wasn't even ready mentally. The point is not how he fought but how I couldn't resist how I always fought. Since the 'fight rules' are different, I was cautious, and while watching him, he dragged me into his pace. I should have fought in my style.
I want a chance for the title match, but I know that passage will only be seen after concentrating on each fight.
Fight Record and Stats
Matches
Wins
Losses
By knockout
14
4
By submission
6
8
By decision
16
3
No contests
1
Learn more about his career and fight style on Bleacher Report.
Highlights, Awards, and Achievements
Gomi has to date, fought in three divisions; Featherweight, Lightweight, and Welterweight. Yet, as innocent as he may look, he is one of the strongest contenders in MMA.
His fighting style includes shootfighting, boxing, and wrestling. Additionally, he is a strong brawl fighter and an aggressive boxer. Not to mention, Gomi uses both orthodox and southpaw stances.
He gained the nickname "Fireball Kid" for punching power and spectacular knockouts. Gomi has garnered 36 wins, 15 wins, and no contest.
To illustrate, his wins include 14 through knockout, 6 by submission, and 16 by decision. Furthermore, his losses are 8 by request, 4 by dish, and 3 by decision.
Pride Fighting Championships
Pride Lightweight Championship
Lightweight Grand Prix Winner 2005
Sole Pride World Lightweight Champion in Pride FC History
The highest winning streak in Pride FC History
Only Pride Grand Prix Winner in Pride FC Lightweight Division History
Fastest Knockout in Pride FC History
Fight of the Year 2005
Ultimate Fighting Championship
2x Fight of the Night
Knockout Of The Night
Professional Shooto Japan
Shooto Lightweight Championship
Highest winning streak
Sherdog Awards
Mixed Martial Arts Hall of Fame
MMA Fighting
2x Lightweight Fighter of the Year- 2004, 2005
Lightweight Fighter of the Year Runner-up- 2006
Knockout of the Year
Submission Wrestling
4x All-Japan Combat Wrestling Champion
Takanori Gomi | Net Worth
Takanori Gomi had impressive success right after he started his MMA journey. He has won various championships, and all his bouts have earned him a fair amount.
Although Gomi has kept his earnings private, we can assume that-
The presumable net worth of Takanori Gomi falls around $3 million.
Net Worth of Takanori Gomi in Different Currencies
Here is the net worth of Takanori Gomi in different currencies, including the Euro and Pound.
Currency
Net Worth
Euro
€

2,669,490

Pound Sterling
£

2,264,749

Australian Dollar
A$

4,210,527

Canadian Dollar
C$

3,868,440

Indian Rupee
₹

228,040,500

BitCoin

฿64
Takanori Gomi | Wife and Children
Gomi falls in the category of people who have kept most of his life private. This leads us to state that Takanori has never revealed anything about his relationships and love life. Reportedly, several sources say that he had one relationship in the past.
However, Gomi has not revealed whether he is with his rumored girlfriend/ wife.
Moreover, Takanori has a daughter, about whom he posted on his Instagram, but his daughter's name remains unknown.
Takanori Gomi – A Dog Lover
Gomi has a sweet and soft spot, as challenging as he may seem. He is an avid dog lover and has his way with them.
Also, you might have heard of his seizure because his dogs were banished. Indeed, not something normal. Additionally, he has explained to himself how he has the animal-rescue license plates.
He also loves throwing parties on his dog's birthdays and creating Instagram accounts for them.
"I am in love with my dogs. I care for them more than anything. I'm also not one of those weirdos who throws birthday parties for my puppy or creates dummy Instagram accounts for my pets."
-Takanori Gomi
Takanori Gomi | Social Media Presence
Instagram: 39.6k Followers
Twitter: 26.5k Followers
YouTube Channel: 33.3k subscribers
Takanori Gomi | FAQs
What is Takanori Gomi's fighting record?
The Japanese mixed martial artist's fighting record is 35-14-0.
What is Takanori Gomi's net worth?
Gomi's net worth is $3 million.
Did Takanori Gomi Ever Fight with Joe Lauzon?
Yes, Gomi fought with Lauzon in the year 2015.
Who Won the Fight Between Takanori Gomi and Jim Miller?
Jim won the fight via TKO in the first round at UFC 200.
Did Takanori Gomi Ever Fight with BJ Penn?
Yes, Gomi fought with BJ Penn.