The French basketball player Alex Sarr (Alexandre Dam Sarr) has an older brother, Olivier Sarr, who is in the same profession.
Both siblings have been an inspiration to each other. To Alex, Olivier has been the most extensive support system and the safest place.
Alex did not feel homesick and frightened to move to the States for his professional journey, as Olivier was there to guide him.
In addition, they practice together to sharpen and hone their basketball skills.
Alex spent his early career with the Spanish club Real Madrid.
Then, in 2021, Alex got an opportunity to play for the Overtime Elite League, which began his professional career.
The young player was guaranteed a minimum salary of $100,000 per annum. He stayed with the league until 2022.
Then, Alex played one season with the YNG Dreamerz. During his time with the team, he received All-OTE Second Team (2023).
Likewise, the athlete has been playing as the center for the Australian NBL team, Perth Wildcats, since 2023.
Alex Sarr Brother Olivier Sarr
Olivier, born on February 20, 1999, in Niort, France, falls under the Pisces zodiac sign.
He shares his family with a younger brother named Alex, and they are both the sons of their parents, Massar and Marie.
Notably, Massar, their father, has a background as a former basketball player.
Olivier's early introduction to basketball came at the tender age of three when he began playing, often engaging in the sport with his father, Massar, as his mentor and playmate.
During his formative years, Massar, Olivier's father, played a crucial role as a mentor and coach in nurturing his son's basketball skills.
In contrast, Olivier's mother plays the important role of a homemaker, and their close bond is evident in their relationship.
To pay homage to his mother, Marie, Olivier selected the jersey number "30," symbolizing the age difference of 30 years between them.
This choice highlights Olivier's deep respect and love for his parents, emphasizing the significance of family in his life.
How Tall Is Olivier?
The basketball player is 6 feet and 11 inches (2. 11 meters).
And he weighs 240 lb (109 kg).
Olivier Sarr's Career And Net Worth
Olivier's journey to pursue his basketball career led him to make a significant move to the United States at the age of 15.
During his collegiate years, Olivier played college basketball at Wake Forest from 2017 to 2020, and subsequently, he continued his college basketball career at the University of Kentucky from 2020 to 2021.
Currently, Olivier is actively engaged in professional basketball, representing the NBA's Oklahoma City Thunder while maintaining a two-way contract with the Oklahoma City Blue of the NBA G League.
In addition to his professional endeavors, Olivier has proudly represented his home country, France, in international basketball competitions, including the FIBA Under-17 World Championship in 2016 and the FIBA U18 European Championship in 2017.
With his successful basketball career, Olivier has amassed a net worth of $1.5 million. It's anticipated that his fortune will continue to grow in the coming years as he progresses in his profession.
Does Alex Sarr Brother Olivier Sarr Have A Girlfriend?
Olivier Sarr is happily involved in a romantic relationship with his girlfriend, Tima Pouye.
Their love story began in 2017, and since then, they have shared many adventures together, frequently traveling to various places whenever their schedules allow.
Adding to their companionship, Olivier and Tima are proud pet parents to a dog named Campus. This furry addition to their family likely brings them joy and adds an extra layer of bonding.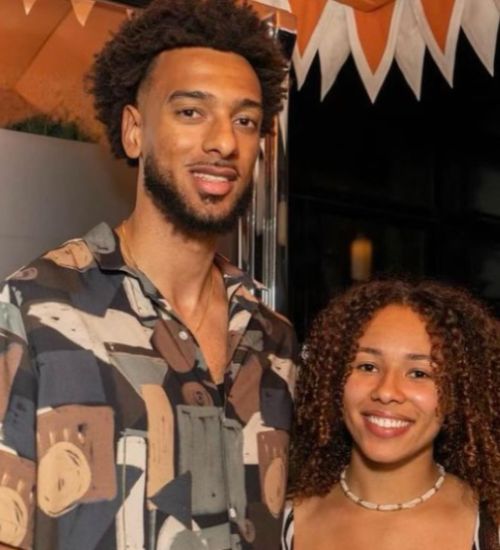 It's worth noting that Tima, like Olivier, is also involved in basketball.
She resides in Bordeaux, France, and their shared profession creates a strong understanding and support system between them.
Tima supports Olivier and actively participates by attending his games, demonstrating her commitment to their relationship and his career.
Insights Into Alex Sarr's Love Life
Alex Sarr, a dedicated young basketball player, has set his sights on achieving significant success in his profession.
His primary focus revolves around rigorous training and building his physical strength in the gym.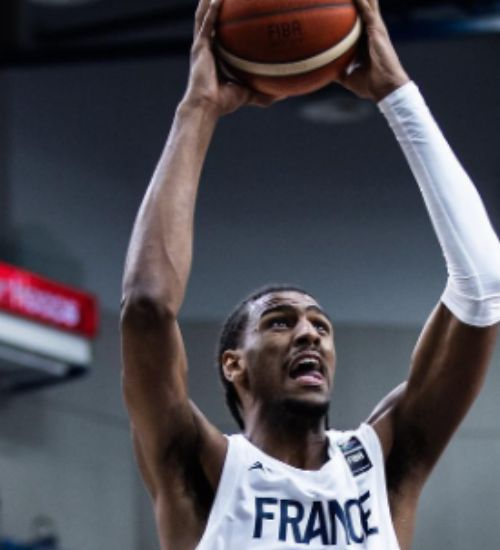 Given his dedication to his career, Alex has chosen not to pursue dating at this time.
As of now, there are no reports linking him to any romantic relationships or partners. His commitment to his craft remains his top priority.
His Body Measurements
The promising basketball player, Alex, stands tall at 7 feet and 1 inch (2.16 meters).
Likewise, his recorded body weight is 217 lb (98 kg).
Alex's other unique features include his black dreadlock hairstyle.