From being a Yashin Trophy nominee to a mistaken drug controversy, the Cameroon-born Andre Onana is barely off the limelight. The soccer star grew up with four brothers- many fans wonder who they are.
No denying soccer fandom has brought the player's family & personal life into media attention, the same goes for the Inter Milan goalkeeper Andre Onana.
Born on April 2, 1996, Onana started his journey from Samuel Eto'o Academy to a youth career in Barcelona (2010-15).
Then, he played for Ajax for six seasons before joining the Serie A club Inter Milan in 2022 on a free transfer.
In September 2016, the player made his debut for Cameroon, which he won over Gabon. The Cameroon team is considered one of the most successful FIFA Confederations Cup teams.
Not only that, he also featured in the 2021 Africa Cup of Nations, where he achieved third place.
On November 9, 2022, Andre was selected in the final squad of the Cameroon national football team for the FIFA World Cup in Qatar.
However, due to a disciplinary issue with manager Rigobert Song, he was sent home in the midst of the World Cup.
On December 23, 2022, Andre announced his retirement from international football.
Who Are Andre Onana's Brothers?
Onana was born to Francois Onana and Adele Onana as one of five children.
He grew up with his four brothers, of which only two are known: Wariner and Emmanuel. Online sources report that one of his brothers died at the age of 31. However, further information on his siblings is not out.
Seems Andre's brothers want to keep themselves away from the limelight.
No wonder the soccer player has barely posted about them on his social media.
But the Inter Milan goalkeeper often mentions his parents & brothers in his interviews.
He caught a passion for soccer as he used to go to games with his elder brother.
As reported, his father was a soccer player himself back in the day but insisted that Onana must focus on study.
Well, Andre grew up in a poor family, so it's obvious that studies mattered more than anything!
Some sources claim that the player had no electricity in the house, and the brothers used to take baths in nearby rivers.
It was later that his family gave thoughts to his passion & supported him through his career despite the struggles.
Does Andre Onana Have A Wife? Any Kids?
Onana often mentions his partner Melanie Kamayou on his Instagram posts. The two are in a relationship for many years but never opened up about how & when they began dating.
According to an Instagram post by Kamayou, she & the soccer player are now husband & wife after an alleged secret wedding ceremony.
In February 2023, Melanie posted a series of pictures on her Instagram in the wedding dress & used hashtags like wedding, throwback & marriage.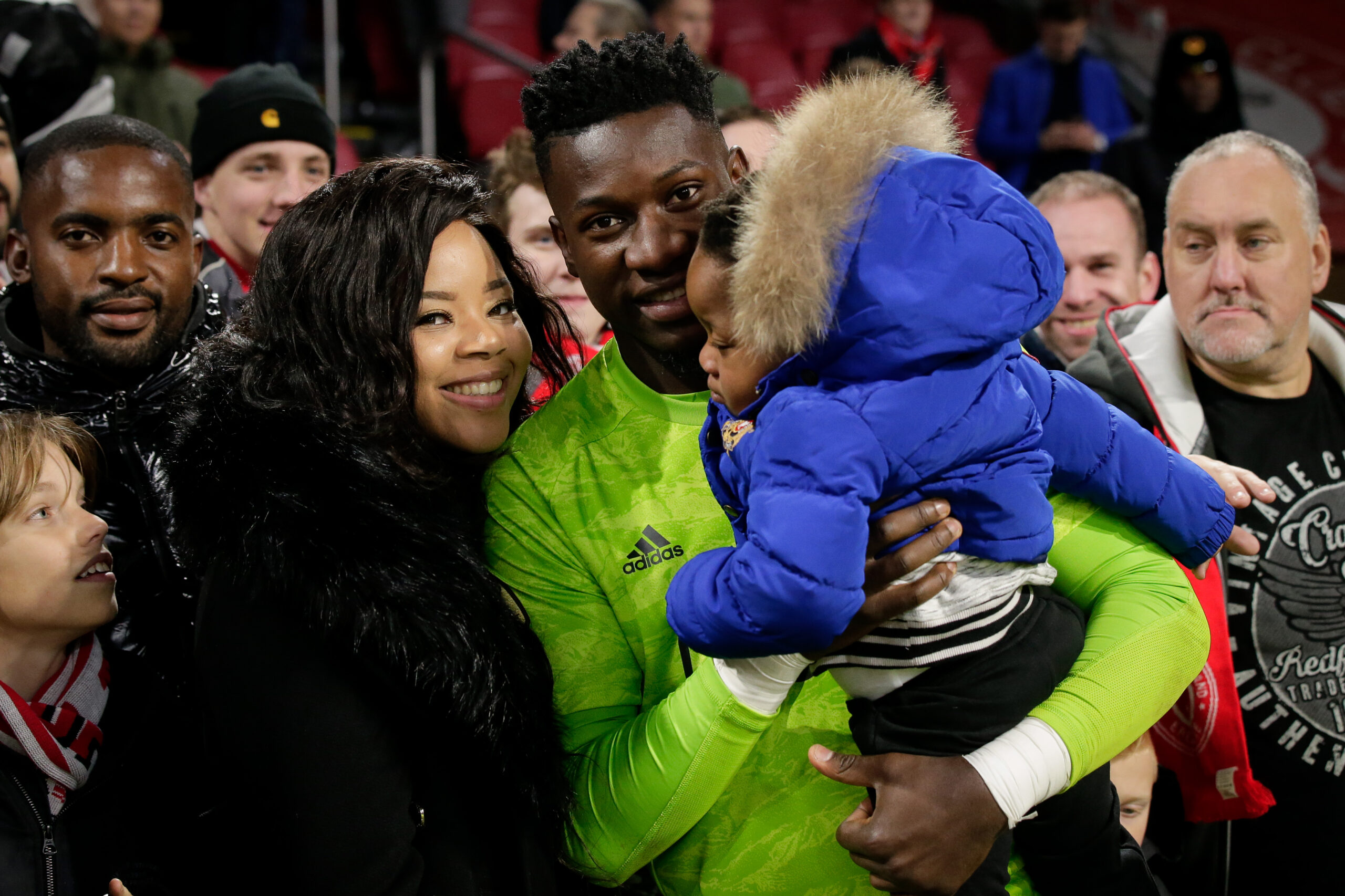 Andre Onana's beau, Melanie, is a pharmacist. She balances her life between being a mother, businesswoman, and philanthropist.
According to her LinkedIn profile, Kamayou attended Mount Wachusett Community College, where she studied Associate of Arts and Science.
In 2011, Melanie studied for a bachelor's in science at Fitchburg State University and graduated in 2014.
The pharmacist graduated from the Massachusetts College of Pharmacy and Health Sciences with a Doctor of Pharmacy in 2022.
In addition to that, Andre's wife has also been working as a pharmacist at the Massachusetts College of Pharmacy and Health Sciences from May 2022 until now.


Not to mention, Melanie is also co-chairman of the NGO Foundation André Onnana, which was established to provide a better future for children.
The pair also have a beautiful son named André Jr, born in 2019.