Former Washington Redskins wide receiver Andre Reed has two children: a son, Andre Jr., and a daughter, Auburn.
He shares both of his children with his first wife, Cyndi Reed, with whom he separated a long time ago.
Currently, Andre is happily married to his second wife, Theresa Villano Reed. However, they don't have any children together.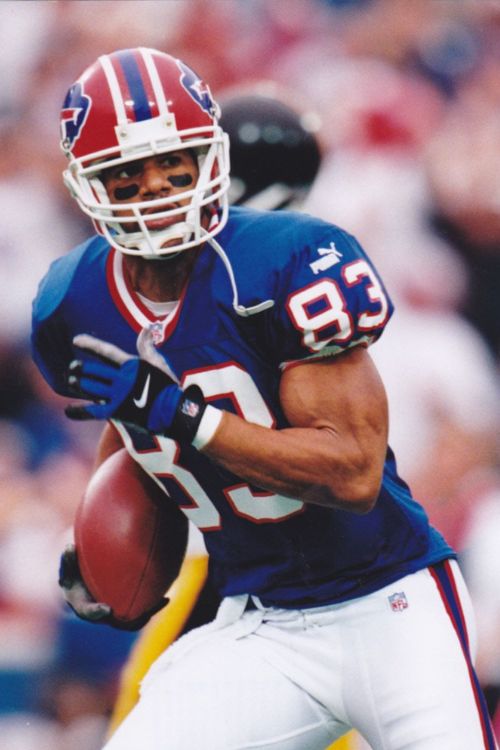 Andre Reed is a former professional American football player who is best known for his career as a wide receiver in the National Football League (NFL).
Reed was a key part of the Buffalo Bills' success during their run of four consecutive Super Bowl appearances from 1990 to 1993.
Although the Bills did not win any of those Super Bowls, Reed's performance in these games solidified his reputation as one of the NFL's top receivers.
During his career, Andre Reed set numerous NFL records, including being the all-time leader in career receptions at the time of his retirement.
Reed's selection to the Pro Bowl seven times in his career demonstrates his consistent excellence and recognition as a top wide receiver in the league.
One of the most significant career highlights for Andre Reed was his induction into the Pro Football Hall of Fame in 2014.
This honor recognized his outstanding contributions to the sport and solidified his legacy as one of the NFL's all-time greats.
Reed's career was marked by remarkable longevity and consistency. He played 15 seasons in the NFL, the majority of which were with the Buffalo Bills.
Andre Reed's Wife & Married Life
Andre Reed has been together with his current wife, Theresa Villano Reed, for around a decade. The couple made their relationship official in 2015 via their Instagram.
They got engaged in February 2022 and finally tied the knot on March 5, 2023, at Coasterra in San Diego, California.
Theresa owns VPR/Sparx Branding, a sports marketing agency, and serves as an independent PR and marketing consultant.
Since May 2016, Villano used her marketing skills to support the "Andre Reed Hall of Fame Enterprises & Foundation" in PR and management.
Andre Reed Kids
Before Theresa, the former wide receiver married his first wife, Cyndi Reed. Together, the duo are proud parents of two children.
They have a son Andre Reed Jr, and a daughter Auburn Elle Reed. Let's get to know more about his kids.
Meet Son Andre Reed Jr
Andre Reed Jr, born on July 6, 1996, is the younger child of the former NFL star. Currently, he is 27 years old and lives in New York.
In May 2023, Reed Jr was spotted chilling with Bobby Okereke, an NYG linebacker and SPARX Marketing client, at Prince St. Pizza NYC in Manhattan.
Before that, the father and son duo celebrated their Easter Sunday at the beach in 2021.
The player's youngest son keeps his personal life under wraps. All we know is that Andre Jr. loves concerts and beach hangouts with friends.
Daughter Auburn Elle Reed
Talking about Andre Reed's daughter, Auburn Elle is his eldest child, born in 1993.
Talking about her profession, she is a photographer based in Spain. Her passion is to capture people as they are, and her talent shines through in her photos.
Auburn is a Fine Arts graduate from the University of San Diego, with a Master's in Fashion Photography and Communication.
She currently lives in Madrid, Spain, where she actively participates in various photography projects.