Professional soccer player Andy Diouf is the son of his parents, belonging to diverse cultural backgrounds.
While his dad is a Senegalese, his mother is originally from France. The athlete has a very joyful relationship with both of his parents.
The Midfielder's family's mixed ethnicity played a big role in his career, as he himself admits it.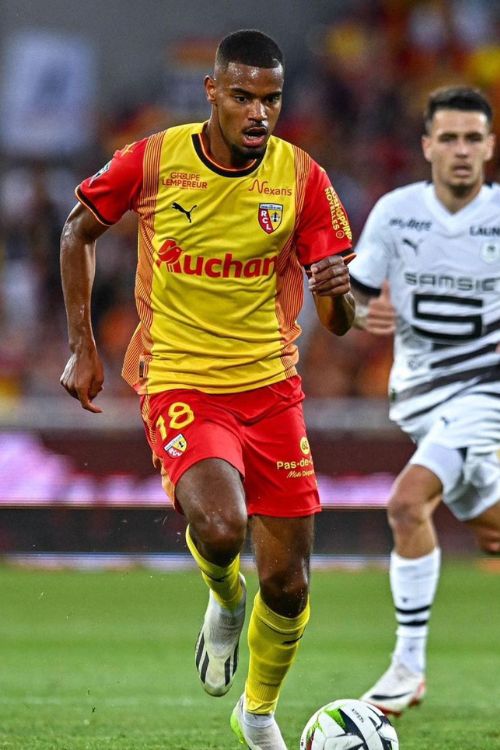 Andy Diouf is a French professional soccer player. Currently, he plays for Ligue 1 club Lens as a midfielder.
His journey began at the age of six when he started playing football in La Garenne-Colombes.
He excelled in PSG and Boulogne-Billancourt's youth teams, showcasing his exceptional skills and potential.
Diouf's time at INF Clairefontaine, the renowned French football academy, further polished his abilities.
His move to the Rennes academy in 2015 marked a significant turning point in his career. It's where he developed and made his pro debut.
On May 9, 2021, Andy made his professional debut for Rennes in a Ligue 1 match against his former club, PSG. This debut showcased his arrival on the grand stage of French football.
In July 2022, he joined Basel in Switzerland on a season-long loan, disclosing his ambition to excel in new leagues.
Diouf made an instant impact, brilliantly showcasing his scoring prowess with his first goal for Basel against Slovan Bratislava.
In May 2023, Basel secured Diouf with a four-year contract, demonstrating their faith in his potential and future contributions.
Two months later, he returned to France, adding valuable Swiss experience to his impressive career journey.
During his Basel tenure, Andy played 60 games, scoring three goals and making significant impacts in various competitions.
Andy Diouf Parents: Where Are They From?
Andy Diouf was born on May 17, 2003, in Neuilly-sur-Seine, to a Senegalese father and a French mother. However, there are limited details available about his parents.
Diouf's soccer journey is not just proof of his talent but also a tribute to his inspirational parents, who have played a vital role in shaping his career.
Born in Neuilly-sur-Seine and growing up in Nanterre, Andy's diverse heritage mirrors his family's unique story.
With a French mother and a Senegalese father, Andy's upbringing embraced two distinct cultures, shaping his character and guiding his decisions.
When the international call from Senegal came, Andy stood at a crossroads. His choice to follow Thierry Henry's path with the French Bleuets delighted the world's attention.
Andy's decision wasn't just about football; it was a reflection of the two worlds he cherished.
His respect for both his parents' heritage and his dedication to the French youth teams demonstrated a profound sense of identity and purpose.
The story of Andy Diouf is not just about goals and glory; it's a tribute to the power of family and the unique journey of a young man who found strength in his roots and soared to greatness.
His parents, with their constant support and cultural wisdom, have been the guiding stars in his inspiring journey to the top of the football world.
Andy Diouf Signs With Lens
On June 30, 2023, Diouf signed a significant five-year deal with the prestigious Ligue 1 club Lens.
Lens eagerly welcomes its fourth summer signing, the promising 20-year-old midfielder Andy Diouf.
The Diouf name resonates deeply in the hearts of fans, especially with El-Hadji Diouf's unforgettable tenure from 2000 to 2002.
Andy's journey began 14 years ago in the Paris region, guided by his family's deep passion for football.
He honed his skills at Paris Saint-Germain and then truly excelled as a versatile midfielder at AC Boulogne-Billancourt.