The MLB player, Austin Slater, is married to his longtime girlfriend, Caroline Beaudoin. Caroline even made a remark that she married her dream man.
Slater, nicknamed AC, has played for the MLB team San Francisco Giants as an outfielder since 2017.
The Florida-born and raised athlete is a grandson of Ed Austin, the former mayor of Jacksonville and football player at Duke University. His parents named him Austin in memory of his grandfather.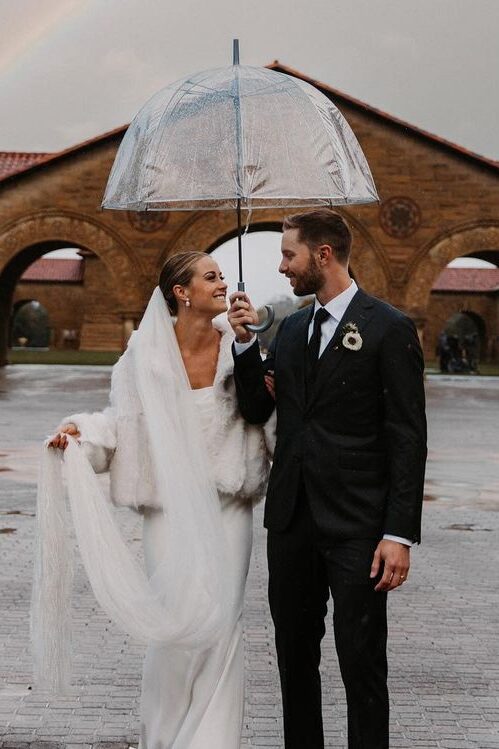 Forgoing his final year at Stanford University, he declared for the 2014 MLB draft, and the San Francisco Giants selected Austin in the eighth round.
For nearly three years, he played baseball for different Giants' minor league affiliate teams, including Arizona League Giants and Sacramento River Cats.
Austin Slater Wife: Caroline Beaudoin
No exact information about when Austin got attached to Caroline is found, but they met at Stanford University. Slater was one year senior to Caroline.
While Caroline graduated with a bachelor's degree in Science, Technology, and Society, Austin decided to leave his studies and join baseball.
Nevertheless, they remained in touch. Most probably because of her interest in sports, the two got along very well.
Born to her parents, Pierre and Marlyn Beaudoin, Caroline grew up with her three siblings playing various sports, such as swimming, soccer, and running.
After graduating high school, she played field hockey for Stanford University's team as a defender.
She became one of the most decorated Stanford players by her senior year. In addition to becoming America East Player of the Year, Beaudoin became the co-captain and was named to various best teams.
Caroline Beaudoin Left Sports Career After College
Aside from having an excellent sports career at Stanford, Caroline was equally good at academics. While a student there, she worked as an intern at the NASA Langley Research Centre.
In addition, she was also an intern at Apex Learning in Seattle, Washington D.C. At the end of college, Beaudoin was Stanford's client associate and marketing director of Technology and Communication.
Upon graduation, she did not embark on a professional field hockey career and chose a different career path.
Beaudoin started working as an associate at Breakline Education and worked her way from partner success manager to her current position as a director of customer success.
Austin Slater Earnings
Slater started his professional baseball league career in 2014 with a base salary of about $200k.
In 2017, when he signed with the Giants to play in the major league, he was offered a salary just above $500k.
However, the club increased his salary considerably since the 2021 season, as he earned $1.15 million that year.
Additionally, he signed a new one-year contract worth around $3.2 million with the Giants on January 13, 2023, to avoid arbitration.
With his performance improving each year, his stint with the Giants looks long-lasting.