Ayan Broomfield is a Canadian tennis player from Toronto, Canada. But, because of her studies and career, she has lived away from her parents in the United States since 2015.
A young athlete with great potential, Ayan has already won two doubles titles on the ITF tour within a short career. Seeing her records, Ayan is more successful while participating in doubles competitions.
She made her WTA tour debut for the tennis doubles at the Coupe Banque Nationale with another Canadian athlete Maria Patrascu in 2014. She reached No. 467 in the world doubles ranking on May 4, 2015.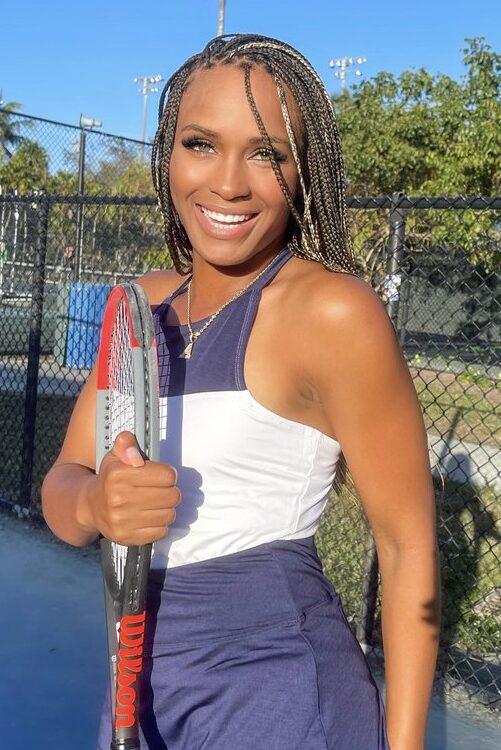 However, Ayan has been busy with stuff other than tennis in recent years.
In 2021, she worked as a body double for some scenes of Venus Williams matches on the Oscar-nominated biographical film King Richard, starring Will Smith.
In addition, Amazon Prime Video launched a short documentary named Ayan Broomfield Tennis Story, highlighting her career on July 22, 2019. Broomfield is also famous among tennis fans as the girlfriend of American professional tennis player Frances Tiafoe Jr.
Ayan Broomfield Parents: Paul And Denise Broomfield
Ayan Broomfield was born on August 13, 1997, to Paul and Denise Broomfield in Toronto, Ontario. She has an older sister named Kai.
Both Paul and Denise loved their daughters and raised them well. As a way to spend their leisure time, Ayan's dad, Paul, played tennis with his daughters when they were kids.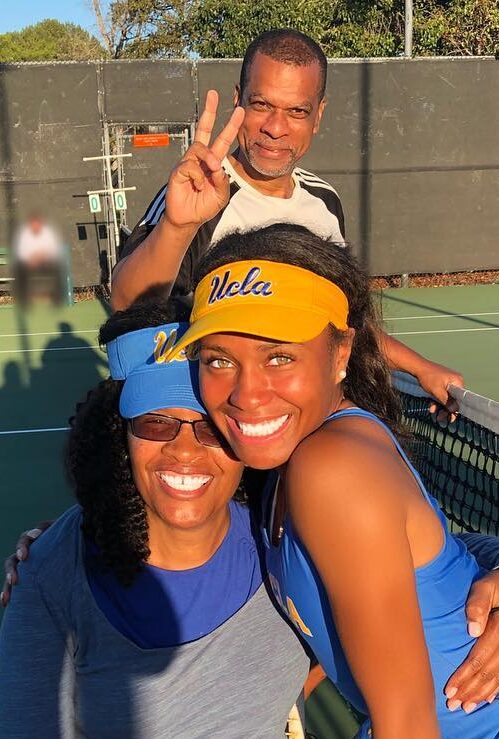 One thing that Ayan will always keep in memory is the first time she defeated her elder sister.
Soon, the young girls became engrossed in the game and began playing tennis for their school team. Ayan's sister, Kai, later played tennis at Marshall University. However, she chose to have a career in Law.
Meanwhile, Ayan became proficient in tennis, playing at Independent Learning Centre in Ontario. She later shifted to the United States to pursue higher education and further enhance her tennis skills.
However, it was hard for Ayan when she decided to leave her parents in Canada to pursue her dreams. Her parents always used to be there in the stands, cheering her up during competitions, and she would miss that so much.
Ayan And Frances Tiafoe: Are They Still Dating?
Ayan Broomfield and the American professional tennis player Frances Tiafoe Jr. have been together for a long time. The two knew and became close to each other while they were collegiate athletes in 2016.
Now that Frances has become a world-class tennis player, currently ranking at No. 12 in the world rankings, he travels worldwide, competing in different top-level tournaments.
Ayan often travels with Frances to various places, supporting and cheering up for him during his game. In April 2023, Tiafoe expressed his appreciation for his girlfriend, Ayan, for always being there to inspire him through his Instagram handle.
Frances feels grateful that Ayan came into his life and that his professional and personal life has improved. In April 2023, Ayan and her boyfriend traveled to Spain together, especially for Frances' participation in the Madrid Open.
Even though Frances got knocked out in the second round of the competition, the couple had a good time in Spain. Ayan often uploads vlogs on her own Youtube channel, Ayan Broomfield.