Indeed, field hockey is not a sport that is well-publicized, and hence, most of them are estimated to be an unpopular kind. However, it is precisely the opposite. In fact, field hockey carters billions of fans worldwide.
As a matter of fact, it ranks as the third most popular sport around the globe, while keeping in mind the fact that it is only publicly televised every four years during the Olympics or Commonwealth Games.
Thanks to its resemblance to the worldwide cultures, field hockey has a rapid development that holds not only cultural aspects but also a thrilling aspect.
Today, as we talk about the sport, we will dive deeper into the best field hockey players we have around the globe.
12 Best Field Hockey Players in the World
As we discuss the best field hockey players we have today, we will focus on their professional careers, statistics, and games. However, please let it be known that the athletes below are not arranged in numeric order.
You might be interested in reading: Top 15 Best Male Tennis Players in the History!
Sohail Abbas
Nickname: The Drag Flick King
Date of Birth: 9 June 1977
Karachi, Sindh, Pakistan
Worldwide renowned as the greatest field hockey player, Sohail Abbas is regarded as the genius creation of Pakistan. Talking about modern-day field hockey, Sohail is the highest scorer today, standing with 348 international goals.
Likewise, he is the first modern field hockey player to reach the 300 goals mark. Similarly, he also holds the record for the highest goal scored in a calendar year with 60.
Sohail Abbas is yet again the only player to have 21 hattricks in the international games with the double hat tricks.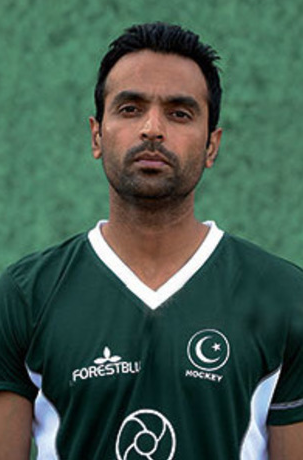 Along with his sixteen-year career, Sohail portrayed lethal flicks with great accuracy and speed, while he also had a natural short corner ability. In addition to that, he earned himself the nickname, 'The drag Flick King.'
Paul Litjens
Full Name: Paulus Tarcisius Maria "Paul" Litjens
Date of Birth: 11 September 1947
Birth Place: Loon op Zand, North Brabant
Paul Litjens is one of the notable names among the field hockey arena while scoring 268 goals who initially started beside hockey clubs and later with the national team. During his journey, he played a total of 177 matches.
As a fun fact, his goal record was held from 1982 to 2004. Likewise, Paul stood as the top scorer in the Olympic Games of 1976 and at the 1981 Champions Trophy.
Furthermore, he also excelled in the penalty corner.
Teun de Nooijer
Full Name: Teun Floris de Nooijer
Date of Birth: 22 March 1976 (age 47)
Birth Place: Netherlands
One of the finest field hockey players, Teun de Nooijer, is the current coach of the women's team of HC Bloemendaal.
As a player, he played a total of 400 games with 453 caps and scored 219 goals.
During his journey, International Hockey Federation (FIH) honored him with the World Hockey Player of the Year in 2003, 2005, and 2006.
In the meantime, he is also a two-time Olympic Champion while collecting silver and two bronze at the World Cup.
Read in detail about the Top 12 Best Chess Players in the World!
Jamie Dwyer
Nickname: Foetus
Date of Birth: 12 March 1979
Birth Place: Rockhampton, Queensland, Australia
Representing Australia, Jamie Dwyer devoted more than a decade to his career and has played over 350 matches. During his career, he has maintained 220 goals and bagged two Olympic gold medals.
Herewith, Jamie is one of the best field hockey players. As a young player, International Hockey Federation initially titled him the Young Player of the Year in 2002.
Following it, he stood as the IHF World Player of the Year in 2004 and 2007.
Furthermore, he also became the 2007 Captain of the World Team and 2011 international field hockey player of the year.
Ties Kruize
Date of Birth: 17 November 1952 (age 70)
Birth Place: The Hague, the Netherlands
Ties Kruize is a former hockey player, best known for his penalty corner in hockey history. All along with his career, Ties has stood as the 1973 World Champion and 1983 European Champion.
Additionally, he appeared in a total of 202 international matches while maintaining a total of 167 goals.
Follow the details on The 20 Best Looking NBA Players in 2021!
Last but not least, Ties Kruize has eight Dutch titles in a row: from 1977 until 1984.
Hassan Sardar
Date of Birth: October 22, 1957 (age 65)
Birth Place: Karachi, Pakistan
Widely popularized as the best center-forward Pakistan has ever produced, Hassan Sardar is the former hockey player and captain. After his career, Hassan also became the Chief Selector of the Pakistan hockey team.
Additionally, he is one of the best forward lines in Pakistan while becoming the 'Man of the Tournament' for scoring 11 world cup goals. Throughout his career journey, he has bagged a total of 180 goals.
In addition, Hassan is the principal in leading his Pakistani team to achieve a gold medal in the 1984 Olympics in Los Angeles.
Dhanraj Pillay
Full Name: Dhanraj Pillay Yadav
Date of Birth: 16 July 1968
Birth Place: Khadki, Pune, Maharastra, India
At present, Dhanraj Pillay manages the SAG Hockey Academy in Gujarat and also the Air India Sports Promotion Board as a Joint Secretary based in Mumbai. Well, he is a former player and captain of the Indian National Team.
During his 15 years long career, Dhanraj earned his name as one of the best Indian players. To date, he has played a total of 339 appearances and made 170 goals.
Well, he is the only Indian to participate in several international games. All of his devotion and achievements in his career bagged him Padma Shri by the government of India in 2000.
Furthermore, he is the recipient of India's highest sporting honor, the Major Dhyan Chand Khel Ratna award for the years 1999–2000.
Learn in-depth about the Top 20 Best MLB Players This Year!
Floris Jan Bovelander
Nicknames: Flop, Floppie, or Boem Boem
Date of Birth: 19 January 1966
Birth Place: Harleem, Netherlands
As a player, Floris Jan Bovelander made his debut through Netherlands national field hockey team. Following his career, he stood as manager and assistant trainer in their national team.
Currently, Floris is an organizer of hockey camps and clinics, youth and corporate events. Throughout his career journey, Floris has appeared in 241 international games and scored 215 goals.
Well, he is best known for his penalty corners and has won the Dutch league title six times.
Luciana Aymar
Full Name: Luciana Paula Aymar
Nickname: "La Maga" ("The Magician") and "The Maradona of Field Hockey"
Date of Birth: 10 August 1977
Birth Place: Rosario, Argentina
Highly known as the best female field hockey player of all time, Luciana Aymar has bagged 162 goals in 376 games she has played to date.
In the meantime, she is the only player in history to receive the FIH Player of the Year Award eight times.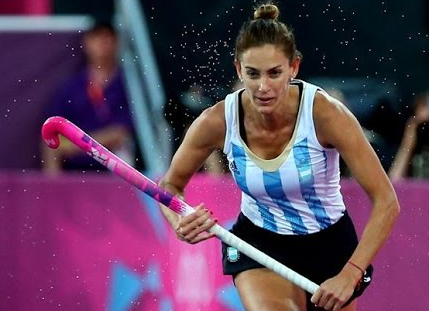 Luciana is the only athlete after Marcelo Garraffo, who became the flag bearer for Argentina at the 2012 Summer Olympics with loads of titles and achievements. Additionally. The International Hockey Federation also declared her as the Legend of Hockey.
All in all, Luciana Aymer is well-known for her dribbling tactics and pace.
Fergus Kavanagh
Date of Birth: 21 May 1985 (age 37)
Birth Place: Dublin, Ireland
Fergus Kavanagh is widely known as one of the best field hockey players in modern times. He currently plays for Western Australia in the Australian Hockey League.
Furthermore, he led his team to the gold medal at the 2010 Commonwealth Games and the 2014 Commonwealth Games. Likewise, he has also bagged two bronze medals at the Olympics.
Lidewij Welten
Date of Birth: 16 July 1990
Birth Place: Eindhoven, Netherlands
With over a decade in the field hockey industry, Lidewij Welten maintained 212 caps and 87 goals. Moving on, she has garnered twelve national titles and eleven European titles.
Furthermore, she has bagged three gold and a silver in the Olympics. Hence, she is one of the promising athletes on the line while grabbing every opportunity she gains on her way.
Read on: 12 Best Looking NHL Players in the World!
Jeroen Hertzberger
Date of Birth: 24 February 1986
Birth Place: Rotterdam, Netherlands
Currently playing for the Dutch National team, Jeroen Hertzberger is the all-time top scorer in the Euro Hockey League competition with 26 goals. To date, he has played 259 games and scored 90 goals.
Nicknames: The Wizard or The Magician
Date of Birth: 29 August 1905 (Allahabad, United Provinces of Agra and Oudh, British India)
Date of Death: 3 December 1979 (All India Institute of Medical Sciences, New Delhi, India)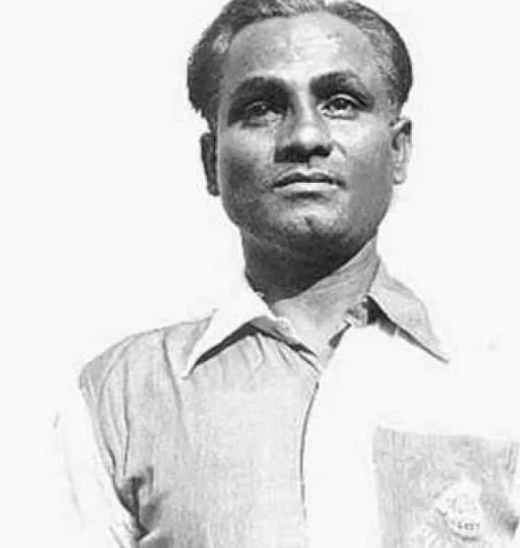 Greatest of the greatest, Dhyan Chand was regarded as The Magician of the field hockey industry. As a matter of fact, he has 1000 goals in his entire domestic and international career.
Well, as only for his international career, he has had 570 goals in 185 matches. As his legacy is spread far and wide, India's highest sporting honor Major Dhyan Chand Khel Ratna Award, is named after him.
Similarly, India celebrates his birthday on August 29 as the National Sports Day.
Summary
Before we move up and disclose this topic, below is the summarized list of athletes we have discussed today.
Sohail Abbas
Paul Litzen
Teun de Nooijer
Jamie Dwyer
Ties Kruize
Hassan Sardar
Dhanraj Pillay
Floris Jan Bovelander
Luciana Aymer
Fergus Kavanagh
Lidewij Welten
Jeroen Hertzberger