The late athlete, Bill Garrett, was a basketball player, coach, educator, and college administrator.
He was famous for being the first African American to play regularly on the Big Ten Conference Varsity basketball team.
Bill played basketball professionally in his high school and college years also. Likewise, in 1951, the Boston Celtics picked Garrett in the NBA draft in rounds two and 16th overall.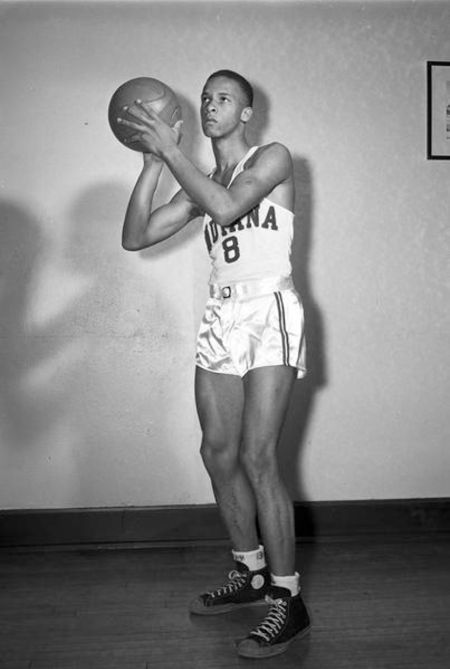 However, he spent a lot of time being a coach than playing as a player. Sadly, in August 1974, Bill's untimely death shocked basketball fans.
Come and know more about this talented figure as we remember his glorious days.
Quick Facts:
| | |
| --- | --- |
| Full Name | William Leon Garrett |
| Birth Date | April 4, 1929 |
| Birth Place | Shelbyville, Indiana, US |
| Known as | Bill Garrett |
| Died | August 7, 1974 |
| Aged | 93 Years Old |
| Nationality | American |
| Ethnicity | African |
| High School | Shelbyville High School |
| College | Indiana University |
| Father's Name | William Leon Garrett Sr. |
| Mother's Name | Laura Belle (O'Bannon) |
| Siblings | Two sisters and a brother |
| Height | 6 feet 3 inches (191 cm) |
| Body | Athletic |
| Profession | Professional Basketball Player |
| Active years | 1953-1956 |
| Position | Center |
| As a coach | 1956-1968 |
| Marital Status | Married |
| Wife | Betty Guess |
| Children | Four |
| Famous As | NBA Player |
| NBA Draft | 1951 |
| Team | Boston Celtics |
| Merch | The unknown story of Bill Garrett |
| Last Update | March, 2023 |
Who was Bill Garrett? Early life, Family, and Childhood
Bill Garrett, the late basketball player, was born in Shelbyville, Indiana, USA. He was born Willian Bill Garrett, the oldest child of his parents, William Leon Garrett Sr., and Laura Belle (O'Bannon).
Aside from his parents, Bill has three other siblings: two sisters named Mildred and Laura and a brother named James. The four siblings had a tight bond as they all grew up together in Indiana.
As for his education, Garrett went to Booker T. Washington Elementary School, a racially segregated school located in Shelbyville. Likewise, he graduated from Shelbyville High School in 1947.
Not to mention, Bill was one of a few African American students in his high school. For his higher studies, he went to Shelbyville High School.
Right after that, he enrolled at Indiana University, located in Bloomington, Indiana. Moreover, Bill later earned his Master's degree in education and guidance certificate from Butler University in 1968.
You might also want to read: <<Lina Hurtig Age, Soccer, Married, Lesbian, Interview, Net Worth, Instagram >>
Intramural Center at IU to be renamed after Bill Garrett
As we know, Bill Garrett is the first African-American basketball player in the Big Ten Conference.
The Indiana University Board of Trustees resolved to rename the Intramural Center on the IU Bloomington campus after him to commemorate this legend.
Likewise, the facility which hosted IU men's basketball home games from 1928 to 1960 will now be known as William Leon Garrett Fieldhouse. Before, it was called The Fieldhouse.
"Appropriate signage will be placed on the building to honor this great alumnus of Indiana University and one of its true courageous leaders in the integration and acceptance of African Americans in basketball at both the collegiate and professional level."
Not to mention, the change is happening after Ora Wildermuth's name was removed from the facility due to racist beliefs and views held by the IU alumnus and trustee.
Unlike others, Garrett's legacy is well-known in IU Athletics lore for his contribution to the court. The later player was in the Hoosiers from 1948 to 1951 and earned All-Big Ten honors.
Also check out: <<Deena Centofanti Age, Height, Husband, Rumors, FOX 2, Salary, Twitter >>
Bill Garrett | Early Basketball Career
Bill's earliest basketball career started with his high school team. One of the few African American students in his high school, Garrett was also one of three black starters on his school's integrated basketball team.
Bill led his school team to its first state high school basketball championship after beating Garfield High School.
That same year, he was named Indiana, Mr. Basketball. But, sadly, no college coach recruited Bill to play basketball, and he ended up at Indiana University.
Before this, Garrett planned to attend Tennessee State, a historically black university in Nashville, Tennessee.
Upon his arrival at Indiana University, Bill started playing under the head coach Branch McCracken.
Not to mention, Garrett was the first African American to play on the IU basketball team and regular to start on a Big Ten Conference since many coaches strayed from selecting black players for their teams.
Bill Garrett | Professional Basketball Career
Fast forward to 1951; the Boston Celtics selected Bill in the second round of the NBA draft. Garrett was the third black player to be picked for the NBA.
But even before he could play professionally, Bill was drafted into the US Army during the Korean War. Likewise, Bill only returned to the States after spending two years in the army in 1953.
Garrett intended to play professional basketball upon his return, but sadly, the Celtics had been released from the team long ago.
Moreover, the coaches were concerned about his height for not being too tall; and were uncertain about his ability to play guard or forward position.
He joined the Harlem Globetrotters but left after two years only when he found their play more comical than competitive.
Soon he took a job as a factory worker and changed to high school basketball coach and teacher in Indiana later. Similarly, for a year, Bill served as a coach for the Wood High School in Indianapolis.
Following this, Bill was picked to replace Ray Crowe as the head coach of Indianapolis's Crispus Attucks High boys' basketball team.
Keeping up their state championships record, Garrett also led the team to their state high school basketball championship title win in 1959.
This made Garrett the only Indiana Mr. Basketball to win a state championship as a player and coach.
He was named the 'Coach of the Year by the Indiana Sportswriters and Broadcasters Association.
You can check the Bill Garrett Career Stats here.
Bill Garrett Personal Life | Marriage, Wife, and Children
Now, we know how Bill was as a player and a coach. So, let's look at his personal life and how he was as a husband.
Yes, Bill was a married man. He was married to his beautiful wife, Betty Guess, a native of Madison, Indiana.
Likewise, she was also a physical education major at IU while Bill was a sophomore at the college. After dating for a while, the two tied the knot on August 2, 1952.
During their marriage, Garrett was still serving in the US military at Fort Leonard Wood, Missouri. Since then, the two had been happily married until his sudden demise in 1974.
As for his family, Garrett had four beautiful children; three daughters, Tina, Judith, and Laurie, and a son named William "Billy." And it seemed his children also shared his competitive genes.
Don't forget to check out: <<Cristina Servin- wife of Tony Ferguson, Age, Husband, Children, Net Worth, IG >>
Moreover, his daughters became "the first African Americans to compete in open swimming competitions" in Indianapolis and became nationally ranked-swimmers.
Some FAQs:
How Old was Bill Garrett?
The African-American basketball player Bill Garrett was born in the year 1974 on the seventh of August.
Garrett was a star player who stood at 6 feet 3 inches(191 cm) during his time. Also, he was naturally athletic and further honed his skills with more time on the court.
How did Bill Garrett Die?
Garrett spent most of his time off-court, the first African-American to play in the 'Big Ten Conference varsity basketball team than inside.
He played as an NBA player for three short years only from 1953 to 1956. After that, the rest of his years went by as a coach for the professional team.
Sadly, Garrett passed away at the age of 45. In August 1974, Bill suffered from a sudden heart attack, and four days later, he passed away. After his death, his remain is buried in Crown Hill Cemetry, located in Indianapolis.
What Position does Bill Garrett play in NBA?
Bill Garrett used to play in the center position in NBA.
Did Bill Cristo Rey Atlanta Jesuit High School?
No, he did not work in the Atlanta Jesuit High School.
What is the Jersey Number of Garrett?
Garrett wears jersey number 9.