After his divorce from his ex-wife Elizabeth Kemp, Brett Lee married Lana Anderson. Anderson is a socialite.
Brett Lee is a former Australian former professional cricket player who is known as one of the fastest bowlers in cricket history.
Born on November 8, 1976, in Wollongong, New South Wales, Australia, Lee started playing cricket at an early age.
He made his international debut in a test match against India on December 26, 1999. Similarly, his ODI debut was against Pakistan on January 9, 2000.
Lee earned a reputation for his aggressive and fast-paced bowling which clocked above 150 kph (93.2 mph); his highest was 161.3 kph (100.2 mph).
Throughout his cricket career, he won several accolades, including three ICC Cricket World Cup and two ICC Champions Trophy.
Lee retired from international cricket on 12 July 2012 and later announced his retirement from all forms in January 2015.
Since his retirement, he has found a new career path as an actor and sports commentator.
Brett Lee Wife Lana Anderson Is A Socialite
Lana was born and brought up in Australia. Lana involves herself in various philanthropic endeavors. She attends different charity events and social works with her husband.
In 2007, Lee initiated "Mewsic," a charitable foundation in India, to bring out musical talent from marginal families of India.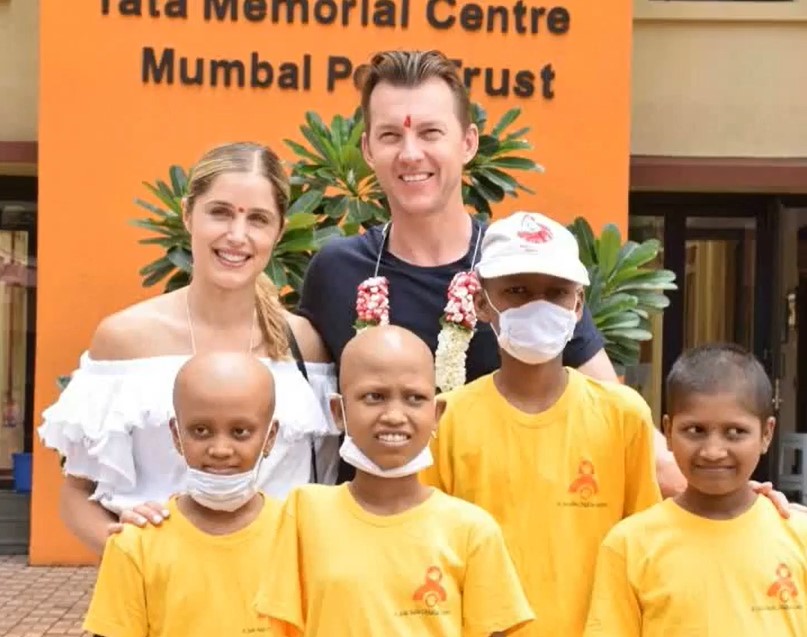 After Lee married Lana, she also actively participates in different events of this organization.
The Lee couple attended an event organized at St. Jude India Child Care Centre in Mumbai in 2017. The aim of the event was to promote the Music Therapy program for young cancer patients.
Brett Lee Married Life And Kids
The former professional cricket player married Lana Anderson. The two began dating around the year 2013, after a few years of his separation from his ex-wife.
Brett and Lana were very private regarding their relationship, and they made their first public appearance at the Joan Sutherland and Richard Bonynge Foundation fundraiser at Le Montage in 2014.
The couple decided to take their relationship to the next level and took the vows in a private ceremony in Seaforth, Australia.
The Lee couple was blessed with a beautiful daughter, Helena Lee, in December 2014.
After a few years, the former cricket player appeared as The Parrot on Channel 10's The Masked Singer and shocked the world with the news of his third child and second with his wife, Lana.
Brett and Lana welcomed their son in 2019. However, the name of their son is still not known.
Besides, Lee also has a son, Preston Charles Lee, born on November 16, 2006, from his previous relationship with his ex-wife Elizabeth Kemp.
Brett and Elizabeth got married in 2006, but the former couple parted ways after three years of marriage in 2009.