Bronny James and date Peyton Gelfuso have once again become the trending topic with their prom pictures hitting the internet. The couple met for the first time at Sierra Canyon.
It all seems to be the deja vu of last year. The eldest son of LeBron James once again took his girlfriend Peyton Gelfuso as his prom date last night.
Last year the folks on the internet weren't happy with Bronny's decision to take a Caucasian woman as his prom date, and it's all repeating. But it doesn't look like it will have any effect on Bronny and Peyton's relationship.
The talented offspring of one of the greats of basketball, Bronny James, has eyes thousands of people carefully looking at his every move. The 18-year-old has big shoes to fill, and it can certainly get mentally tasking.
Earlier this month, Bronny announced he had committed to USC, which again became a hot topic of discussion.
Bronny James And Prom Date Peyton Gelfuso
Bronny James and his prom date Peyton Gelfuso have once again become the talk of the town, just like they were last year.
The young couple Bronny and Peyton confirmed their romance in 2022 when Bronny shared snaps of him and Peyton attending prom together.
A TikTok video of Bronny asking out Peyton to be his prom date also went viral last year. Holding a huge board with a gleeful smile, Bronny asked out his crush Peyton to be his prom date.
On the board, it was written, "Let's make our mark at prom and make it a McDreamy night." It sounds cheesy, but maybe that's just Bronny's way of expressing his feelings for Peyton.
Soon after the photos and video of the young couple from last year's prom went viral on the internet, some fans even accused Bronny of being racist.
He drove Peyton and himself to the prom in his black Mercedes AMG GT Coupe, and the young couple looked effortlessly stylish.
2023 Prom Date Of Bronny And Peyton
The 2023 prom was extra special for Bronny as it was his last year as a high school student. Next year we will see the oldest son of LeBron James rocking the colors of USC.
Savannah James, Bronny's mom, couldn't help but share a few pictures of his son's prom night on her Instagram handle. Savannah captioned the post, "Prom 2023. Lost for words on this one."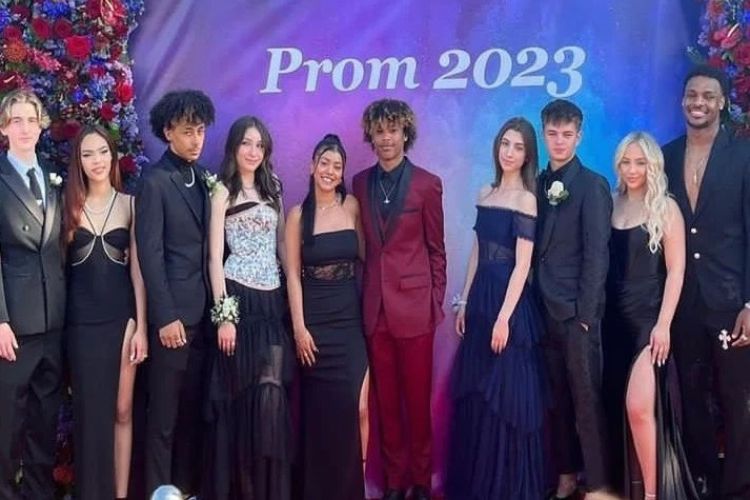 Unlike last year, Bronny hasn't shared any pictures of his prom night on his Instagram handle. It was probably because of the backlash.
But Peyton did share Instagram stories of her getting ready for prom, and one of the stories was a romantic picture of her and Bronny.
Who Is Peyton Gelfuso? Bronny James Girlfriend
Born on December 11, 2003, Peyton Gelfuso graduated from Sierra Canyon last year.
She is a year older than Bronny and has joined Southern Methodist University for her higher education.
Per Sierra Canyon's website, Peyton previously played soccer and tennis at the high school level. But she might divert her full attention to academics at SMU.
On Instagram, Peyton boasts a following of 48.1k and has shared several snaps of her traveling worldwide and having the time of her life with friends.
Last year, Peyton shared a series of pictures from her trip to Spain with her friends. Likewise, Peyton has several Instagram story highlights showcasing her fashion style and travel diaries.