Cael Sanderson, 44 years old, is an American former folkstyle and freestyle wrestler who dominated wrestling from 1999 to 2002. He is currently serving as a head coach of Penn State's wrestling team.
Moreover, he won the Olympic gold medal at the 2004 Summer Olympics.
"The Best There Is, The Best There Was, The Best There Ever Will Be." It is a quote befitting of the greatest collegiate wrestler of all time, Cael Sanderson.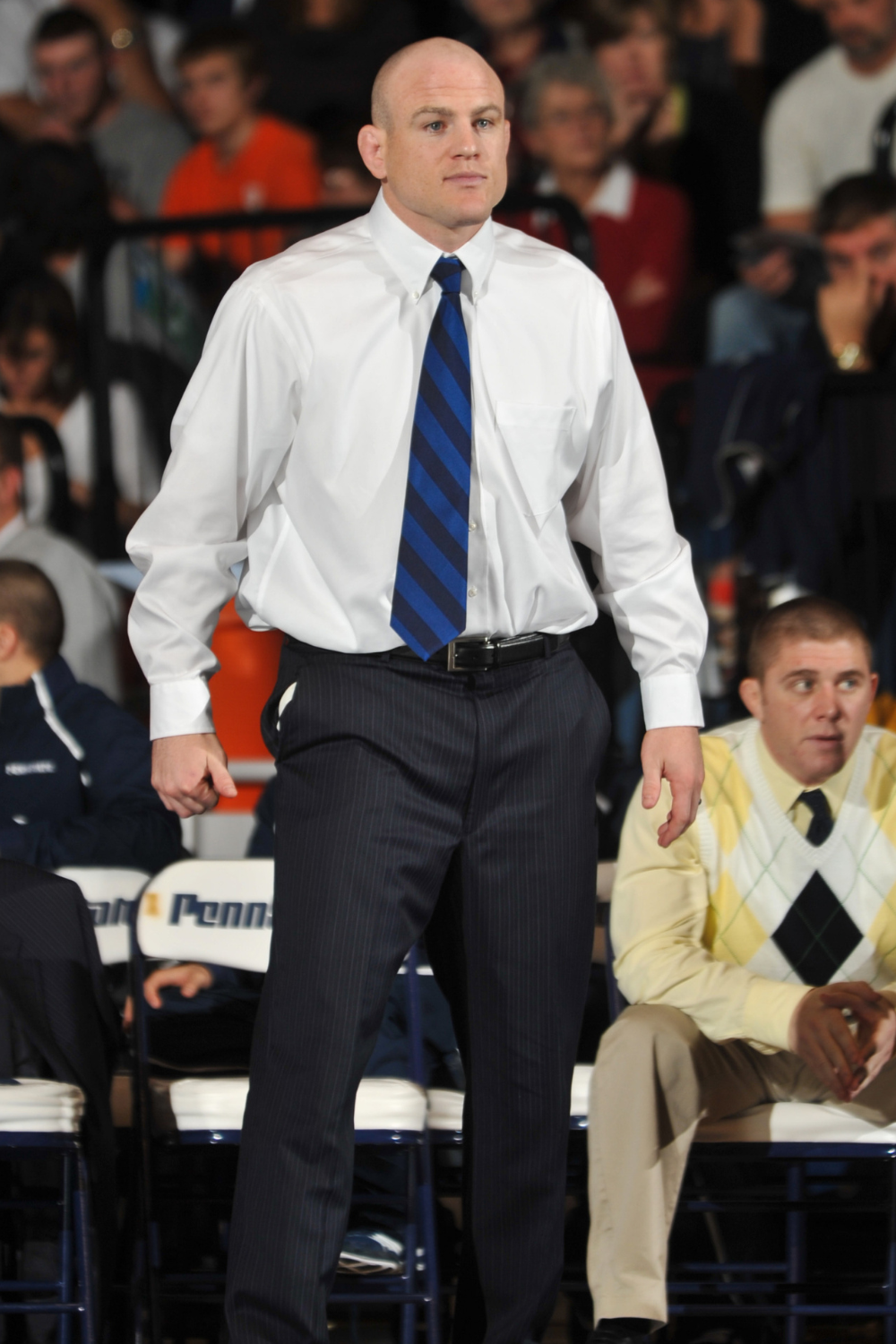 The former wrestler is an Olympic gold medalist and was the only wrestler in NCAA Division I history to go undefeated with more than 100 wins.
However, his achievements are not just limited to competing as a wrestler. The Utah native is also a good coach and has helped Iowa State to finish second, fifth, and third in the NCAA Division I.
We will inform you about Cael's life from his early years to his current coaching role. But first, let's look at the quick facts table;
Quick Facts
Full Name
Cael Sanderson
Birth Date
June 20, 1979
Birth Place
Salt Lake City, Utah
Religion
Unknown
Nationality
American
Sexuality
Straight
Ethnicity
White
Education
Wasatch High School

Iowa State University

Horoscope
Gemini
Father's Name
Steve Sanderson
Mother's Name
Cael Norman
Siblings
Brothers; Cody Sanderson and Cole Sanderson
Age
44 Years Old
Height
5'11″/1.80 m/180 cm
Weight
84 kg/185 lb.
Hair Color
Brown
Eye Color
Black
Marital status
Married
Wife
Kelly Sanderson
Kids
2 Sons
Profession
Wrestling Coach (Current), Wrestler (Former)
NCAA Record
159-0
Olympic
Gold (2004 Summer Olympics)
Olympic Team
United States of America
State championships
4 (Utah)
NCAA Championships
12 ( Four Competing, Eight Coaching)
Active Years
1999-Present
Current Affiliation

Penn State

Net-Worth
$2 million
Social Media
Twitter, YouTube, Instagram
Last Update
November 2023
Early Life, Family & Brothers
On June 20, 1979, Steve Sanderson and his wife begat their son Cael Norman Sanderson in Salt Lake City, Utah. Cael's old man was a former wrestling coach, and it was with his father he learned all of his craft forms.
Cael grew up with his three brothers. Two of the three, Cody Sanderson and Cole Sanderson, are wrestlers. However, his third brother remains a mystery till this point.
Hence, it is fair to say that wrestling runs in the genes of the Sanderson family.
Talking about his education, Cael went to Wasatch High, where he became a high school wrestling star. He gained a reputation for being the best wrestler in his age group.
Career (College & International)
After graduating high school, Sanderson attended Iowa State University, where he dominated collegiate wrestling for the next four years. In fact, Cael was so good that he never lost a match in any of the official NCAA tournaments.
During his time at Iowa, the 44 years old competed in 159 matches, winning all of them.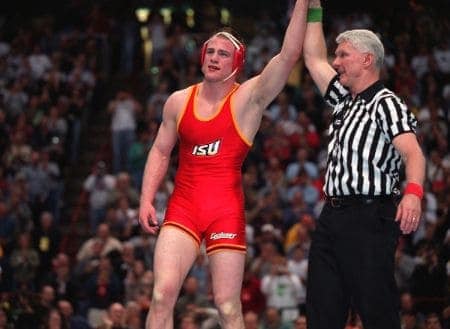 Sanderson became the first freshman in the NCAA tournament's history to be named the Outstanding Wrestler at nationals.
The former wrestler was also the first freshman in history to win the Dan Hodge Trophy, given to the best college wrestler in the US.
Competing for the Iowa State, he had won the NCAA Outstanding Wrestler four times, the Big 12 Conference Championship four times, Dan Hodge Trophy three times, and NCAA title four times.
He finished his college career as the undisputed best collegiate wrestler of all time. In fact, no one before him and no one after has achieved what Cael did during his time at Iowa State University.
Cael Sanderson vs Daniel Cormier
Sanderson squared off against former two-weight UFC Champion Daniel Cormier during the 2001 NCAA tournament finals. Although Daniel showcased his strength by putting Cael on his back twice, Sanderson came back and won the match.
In doing so, he won his third straight NCAA title. However, both men have gone on their own paths since and have become greats in their respective work lines.
International
Looking at his international achievement, Cael has won what every young wrestler dreams of winning, an Olympic gold medal.
The 44 years old former wrestler won his gold at the 2004 Summer Olympics in Athens, Greece.
He also collected gold in World Cup (2003 Boise) and University World Championships (2000 Tokyo).
Other than that, Sanderson has also won silver at the 2003 World Championships and a bronze at the 2003 Pan American Games and 1994 Cadet World Championships.
Career Highlights And Awards
Some of his career highlights and awards of Cael is listed below:
Summer Olympic
John Smith Award as the Freestyle Wrestler of the Year
World Wrestling Championships Pan American Game
John Smith Award as the Freestyle Wrestler of the Year
Best Male College Athlete ESPY Award
Dan Hodge Trophy winner
NCAA Division I Championships Outstanding Wrestler
Dan Hodge Trophy winner
NCAA Division I Championships Outstanding Wrestler
Dan Hodge Trophy winner
NCAA Division I Championships Outstanding Wrestler
Big 12 Conference
Other honors
Iowa Sports Hall of Fame inductee
Wheaties cereal box appearance
Coaching Career
Cael began his coaching career with his alma mater, Iowa State University, two years after graduating. During his three years at Iowa, the best he could manage was a second-place finish in 2007.
Before the 2010 season ended, the former freestyle wrestler became the head coach of Penn State's wrestling team.
Just like IN his college days, Sanderson went on a winning spree. Sanderson has won 10 NCAA Division I team titles in 14 tournaments as of 2023.
As a matter of fact, reminiscent of his college days, Cael has guided his team to an undefeated four-year streak twice (2011-14 and 2016-2019).
Cael Sanderson was inducted into the National Wrestling Hall of Fame of 2011 class and Iowa State University Hall of Fame in 2017.
Age, Height & Nationality
Born in 1979, Cael is 44 years old. The Olympic gold medalist celebrates his birthday on the 20th day of June, and his star sign is Gemini.
Moreover, people who fall under this sign are known for their smartness, sharpness, and adaptability.
Moving on, Cael stands at 5 feet 11 inches (1.80 meters) and weighs 84 kg (185 pounds).
What Is Cael's Record?
Talking about Cael's record, it is simply incredible. To illustrate, the 44 years old won four consecutive NCAA titles from 1999-2002, going undefeated with a record of 159 wins and zero losses.
In doing so, he became the only wrestler in history to go undefeated for the entirety of his career.
Net Worth & Salary
As of 2023, Cael has an estimated net worth of $2 million, which he accumulated from his career as a wrestler and then coach.
The former athlete has been involved in competitive wrestling since early 1994. Hence, his net worth should come as no surprise.
Talking about his salary, Sanderson, who has guided the Penn State team to 10 first-place finishes, earns a reported $200,000 per year, including the winning bonuses.
Looking at the earnings, it seems Cael is living a lavish life with family and enjoying the best moment of his life.
Some Famous Quotes
Unless you continually work, evolve, and innovate, you'll learn a quick and painful lesson from someone who has.
Wrestlers Compete as Individuals, Yet the Sport Builds Comradery Like No Other.
Anyone can wrestle until they are tired.
There will be many challenges ahead, and I'm looking forward to them.
Wife & Kids
At the moment, Cael is happily married to his lovely wife, Kelly Sanderson. The couple shared their wedding vows back in 2002 in the presence of their family and friends.
Kelly celebrates her birthday on the 9th of November and is a caring housemaker.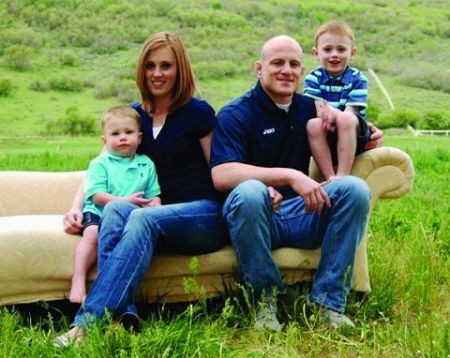 The couple shares two kids together, both sons, Tate Sanderson and Teag Sanderson. Tate was born five years into their marriage in 2007, while the exact date of birth of Teag remains undisclosed.
Judging by the strong bond and romance the two lovebirds share, they will likely stay together and be the perfect example for the statement 'Till death do us apart.'
Social Media Presence
The retired wrestler and head coach of Penn State's wrestling team stays connected with his fans through different social media platforms.
He is available on Instagram under the handle @sandersoncael and Twitter @caelsanderson.
The wrestling coach also had a YouTube channel @ISUWrestling which features a few wrestling tutorials.
Twitter: 69.5k followers
Instagram: 22.3K followers
YouTube: 3.17k subscribers
Popularity
Winning consecutive NCAA Division I titles as a wrestler and now helping the team win the consecutive title as a coach, his popularity has grown substantially.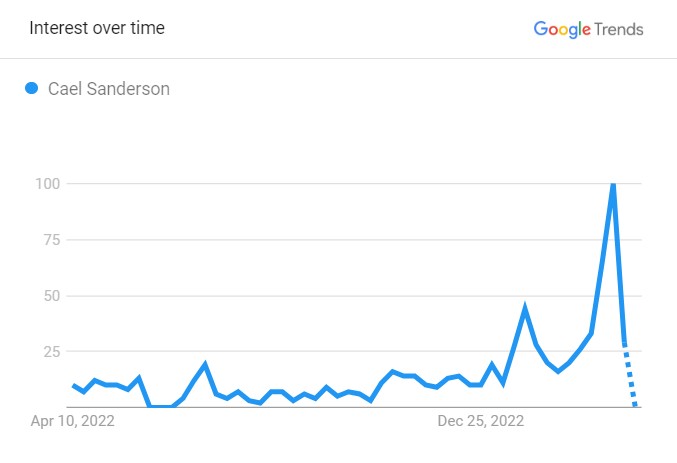 The above graph gives brief information about Cael Sanderson based on Google searches in the United States over a year.
Frequently Asked Questions (FAQs)
When were Tom Brands and Cael Sanderson named as volunteer US Freestyle World Team coaches?
Tom Brands and Cael Sanderson have been named as volunteer US Freestyle World Team coaches for the 2014 World Wrestling Championships in Tashkent, Uzbekistan. The competition was held in September 2014.
What is Cael Sanderson's salary at Penn State?
As per some online sources, Cael Sanderson's salary at Penn State is estimated to be around $175,000, excluding winning bonuses.
Is Cael Sanderson the best collegiate wrestler of all time?
He is indeed one of the best, so it wouldn't be wrong to consider Cael among the top all-time best collegiate wrestlers.