Candace Nicole Parker is a professional basketball player from the U.S. who is a power forward for the Chicago Sky of the WNBA. The Los Angeles Sparks selected her first overall in the 2008 WNBA Draft.
As a matter of fact, Candace Parker is all the energy you need as you grow up! Sarcastic, confident, charismatic, and on-point, Parker is the soul every female relates to.
She has played for teams like Los Angeles Sparks, UMMC Ekaterinburg, Guangdong Dolphins, Fenerbahçe Istanbul, Xinjiang Tianshan Deers, and Chicago Sky.
Candace is the only female with two Gatorade National Girls Basketball Player of the Year awards.
She recently broke the league record for triple-doubles at the end of June 2022 against Sparks.
She has set the bar high by being the first female to dunk in an NCAA tournament game.
Besides being a player, Candace is also an analyst for NBA games on T.N.T. and NBA TV.
On February 11, 2022, Petrakova, Candace's wife, gave birth to their son, Airr Larry Petrakov Parker.
Candace became the first female analyst to get the historic NBA All-Star game gig on Feb 7, 2023.
Let's have a brief look at the quick table before going further.
Quick Facts | Candace Parker
Full Name
Candace Nicole Parker
Date Of Birth
April 19, 1986
Birth Place
St. Louis, Missouri
Nick Name
Shebron
Religion
Unknown
Nationality
American
Ethnicity
Mixed
Zodiac Sign
Aries
Age
37 Years Old
Height
6'4″/1.93 m/193 cm
Weight
79 kgs/175 lbs
Hair Color
Black
Eye Color
Black
Build
Athletic
Father's Name
Larry Parker
Mother's Name
Natasha Parker
Siblings
Two Older Brothers; Anthony Parker And Marcus Parker
Education
Naperville Central High School
University Of Tennessee
Marital Status
Married
Spouse

Shelden DeMar Williams (2008-2016)
Anna Petrakova (2019-Present)

Kids
A Daughter, Lailaa Nicole Williams & A Son Airr Larry Petrakov Parker.
Profession
Basketball Player
Analyst
Position
Power Forward/Center/Guard
Affiliations

Los Angeles Sparks
UMMC Ekaterinburg
Guangdong Dolphins
Fenerbahçe Istanbul
Xinjiang Tianshan Deers
Chicago Sky

Active Years
2008-Present
Net Worth
Over $5 Million
Social Media
Instagram, Twitter
Merch
Los Angeles Trading Card, Candace Parker: Basketball Star
Last Update
December 2023
Candace Parker | Early Life, Family, & Education
Candace Nicole Parker was born on April 19, 1986, under Aries' sun sign. She is the youngest of three siblings and has two older brothers, Anthony Parker and Marcus Parker.
Born in St. Louis, Missouri, her parents are Natasha Parker and Larry Parker. However, they later moved to Naperville, Illinois, when Candance was two.
As a plus point, Candace is from a sports background, as her father, Larry, used to be a college basketball player and even played at the University of Iowa.
Later, Larry coached basketball for 12 years of his life.
Among her two older brothers, Anthony was a basketball player who played nine years in the NBA and six years in Europe. While her other older brother, Marcus, is a doctor.
Introduction To Basketball
The Parker family is an avid fan of the Chicago Bulls. So, of course, Candace commenced playing ever since her early days and grew a passion for it.
However, she didn't devote herself to it instantly as she was doubtful that she couldn't do any better than her father and brother.
Therefore, she first committed herself to soccer till grade eight. Later her parents convinced her to move towards basketball.
As her father coached her, he recalls her as a curious girl. She had a little sports basket with the nerf ball for practice as a child.
"She was always head and shoulders taller than most of the kids in her school, including the boys. So when you show that you can really play, and she played on a traveling team for us, then all of a sudden, I think it really made a big difference. And that's how she ended up being who she is."
-Larry Parker
High School
Parker attended Naperville Central High School in Naperville, Illinois. She had always aspired to be different; thus, she took almost everything as a competition during the days, even if it wasn't.
Back then, she started dunking way early than the boys. She would even have a dunk contest against them and used to overpower them with her skills.
Her first dunk was in her sophomore year on December 27, 2001, which became the first dunk by a female in Illinois.
Following it, she won the slam dunk contest at McDonald's All-American Game. As a high schooler, Parker led her team to Class AA state titles in 2003 and 2004.
She is also the only one to bag the USA Today High School Player of the Year two times. Her high school life was almost a walk with awards due to all her accomplishments.
Parker claimed the Naismith Prep Player of the Year award, Gatorade Female Basketball Player of the Year award, and Gatorade Female Athlete of the Year during her tenure.
She also holds WBCA All-American, McDonald's All-American, and a gold medal in the USA Junior World Championship team.
By the end of her tenure in Naperville, Parker maintained a school record of 2,768 points and 1,592 rebounds while starting 119 of the 121 games.
College
In 2004, Candace Parker committed to the University of Tennessee after announcing it during her senior year on November 11, 2003.
She was marked as the first woman in history to promote oral commitment live on the network.
However, she was out of the 2004 season due to her knee injury and started in 2005 as a redshirt. Initially, she starred in the forward, center, and guard positions and then posted the foremost dunk made by a woman in the NCAA tournament game.
As a freshman, she claimed the SEC Rookie of the Year while leading her team to win the 2006 SEC tournament championship.
Likewise, Parker also became the only college player in the US squad for the 2006 FIBA World Championship for Women in Brazil.
Moving to her sophomore days, she again bagged the SEC Player of the Year.
She had 1,000 career points before it, which tagged her as the fastest player in Lady Vol history to do so.
By the end of her tenure, she had gained the tournament's Most Outstanding Player honor two times.
Following it, she announced to forgo her final season in Tennessee to focus on the 2008 Olympics and pursue a professional career in basketball.
Thus, as a sports management major, she graduated from Tennessee in 2008 with a 3.35 GPA.
As for her game statistics, she posted an average of 19.4 points, 8.8 rebounds, 2.6 assists, 1.9 steals, and 2.4 blocks per game.
Candace Parker | Professional Career
Los Angeles Sparks
Parker had her professional debut match against the Phoenix Mercury on May 17, 2008. As a rookie, she surpassed the rookie record of 25 points in the debut game with 34 points.
Candace is also the first player to dunk twice in her WNBA career. She took both the Rookie of the Year and the Most Valuable Player awards in the same season.
After her rookie contract expired, she re-signed with the team in 2012.
In the meantime, she won the WNBA All-Star MVP and the 2013 WNBA Most Valuable Player award. Hence, she became the fifth player to have multiple WNBA awards.
After the team's coach was changed in 2015, Brian Agler took over as the new coach. Parker maintained a career-high 6.3 assists per game and stood first in the league.
In 2016, Parker signed an extension contract as an unrestricted free agent. By the end, she stood as the league's best 20 players ever, as was announced during the WNBA's twentieth anniversary.
Again, she dealt a multi-year contract with the Sparks, which held her till 2020. During her tenure, she became the league's sixth player to have a triple-double with a career-high 11 assists.
In 2018, Parker showcased the best stat line in the WNBA history with 21 points, ten assists, nine rebounds, four steals, and two blocks. In 2020, Parker gained the first Defensive Player of the Year award.
Chicago Sky
Playing for 13 seasons with the Sparks, her long journey ended in 2021 as she dealt a 2-year deal for $385,000 with the Chicago Sky.
As she started as an unrestricted agent, Parker believes she is back to her home now, as she pairs with the Chicago Sky.
US National Team & International Arena
Candace Parker debuted in the US national team through the under-18 team in August 2004. She led her team to the gold medal at the FIBA Americas Championship in Mayagüez, Puerto Rico.
Similarly, she held victories for the national team over Australia in 2008 and France in 2012. She also participated in the 2009 Basketball Women's National Team training camp.
She was selected to travel around Ekaterinburg, Russia, during the camp, for the 2009 UMMC Ekaterinburg International Invitational. Even during their time off, Parker played for UMMC Ekaterinburg of the Russian League.
Alongside that time, she bagged five wins for the team and even appeared in the 2012 and 2016 Summer Olympics. However, she later declined the 2017-2020 national team training camp.
At the same time, she signed with Guangdong Dolphins to replace Yelena Leuchanka in the 2016 WNBA off-season.
After the season, she signed to play for Fenerbahçe Istanbul of the Turkish League and the Xinjiang Magic Deer of the Chinese League.
Tribute To Lady Vols Coach Pat Summitt
In Late June 2016, legendary Lady Vols coach Pat Summitt took her last breath at 64 from Alzheimer's. That night, Parker produced excellent gameplay for the team and later dedicated her games to Pat.
At the time, she made sure she wore the orange jacket and a shirt featuring coach Pat. Indeed, Pat had a special place in Parker's life; thus, she always remembers her.
Did Candace Parker Play At The Tokyo 2020 Olympics?
No, the two-time Olympic gold medalist did not play for the U.S. Women's basketball team at the Tokyo 2020 Olympics.
After she was left off the 2016 roster, the WNBA player announced in 2018 that she would never play for the U.S. national team again. Moreover, it was for the good that she was left off in 2016 as she went on to win the WNBA Championship.
At the time, she expressed how surprised and disappointed she was, considering that she was in good health and had recovered well from her injuries. However, this time the two-time WNBA MVP was not much surprised by the roster announcement.
She shared her frustration with many other well-deserving players like Elena Delle Donne and Nneka Ogwumike being left out of the 2020 Tokyo roster. Parker said,
"I know there are a lot of deserving women, but how many times are we going to say something is unfair, right? How many times are we going to say it's not politics? Like, I think we all know that."
She also reached out to Nneka and told her how it was unfair that she was the only MVP who had not made it to the U.S. national team. Hence, Candace said that the unfairness was why she was commentating at the Tokyo 2020 Olympics rather than playing.
Yes, Parker was in Japan for the Olympics but covered the Tokyo 2020 Olympics as a studio analyst for NBC. She also joined Kara Lawson and Vince Carter, Olympic gold medalists, and broadcaster Bob Fitzgerald.
Besides that, NBC Olympics Vice President Rebecca Chatman expressed her excitement over having three Olympic gold medalists in NBC's commentary team for the Tokyo 2020.
Where Is Parker In 2022
Recently, Candace Parker announced she would play in the WNBA in 2023. Parker had a great 2022 season.
She averaged 13.2 points, 8.6 rebounds, and 4.5 assists per game and broke the league record for triple-doubles at the end of June 2022 against her former team, the Sparks.
"Right now, yeah, I'm game,"
Parker said. "Let's see if my body is this way in January and February. But I plan to play.
I plan to come back, but at the same time last year, it was the reverse. I couldn't imagine placing shoes again or going through game 27 on the schedule.
And then, a switch flipped in February, and I was ready to go.
I like to take the offseason and my time, but I don't know if I've dribbled my last ball right now."
Moving on, Candace Parker bagged a major achievement by being the first female in-game color commentator for the 72nd NBA All-Star game, as was announced by TNT on Feb 7, 2023.
Candace Parker | Pregnancy & Injuries
During Parker's high school phase, she first struggled with knee pain, for which she underwent surgery. Back then, she had done surgery for both the lateral meniscus and the lateral articular cartilage in her left knee.
In January 2009, Parker missed the first eight games of the 2009 WNBA season due to her pregnancy with her daughter, Lailaa Nicole Williams.
Tina Thompson and Betty Lennox helped cover her position during her absence until she was back on July 5, 2009.
In June 2010, Candace struggled with a dislocated left shoulder while grabbing a defensive rebound at 2 minutes 55 seconds.
Apparently, it's the same injury that has been bothering her since her high school days.
Her shoulder injury made her miss a whole season after playing only ten games.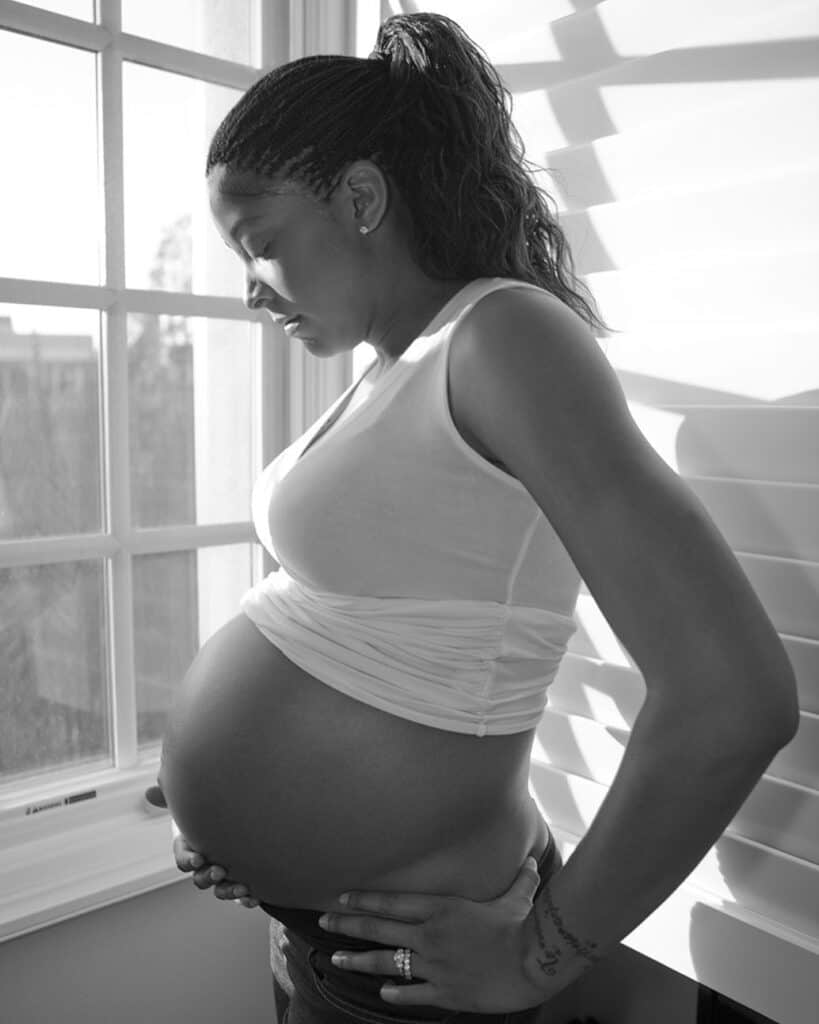 The same year Parker suffered from a torn meniscus in her right knee. Due to her injury, she was absent from the 2011 WNBA All-Star Game.
She took a break in 2015 after her low career point in 2014. At the same time, 2014 was the same year when Williams Group Holdings took hold of the Sparks' ownership.
Likewise, in May 2019, Candace suffered a hamstring injury in her left leg during the preseason games. She missed around 3 to 4 weeks of gameplay.
After 2019
In 2020, Parker let go of the chance to enter the first and second WNBA All-Defensive Teams.
Thus, it created many controversies as the media wanted her in the Defensive Player of the Year award while coaches wanted her on the All-Defensive Teams.
Parker announced her coming out in 2021 and that she married Anna Petrakova in front of close family and friends two years ago.
On February 11, 2022, Petrakova gave birth to their son, Air Larry Petrakov Parker.
Candace Parker | Achievements
With more than a decade's journey in her resume, Candace Parker is one of the most respected women in the WNBA. She is a versatile player with many achievements to date.
WNBA champion and Finals M.V.P. (2016)

2× WNBA MVP (2008 & 2013)

5× WNBA All-Star (2011, 2013, 2014 & 2017–2018)

WNBA Defensive Player of the Year (2020)

2013 WNBA All-Star Game MVP

WNBA Rookie of the Year and All-Rookie Team (2008)

6 Times All-WNBA First Team (2008, 2012–2014, 2017 & 2020)

3 Times All-WNBA Second Team (2009, 2015 & 2018)

2 Times WNBA All-Defensive Second Team (2009 & 2012)

2016 – WNBA Top 20 at 20

5 Times Russian National League champion (2011–2015)

4 Times Russian Cup winner (2011–2014)

EuroLeague champion (2013)

2 Times NCAA champion (2007 & 2008)

A.P. Female Athlete of the Year (2008)

2007 & 2008 – 2 Times USBWA College Player of the Year

Naismith College Player of the Year (2008)

2 Times John R. Wooden Award (2007, 2008)

Wade Trophy (2007)

2 Times Honda Sports Award for basketball (2007, 2008)

Honda-Broderick Cup (2008)

S.E.C. Rookie of the Year (2006 & 2007)

Gatorade Female Athlete of the Year (2004)

WBCA All-American and McDonald's All-American (2004)
Candace Parker & Shaquille O'Neal
What's hitting on the floor is the hilarious yet unique connection between Candace Parker and school-retired Lakers star Shaquille O'Neal. Indeed, their regular appearance in the T.N.T. postgame is a must-see.
As they both start as co-hosts in the game, they only have fun in their conversation. Not to mention, this short yet amazing conversation between them sparked all kinds of charisma.
"You were Defensive Player of the Year?" -Shaquille O'Neal
"Take the surprise out of your voice, Shaq." -Candace Parker
Shaq heartedly commented on how Candace bullies him in the set while making hilarious banters.
Candace replied during their conversation that she didn't wish to lower the rims.
She also taught Shaq about basketball and its play during the program.
Candace Parker |
Net Worth, Salary, & Endorsements
The WNBA star, Candace Parker, is estimated to have over $5 million net worth, with a base salary of $195,000.
Candace and her daughter, Lailaa, became the co-owners of the new NWSL team Angel City F.C. in 2020. To elaborate, Angel City is a Los Angeles-based team for the National Women's Soccer League.
Candance also earns enough from brands such as Gatorade, Budweiser, Addidas, Pro last, Beats by Dre, Mixed Chicks, and more.
Besides, she has helped many companies with donations, like Kay Yow Foundation and Randy Foye Foundation, to name a few.
House
In December 2020, Candace Parker bought a $4 million mansion in the neighboring San Fernando Valley community of Tarzana.
The 6,300-square-foot mansion has tall orange gates with a three-car attached garage for additional parking.
It has a bright-colored scheme and plank hardwood floors. It also includes sunny backyards, a saltwater pool with an inset spa, a pool house, and a half-court basketball court.
In total, it consists of five bedrooms with en suite baths.
Candace Parker | Personal Life
Parker is an independent lady with a fire of determination in her soul. As a matter of fact, she was named to the 100 World's Most Beautiful People list on May 7, 2007.
Currently, Candace resides in Los Angeles. Not to mention, she is a huge pet lover and owns a dog named Prada. She also has a pet dog named Fendi, a St. Bernard mix.
Body Measurements & Workouts
Candace Parker is athletically-toned and stands at 1.93 meters while weighing 175 lbs.
As for her appearance, she is a tan-skinned female with long black hair and eyes of a similar color. Apparently, she keeps herself in shape with her timely workout schedule and diet plans.
As for her workout schedule, Candace does a lot for her leg strengthening, including box jumps, drop lunges, squats, and ladders. She follows ab crunches, medicine ball twists and chops, and cone twists for her core strengthening.
Besides her workout schedule, Parker has a strict set of diets. In fact, she goes by the motto,
"You are what you eat."
Having said that, Parker is more into whole grains, while she consumes red meat only once or twice a week.
She has four meals daily, starting her breakfast with oatmeal, cold cereal, or waffles. Following it, she munches into a ham, egg, and cheese sandwich with fruit.
Additionally, she grabs a pasta-based dish and juice for her mid-day lunch. Thus, in the end, Parker devours a "big meal": baked chicken, broccoli or carrots, and some kind of starch.
Relationship Status
She previously married former basketball player and current assistant coach Sheldon Williams. The duo married on November 13, 2008.
Together, they had a daughter, Lailaa Nicole Williams, born on May 13, 2009. They even bought a 7,000-square-foot (650 square meters) home in Encino, Los Angeles, for $3.56 million, which she sold after the divorce.
Overall, the profit earned from the sale was distributed among them. Unfortunately, the couple split after eight years due to "irreconcilable differences."
Candace paid $400,000 as of one-time payment for alimony to his ex-husband Sheldon.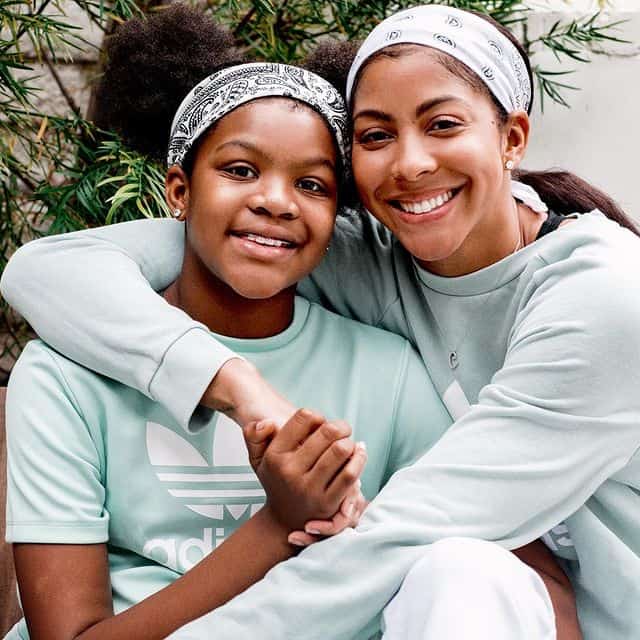 They split after mutual consent and then took joint legal and physical custody of their daughter.
Who Is Shelden Williams?
Sheldon Williams (fully named Shelden DeMar Williams) currently coaches the College Park Skyhawks of the NBA G League. Apparently, he formerly graduated from Duke University, where his #23 jersey was retired on January 28, 2007.
During his tenure at the university, Williams claimed the NABC Defensive Player of the Year award twice. He was also a member of the National Honor Society and the Fellowship of Christian Athletes.
Candace Parker Claims That She Came Out For Her Daughter
When WNBA champion Candace Parker revealed in December 2021 that she had been married to Anna Petrakova two years ago and that they were also expecting a child together, it caught a lot of people off guard.
Parker claims that her daughter was why she came out and revealed their marriage. Parker did not take lightly the decision to share such a private aspect of her life.
In a recent interview with TIME, she stated that the only reason she decided to do so was to convey a message to her daughter, Lailaa.
"I always tell my daughter to be herself. I always tell my daughter to be proud of who she is. And I always tell my daughter to speak for herself and speak up for those that she loves. And I can't say that to her if I'm not doing it myself," she shared.
"I don't want her to ever think that I'm ashamed or not proud of our family. That was a step that we had to take. But we had to take it on our own terms."
Candace Parker |
Social Media Presence
You can check out her social media for further details on Candace's personal life. As for her Instagram, she goes by her real name Candace Parker (@candaceparker), with 1 million followers.
Recently, Candace collaborated with Adidas for the 2023 Collection. Chapter 01 is available now.
View this post on Instagram
Likewise, you can check her Twitter with the name Candace Parker (@Candace_Parker), with 395.2k followers.
Trivia
Candance was the National High-School Player of the Year consecutively in 2003 and 2004.
She won the slam dunk contest at the 2004 McDonald's High School All-America game.
She volunteers actively for charitable organizations, including Marches of Dimes, Ronald McDonald House, PETA, and Love & Fishes.
Unfortunately, she missed her chance to be the first rookie to notch a triple-double with 4 points, 12 rebounds, and eight assists.
The Search Graph
The search graph of Candace Parker is rising, and we can see a higher fluctuation in the beginning months of 2022.
That can be due to her gameplay; she was also out to people during that time as a part of LGBTQ+.
Frequently Asked Questions (FAQS)
Who does Candace Parker look up to?
As she has mentioned, Candace grew up watching the Chicago Bulls and adored Michael Jordan as a fan. Not to mention, her all-time favorite athlete is Ron Harper.
Has Candace Parker retired?
No, 2008, 1st basketball pick overall, has not retired yet. She is healthy and energetic and one of the best basketball players in the WNBA. Hence, WNBA teams are not quite ready to let go of the legendary player, who is also a two-time Olympic gold medalist.