American professional soccer player, Dallas Goedert, was born to his parents in Aberdeen, South Dakota. His parents had separated when Goedert and his siblings were still kids, so his biological father did not have much contribution to his upbringing.
Goedert's mom initially had difficulty raising three kids alone, but Britton resident, Gary Carlson's entry into their lives, made a significant impact.
His stepdad, Gary, and his mom coached their young children in all sports. Growing up, Dallas and his sisters were champion athletes during many high school events, including swimming, baseball, and basketball.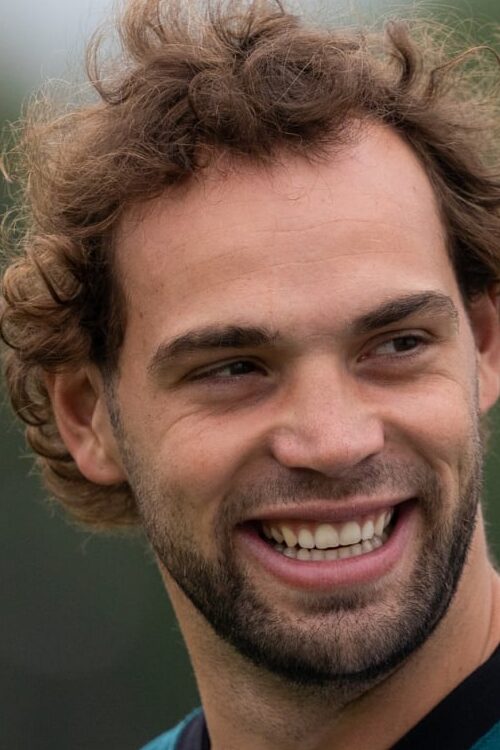 Dallas Clayton Goedert, better known as Dallas Goedert, is an American football tight end who currently plays for the Philadelphia Eagles in the NFL.
A South Dakota State University graduate, Dallas began playing for the Eagles after they picked him in the second round of the 2018 draft.
While at college, he was among the finalists for the 2016 Walter Payton Award. Likewise, Goedert was a two-time first-team FCS All-American member.
Since his NFL debut in 2018, the athlete has already appeared in four playoffs out of five league seasons. Considered one of the best contemporary NFL tight ends, Goedert's dream is to win the Super Bowl with the Eagles.
Dallas Goedert Parents And Ethnicity
Dallas Goedert was born to his mother, Mary Jo Carlson, on January 3, 1995, in Aberdeen, South Dakota. Aside from that, he has two older sisters in the family.
His biological dad was a Dallas Cowboys fan. So, he named his son after his favorite football team.
Regarding Goedert's ethnicity, his father's family was originally from Germany. However, he was born in the U.S. and was an American citizen.
There is not much information about him on the Internet. Goedert's mom and dad separated when the kids were still young.
Following the separation, his mom moved to Britton and raised her kids alone before marrying her second husband, Gary Carlson. The two worked at Horton Manufacturing, a company that makes cooling systems for semi trucks.
Gary's presence in their lives made everything easier for Mary and her kids. The kids got along with their stepdad, and both their parents taught their children to play various games.
Their mom, Mary, was a softball player in high school, and Gary was a huge Green Bay Packers fan. Although he had no athletic background, he enjoyed playing games with his kids during the off-work.
Now that Dallas has made it to the NFL, his parents are proud of their son for fulfilling his childhood dream. They often make trips from Britton to watch him play league games.
More On Goedert's Sisters, Emily, And Megan
The American football star Dallas Goedert is the younger brother to his two sisters, Emily and Megan.
His oldest sister, Emily Hrabik, was a basketball player at college. She recorded 1000 points in her junior year at high school.
She is now married and lives with her husband and children in Fargo, North Dakota.
Similarly, his second sister Megan Ocshner, who is about two and a half years senior to him, was a collegiate volleyball player.
She now lives with her husband, Dustin Ochsner, and three kids in Sioux Falls, South Dakota.
Both his sisters work as sports coaches in high schools.