Anthony Waters, brother of Darius Leonard, is a former American football linebacker. Anthony was a role model to his brother Darius, and he pushed Darius to be who he is today.
Darius Shaquille Leonard is a popular name in football. The three times Pro Bowl winner maintains a whopping net worth of about $60- $65 million in 2023.
Darius and his brother Anthony's life wasn't always perfect. They had to overcome many tragedies and losses before becoming a star.
In this article, we have covered all the available details about Darius' brothers.
Before getting into the details, let us first go through some quick facts.
Darius Leonard Brother | Quick Facts
Full Name
Anthony Devonne Waters
Nick Name
Not Available
Date of Birth
July 25, 1985
Age
37 Years Old
Birth Place
Dillon, South Carolina
Nationality
American
Ethnicity
Mixed
Zodiac Sign
Leo
Religion
Christianity
Height
6 ft. 3 in./ 1.91 m/ 191 cm
Weight
238 lbs./ 108 kg
Hair Color
Black
Eye Color
Black
Father's Name
Not Available
Mother's Name
Lynette Waters
Siblings
Darius Shaquille Leonard

Charlie Waters

Cody Waters

Keivonte Waters

Four Others (Name Unknown)

High School
Lake View High School (South Carolina)
College
Clemson University
Marital Status
Not Available
Wife's name
Not Available
Children
Not Available
Profession
Former NFL Player
Position
Linebacker
Leagues
NFL
NFL Draft
2007 / Round: 3 / Pick: 96
Debut Year
2008
Affiliations
San Diego Chargers
Buffalo Bills
New Orleans Saints
Net Worth
$5 Million
Social Media
LinkedIn
Merch
Signed Jersey, Signed Helmet
Last Update
May 2023
Anthony Waters | Early Life & Family
Anthony Devonne Waters was born on July 25, 1985, in Dillon, South Carolina, to his single mother, Lynette Waters. His father's name is unknown.
Anthony's mother had to work many jobs simultaneously to provide for her family. Despite their scarcity, the meals were good. It was a matter of getting by and adapting.
For the Waters brothers, growing up in a small town with less than 800 people was challenging. Everyone was related or acquainted with one another, and peer pressure was constant.
According to our research, Anthony has 9 siblings. But only the details of 4 of them are available.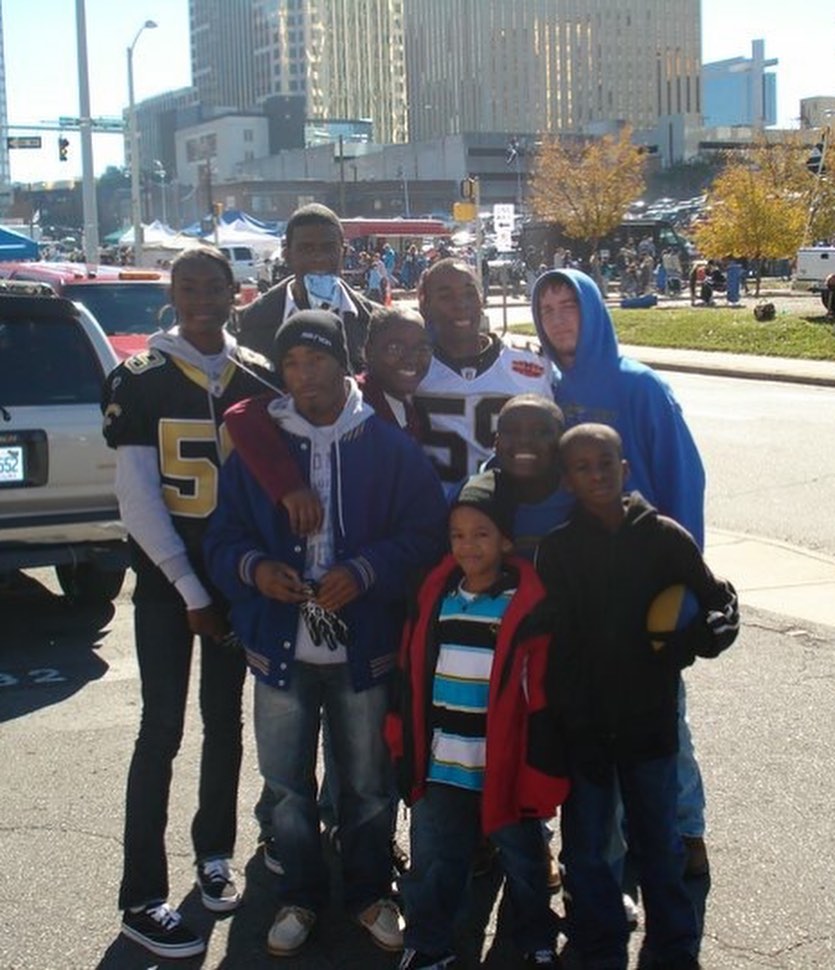 His oldest brother, Charlie Waters, is serving a life sentence for murdering an 18 years old girl during an armed robbery at a fast food restaurant.
Similarly, his second oldest brother, Cody Waters, is in jail, awaiting trial for alleged murder. Even though his brothers are in prison, he communicates with them frequently.
Unfortunately, his younger brother, Keivonte Waters, died from a blow to the head after an argument at a club in Mullins, South Carolina, in 2012.
Unlike other brothers, his younger brother, Darius Shaquille Leonard, is an accomplished American football linebacker for the NFL team Indianapolis Colts. Leonard and Anthony chose a different path than his brothers.
Anthony was like a role model for his younger brother, Darius. Darius wanted to play college football at Clemson just like his brother.
Darius Leonard Brother |
Anthony Waters
Anthony Waters is a former American football linebacker. He attended Clemson University for his college studies and started his playing career there.
Anthony entered the professional arena when the San Diego Chargers selected him in the third round of the 2007 NFL Draft.
He missed his rookie season in 2007 and played seven games for the Chargers in 2008. The team released him on February 26, 2009.
On April 15, 2009, Waters committed to the New Orleans Saints. He was among the Saints' early-September final cuts.
On October 14, 2009, Waters agreed to join the Buffalo Bills practice squad. He returned to the Saints on December 9, 2009, after spending eight weeks with the Bills' practice squad.
After the 2010 season, he became a free agent.
According to his LinkedIn profile, he worked as an assistant coach at the Bullis School, Potomac, Maryland, from September 2012 to January 2014.
He has been working as a head football coach at Gaston County School District since July 2014.
Anthony Inspired Darius To Compete In NFL
Anthony played in the NFL for four years despite being told he would make the same mistakes as his elder brothers and get arrested. However, he never did.
In 2010, he won a Super Bowl with the Saints. Although he wanted to give his younger brother Darius the same opportunity, he wasn't going to.
When he returned home one day, Anthony recalls giving Darius a duffle bag filled with cones, resistance wires, and a speed ladder and telling him, "If you want to make it, you will have to go and get it on your own."
Darius wanted to follow his brother's path. He would run through the early morning gloom to the weight room at his high school.
After practice, he would stay late, working alone on a deserted field for hours. Daryl King, their high school coach, would frequently phone Waters.
Darius was 5'10 (156 cm) and 135 lbs. before training; after his training and practice, he grew to 6'2 (189 cm) and 180 lbs.
By the start of his senior year, Darius was lining up at five positions: running back, wide receiver, linebacker, safety, and punter. The scouts gradually began to take notice of him.
A Little About Darius Leonard
Darius Leonard is an American football linebacker for the NFL team Indianapolis Colts. He played collegiate football for South Carolina State Bulldogs.
Darius entered the professional arena after the Indianapolis Colts selected him in the second round of the 2018 NFL Draft.
He was named a First-Team All-Pro and Defensive Rookie of the Year in his rookie season.
View this post on Instagram
Leonard became the highest-paid outside linebacker in the NFL when he signed a five-year, $99.25 million contract with the Colts on August 8, 2021, which included a $52.5 million guaranteed extension.
According to Colts.com, he was the first player since Bryan Cox in 1992 to record at least 125 tackles, seven sacks, and four forced fumbles in a single season.
During the time of writing, he maintains a career stat of 61 games played, 15 sacks, 17 forced fumbles, and 549 total tackles.
Darius is married to his long-time lover, Kayla Sanderson.
If you want to know more about Darius, follow him on his Instagram and Twitter.
Darius Leonard Brother | Popularity Graph
Darius Leonard |
Frequently Asked Questions (FAQs)
How many siblings does Darius Leonard have?
Leonard is one of the nine children of his mother. Sadly, one of his brothers has passed away.
Where did Darius Leonard grow?
Darius Leonard grew up in a small town, Lake View, in Dillon County, South Carolina, United States.
Did Darius Leonard change his name to Shaquille?
Darius's full fame is Darius Shaquille Leonard. He is known by many as Darius. However, he wants to be called by his middle name, Shaquille.
He has been called by his middle name, Shaquille, for a long time. On July 27, 2022, he tweeted on Twitter that he has been using "Shaquille" since 1995.