NFL tight end David Njoku reportedly endured severe face burns at the end of September this year. Even though he has recently made headlines for this reason, fans are curious about the net worth of David Njoku.
David is currently one of the best-paid football athletes, and he has been earning millions since his NFL debut in 2017.
This article will cover the New Jersey-born player's net worth and contract details with his NFL club, career earnings, and salary. Read this article till the end to know everything about the topic.
David Njoku, born July 10, 1996, is an American professional football player who plays for the Cleveland Browns of the National Football League.
Raised in Cedar Grove, New Jersey, the tight end debuted in the NFL in 2017 after the Browns picked him as the 29th overall pick in the draft.
Previously a student-athlete at the University of Miami, he had forgone two years of eligibility to enter the draft.
Furthermore, he attended Cedar Grove High School and recorded 19 touchdowns and 76 receptions for 1794 yards throughout his career. Aside from football, he competed in the high jump, winning the national championship in 2014.
David Njoku Net Worth: Salary And Contract Details
The Cleveland Browns' tight end is estimated to have a net worth of around $10 Million- $15 million as of this writing.
As a professional athlete, David's primary source of earning is his football career, but he also makes a lot of money through endorsement deals and merch sales. He has also launched his premium fitness program, Njoku Strong.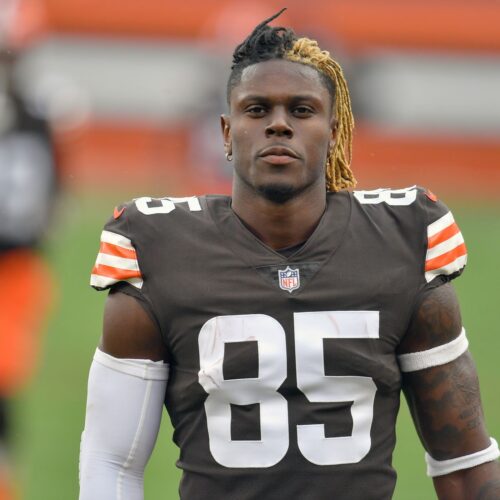 Speaking of his contract details with the Cleveland Browns, he signed a four-year contract worth $9.52 million with $5.06 million as a signing bonus on June 17, 2017.
Consequently, the club paid around $5.532 million in his rookie season, including the signing bonus. Furthermore, he signed a new four-year contract extension worth $56.75 million with the club on May 27, 2022.
His salary over the years has constantly increased, and his salary for the 2023 season was just over a million.
Analyzing his career earnings, Njokue has amassed over $40 million from his NFL career in just seven years.
Update On Njoku's Recent Injury
Almost two weeks after sustaining a severe face injury, the Cleveland Browns tight end David Njoku revealed the extent of his injuries. He posted pictures on his Instagram, including showing his burnt face.
Following that, the football fans showed their concerns, commenting on his posts where most of them wished for his quick recovery.
David reportedly got burned while managing an outdoor fire pit at his home on September 30. Although he has not shown up much in practice sessions, he has been participating in league games.
Concerned over his condition, the club announced that he was questionable after the incident. Still, he appeared in a game against the Baltimore Ravens on October 1, less than 48 hours after the incident.
Speaking of him, the Browns head coach Kevin Stefanski later said, "With the result we had yesterday, it's hard to feel good about anything, but the way he played was unbelievable to me with what he went through."