DeVonta Smith does not have any kids right now; however, the NFL star is expecting his first child, a baby girl, with his girlfriend Mya Danielle Travis.
Moreover, the couple has not disclosed any information regarding their marriage. They, however, are enjoying their time together in Louisiana.
Furthermore, the NFL star has received crucial fatherhood advice from his Eagles teammates as he prepares for the baby girl.
DeVonta Smith is an American football player who plays for the Philadelphia Eagles in the NFL.
Smith attended Amite High Magnet School, where he played basketball and football in his youth career. However, his footballing journey began at the University of Alabama as a freshman in 2017.
Throughout his college career, the wide receiver has bagged two CFP National Championships and made it into the First-team All-SEC two times.
Most of his career accolades came in the year 2020, including Heisman Trophy, Maxwell Award, and CFP National Championship Offensive MVP.
Moreover, the 2020 Paul Hornung Award winner got his NFL breakthrough in 2021, signing a four-year rookie contract in June.
Who is Mya Danielle Travis?
The girlfriend of DeVonta Smith, Mya Danielle Travis, is a social media influencer and former member of the Southern University cheerleading team.
Travis graduated from SU and A&M College, situated in Baton Rouge, LA, in April 2021. Prior to that, she attended Jewel M. Summer High School in Louisiana.
Mya is originally from Wilmer, Louisiana, and is very close to her mother, Danielle W Travis. Danielle is very fond of Mya and often posts pictures of her daughter on her Facebook.
The social media influencer is active on TikTok, where she promotes beauty products and lifestyle. Moreover, she also shares her stunning portraits on her Instagram account.
The soon-to-be parents first started dating in 2022. Later, Mya first posted a reel with her man on her TikTok in October 2022.
Moreover, Smith is also seen attending several basketball games along with his girlfriend Mya.
However, the duo grabbed significant attention after the photographs of them kissing surfaced on the internet.
DeVonta Smith Kids
The 24-year-old NFL star DeVonta Smith is preparing for a newborn kid with his girlfriend Mya.
Love is in the air as the two are expecting a new bundle of joy. The couple took on Instagram on a collaborated post, announcing Mya's pregnancy in June.
"To our unborn, you were made with so much love. We're so thankful God blessed us to be your parents." The lovebirds captioned a picture flaunting Mya's baby bump.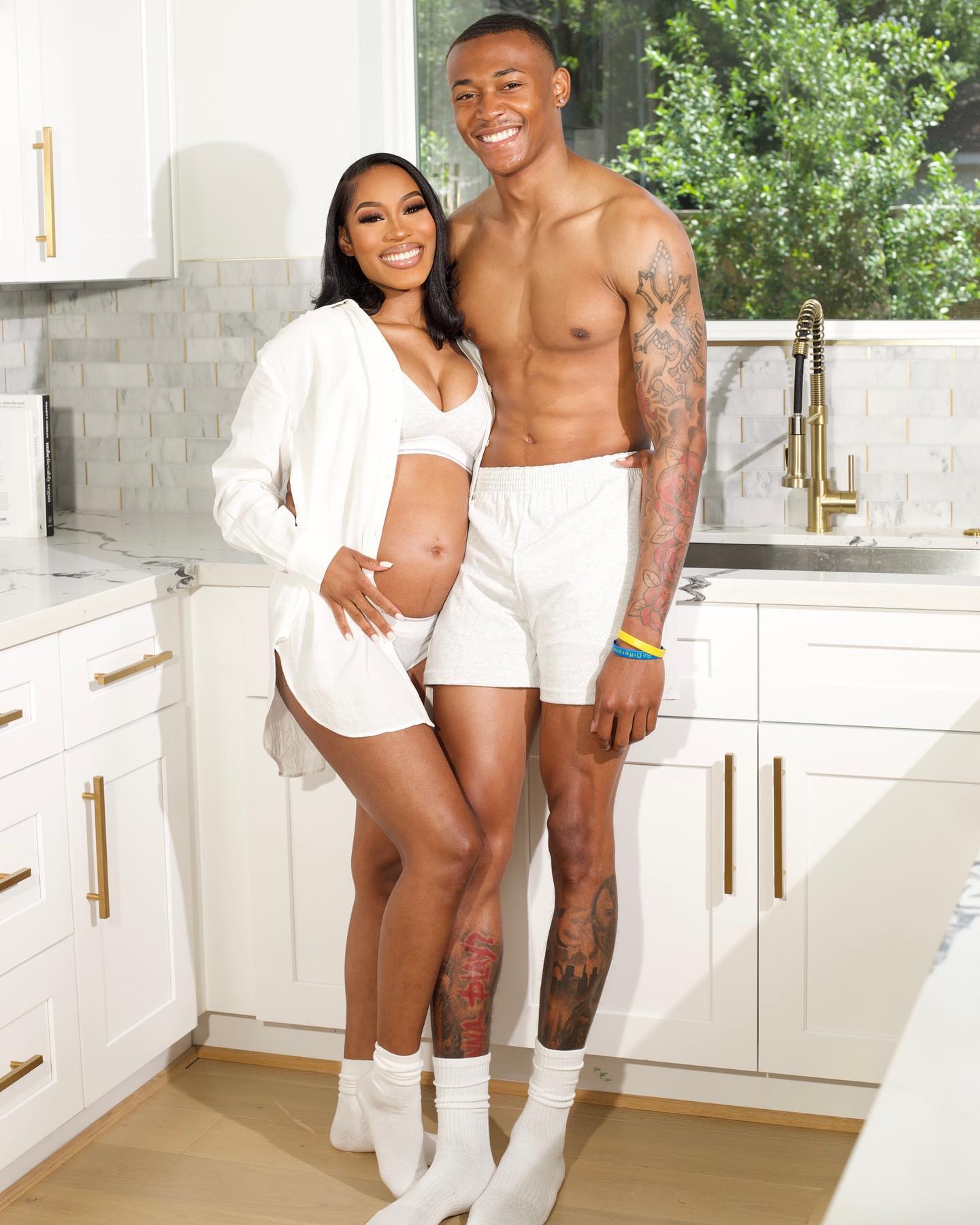 Moreover, the Eagles' Wide Receiver is getting plenty of support from his friends and family. An outpouring of love flooded the comments, including some from Smith's Eagles teammates.
There are currently additional stakes in the game. Smith already has that extra drive that comes with parenthood.
"I'm playing for the love of the game to take care of my family," he said in an interview. "Just going out there and being me."