Drew Lock, the American football quarterback of the National Football League, does not have a brother.
However, he does have a younger sister named Claire Lock.
Despite having a promising basketball career, his sister Claire has chosen a different career option.
Andrew Stephen Lock, born on November 10, 1996, is a professional football player for the Seattle Seahawks of the NFL.
He played high school football at Lee's Summit High School and later played for Missouri Tigers for his collegiate career.
Moreover, playing with the Tigers, he became the first true freshman to start at quarterback since Corby Jones in 1995.
After an impressive college career, Lock was selected by the Denver Broncos as the 42nd overall pick in the 2019 NFL Draft.
Later on March 16, 2022, in exchange for quarterback Russell Wilson, he was traded to the Seattle Seahawks along with other future picks, Shelby Harris and Noah Fant.
Additionally, on March 20, 2023, Lock signed a one-year/$4 million contract with his current team Seahawks.
Drew Lock Family And Sibling
Andy Lock and Laura Albert Lock have two children, including Drew Lock. The talented quarterback, Drew, grew up with his younger sister, Claire Lock.
Drew comes from an athletic family lineage; his father and grandfather also played football at the University of Missouri.
In the late 1980s, his father was Missouri's offensive line anchor, and his mother was Centralia High School's exceptionally talented basketball player.
Drew's parents, Andy and Laura, noticed their son's athletic gifts at a very young age.
Like his mother, Drew also excelled in basketball alongside football and baseball.
Despite getting many offers from coaches for basketball, he joined Missouri to play football, following his family's legacy.
Sister Claire Lock
Claire is no different from her brother and family as she possesses athletic abilities. She followed in her mother's footsteps and played basketball.
After graduating from Lee's Summit in 2018, Claire committed to play at the University of Missouri.
In 2021, Claire graduated with a Bachelor of Health Sciences and Pre-Occupational Therapy Studies degree.
Moreover, she is certified by American Heart Association in CPR, AED, and First Aid.
Apart from sports, she started working early as Nanny, Food server and interned at Playabilities Pediatric Therapy Clinic.
Besides, volunteering has been part of Claire's life since college. She has volunteered for Morning Glory Ministries, Westside Center Housing for the Elderly, and PAWSABILITIES.
Drew Lock Married Life And Kids
The professional football player tied the knot with Natalie Lock on April 2, 2023.
The couple became Instagram official in 2019 with a delightful post on their Instagram handles.
After dating for a few years, Drew proposed to his girlfriend on February 19, 2022, and later got married.
Moreover, the couple is about to have their first child, and they made the news public with an Instagram post on August 3, 2023.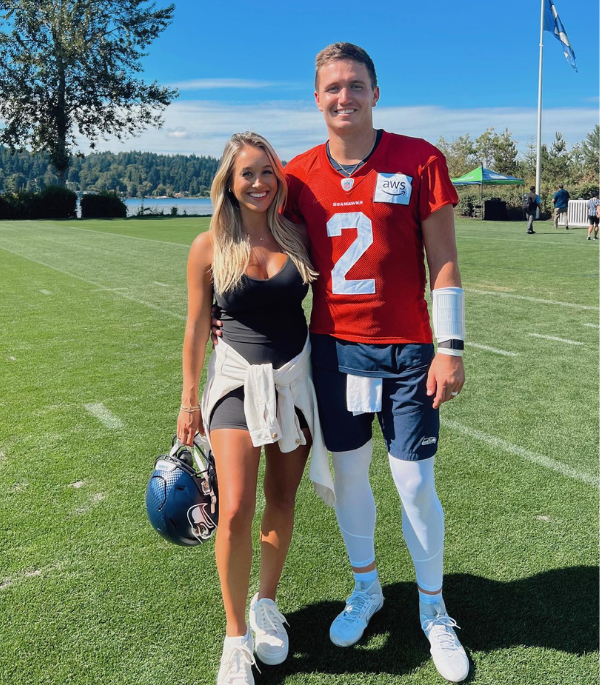 Drew's wife, Natalie Lock, is an influencer and model with numerous brand endorsements, such as Google Pixel, Bumble, and many more. She was born on January 1, 1997, in Jupiter, Florida.
She was an athlete in high school and played soccer for her high school team. Later, she joined the University of Colorado and graduated in 2019.