Penei Sewell has a sister, Gabriella Sewell, along with three brothers, Gabriel, Nephi, and Noah.
All the Sewell siblings were into some type of sports; all the Sewell brothers played football, and Gabriella was a track and field athlete.
They are very supportive of one another and are always seen celebrating each other's success.
Moreover, the loving Sewell family runs a foundation to support different charitable causes.
Penei Sewell, born October 9, 2000, is an American football offensive tackle for the Detroit Lions of the NFL.
After his father, Gabriel became a high school football coach of a youth football program in American Samoa, the four brothers started playing football.
Later, the Sewell moved to Utah, and Penei attended Desert Hills High School and played football.
For his collegiate career, he committed to play for the Oregon Ducks. Later, in 2020, he declared for the 2021 NFL draft, forgoing his remaining college eligibility.
The Detroit Lions selected him as the 7th overall pick and agreed on a 4-year/$24.1 million deal.
Moreover, the Lions offensive tackle was named to the 2021 PFWA All-Rookie Team and the Pro Bowl alternate in 2022.
Does Penei Sewell Have A Sister? Who is Gabriella Sewell
Among four brothers, Gabriella Sewell is the only daughter of her parents, Gabriel and Arlene.
Penei's sister, Gabriella, used to compete in track and field during her high school. However, she did not continue her athletic journey toward her collegiate years.
She attended Brigham Young University-Hawaii and later transferred to Dixie State University.
Gabriella graduated with a Bachelor of Science in Art with an emphasis in Graphic Design.
During her time at Dixie State, she served as a financial billing assistant from January 2018 to May 2020.
At present, she is working as an associate at Amazon in the Salt Lake City Metropolitan Area.
Penei Sewell Brothers: Gabriel Jr., Nephi, And Noah
Besides Penei, his parents, Gabriel and Arlene, were blessed with three other sons, Gabriel Jr., Nephi, and Noah.
All of the Sewell brothers are playing professional football, with three of them playing in the NFL and one in the USFL.
They grew up playing football with each other and used to accompany their father while he used to work as a head coach.
The Eldest Gabriel Sewell Plays In The USFL
Gabriel James Sewell II, born on December 17, 1996, attended Desert Hills and was a three-year letter winner in football.
Playing for the high school team, he led his team to a 3AA State Championship in 2013.
Following high school, he joined the Nevada Wolfpack and was named the Polynesian College Football Player of the Year in his junior year.
Gabriel Jr. currently plays for the Philadelphia Stars of the USFL.
Moreover, he is married and shares two kids with his wife, Lalolagi Sewell. Their first child, a girl, Lagilelei Fa'amanuia Sewell, was born on February 14, 2020.
Similarly, the couple welcomed their second child, a son named Gabriel James Sewell III, on August 31, 2021.
Brother Nephi Plays As A Linebacker
Born on December 19, 1998, is a professional football linebacker for the New Orleans Saints of the NFL.
After high school, he played collegiate football at the University of Nevada and the University of Utah.
During his college career, the linebacker was named to the Pac-12 All-Conference twice (2020 and 2021) and the 2021 Associated Press Pac-12 All-Conference First Team.
On a personal note, Nephi and his partner, Maddie Sewell, welcomed their first child, Nifae Ziah Sewell, in September 2022.
Moreover, the pair are expecting their second child, a baby girl, due in October.
Brother Noah Started His NFL Journey As A Fifth Round Pick
Noah Sewell, born April 26, 2002, is an American football linebacker for the Chicago Bears of the NFL.
During his college career at Oregon, he was named the Pac-12 Defensive Freshman of the Year (2020) and First-Team All-Pac-12 (2021).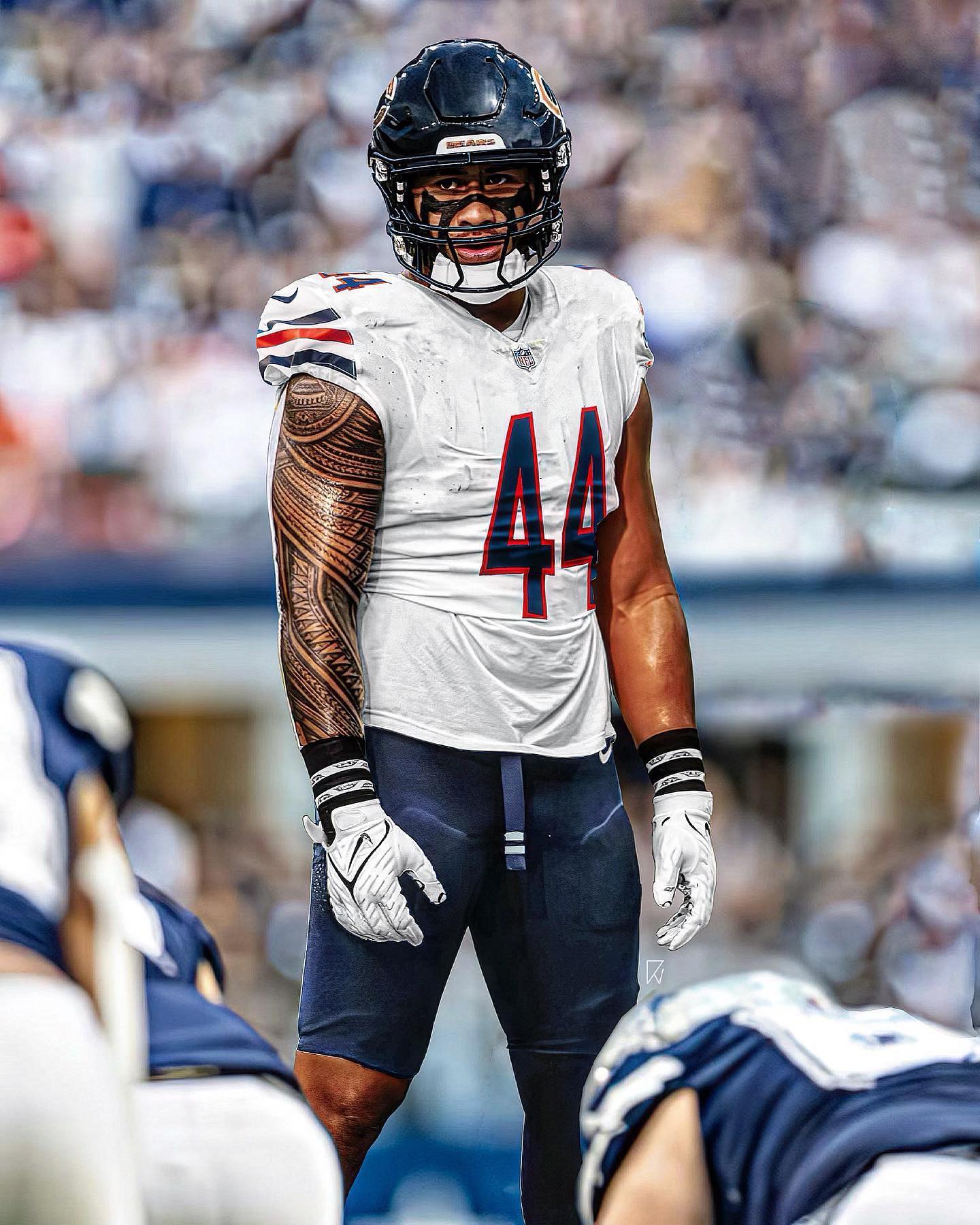 Forgoing his remaining college eligibility, Noah declared for the 2023 NFL draft. Sewell was selected as the 148th overall pick by the Chicago Bears in that year's draft.