Dustin Hopkins and his wife, Gabrielle Hopkins, are proud parents to their child, Wake Steele Hopkins.
The wonderful couple dated each other for a few months before getting engaged in 2013.
Half a year later, in 2014, the lovebirds tied the knot and became parents to a baby boy in 2017.
Dustin was born to American parents, Jim and Karen Hopkins, on October 1, 1990, in Austin, Texas.
The American football placekicker attended Clear Lake High School and then played college football at Florida State until 2012.
Later, the Buffalo Bills drafted him in the sixth round of the 2013 NFL Draft, where he signed a four-year contract on May 10.
The Texan left the club and signed to New Orleans Saints practice squad at the end of 2014 but was released in September 2015.
Moreover, playing for Washington Redskins in November 2015, Hopkins kicked a career-high four field goals against the New Orleans Saints.
After being released by the Redskins, the placekicker signed with the Los Angeles Chargers on October 26, 2021.
The 32-year-old currently has a three-year contract extension with the Chargers, which terminates in October 2025.
Dustin Hopkins Wife, Gabrielle Hopkins
Gabrielle worked as a dance instructor from Jan 2008 to August 2012 for 3 to 20 years age groups.
Later in April 2009, she got into a Dance group at Florida State University and performed there for 4 consecutive years until 2013.
There she practiced 6 times per week and performed at football games, basketball games, National competitions, and community service events.
Moreover, Gabrielle is also a former cheerleader for FSU who cheered for Dustin's team back in Buffalo days in 2013.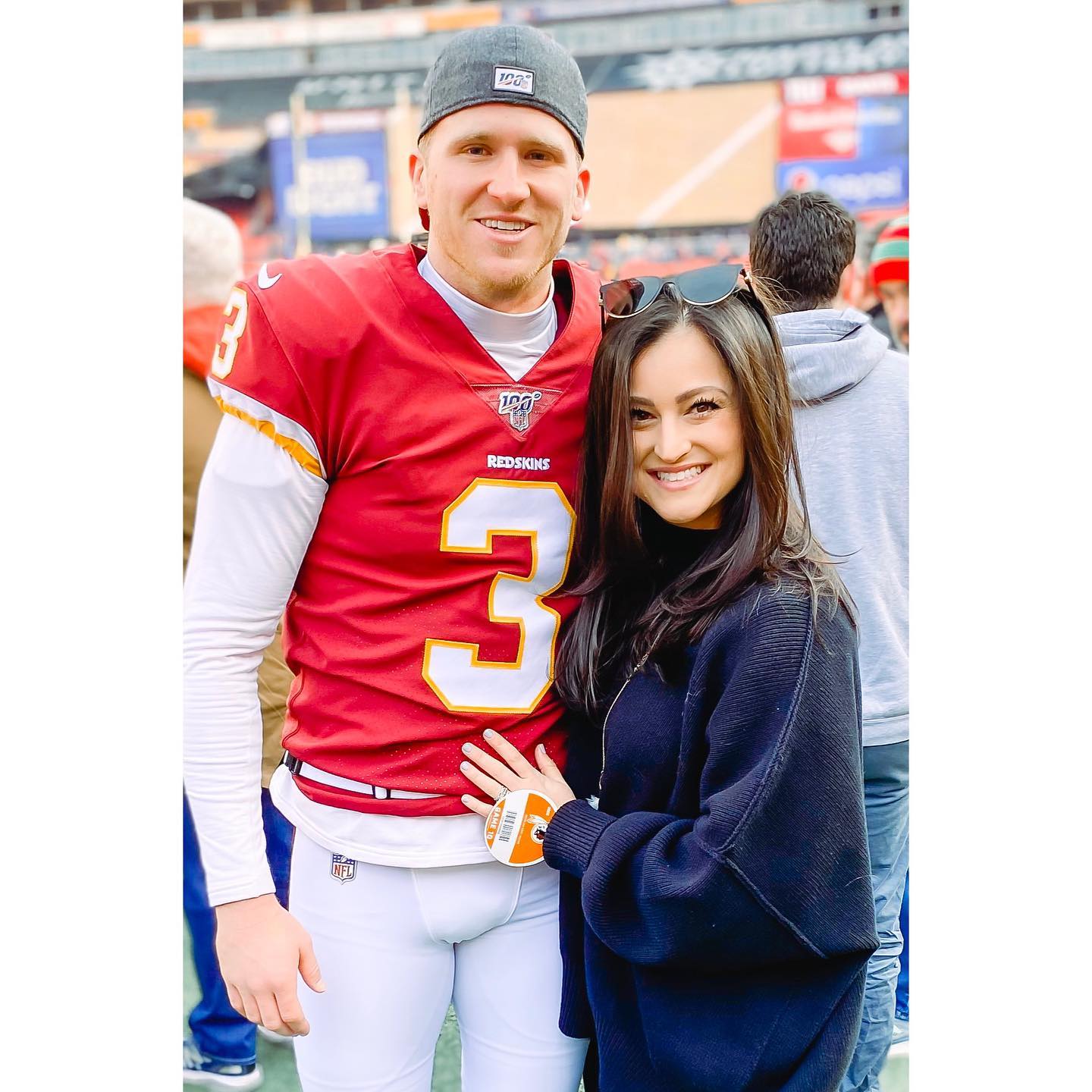 Mrs. Hopkins completed her bachelor's degree in Retail Merchandising and Product Development from Florida State University (2019-2013).
Furthermore, the placekicker's wife worked as a sales associate for Cole Couture Boutique leading sales and visual Merchandise from March 2011 to October 2013.
Gabrielle is also an Educator at Lululemon Athletica for the past 10 years
Currently, she has been working as a Merchandising/PR Intern at Watters in Dallas since October 2013.
Dustin Hopkins Relationship Timeline
The professional football player has been married to Gabrielle Hopkins for 9 years now.
On December 14, 2013, he proposed to her on the 50-yard line at Doak Campbell Stadium, the same place he had asked her to be his girlfriend 3 years before.
Later, the couple tied the knot on July 4, 2014, and announced she was pregnant on September 12, 2016.
Thereon, she frequently posted pictures with her baby bump until Wake Steele Hopkins was born on March 14, 2017, at 9:45 pm.
Mrs. Hopkins is a very supportive wife who helps Dustin make important decisions.
Additionally, she occasionally pays a visit to her husband's matches to cheer on him during the game.
Mrs. Hopkins Is A Proud Mom
Gabrielle loves flaunting her baby and husband, as her social media handle features a lot of their pictures.
The NFL star's wife calls herself 'Autism mama' as her son Wake is on the autism spectrum.
Nonetheless, Gabrielle's Instagram is filled with Wake's pictures and his journey through autism. She represents herself as a proud mother of her beloved son.
"To all the parents out there don't take your children's voices for granted," Hopkins writes on her Instagram story.
"I would give anything to know what's bothering him. Or his favorite color or food," She got overwhelmed after her son suffered a meltdown which she couldn't understand.