If you are a big-time sports junkie, you surely have come across this name, Dylan Windler. It's not even two years that this guy has started his career in the NFL but is already successful in becoming the talk of the town.
To specify, Dylan Windler is an American professional basketball player. He is currently enrolled for the Cleveland Cavaliers of the NBA. He serves as a shooting guard or small forward for the team.
Also, Dylan has successfully been entitled to First-team All-OVC two times. Moreover, he was a collegiate player for Belmont University in Nashville. He has shown up for his brilliance whenever it comes to basketball, and certainly, the future shines bright for him.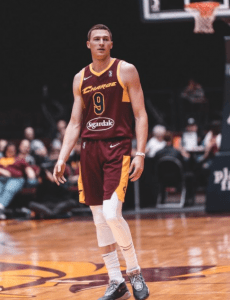 This is just the start. There are still many things to ponder about him and the injury that took place in his not so successful rookie year. Keep scrolling down and keep reading to know about him. We have tried to sum up his life from the beginning to date in this article. We hope you will enjoy reading this.
But first thing's first, without any further ado, let's catch a look at the easy peasy quick facts about the sharpshooting swingman Dylan Windler.
Dylan Windler | Quick Facts
| | |
| --- | --- |
| Full Name | Dylan Windler |
| Birth Date | September 22, 1996 |
| Birth Place | Indianapolis, Indiana |
| Nick Name | D-Wind |
| Religion | Christian |
| Nationality | American |
| Ethnicity | White |
| Education | Perry Meridian High School, Belmont University(2015-2019) |
| Horoscope | Libra |
| Father'sName | Not known |
| Mother'sName | Karen Eickman |
| Siblings | the older sister (Corey Laidig) |
| Age | 24 years old |
| Height | 6 ft 6 in (1.98 m) |
| Weight | 196 lb (89 kg) |
| Jersey No | Nine |
| Hair Color | Light Brown |
| Eye Color | Hazel Blue |
| Awards | 2 times First-team All-OVC (2018,2019) |
| Build | Athlete |
| Marital Status | Single |
| Girlfriend | Lauren Rau |
| Position | Shooting guard/ Small forward |
| Profession | NBA player |
| Net Worth | around $4 million |
| Salary | $2,137,440 base salary |
| Currently Plays for | Cleveland Cavaliers |
| League | NBA |
| Active Since | 2018-present |
| Social Media | Instagram, Twitter |
| Merch | Rookie Card, Basketball Card |
Dylan Windler | Early Life
Dylan Windler was born on September 22, 1996, in Indianapolis, Indiana. His mother's name is Karen, and he does have a sister too, Corey, who is three years older than him. As of now, despite many trials, we are still not aware of his father's name.
Dylan is an American by nationality and has white ethnicity. He studied the Bible. While growing up, he played sports, including baseball, basketball, indoor soccer, outdoor soccer, tennis, fishing, skiing (both water and snow), and gulf. He played football in elementary school and middle school.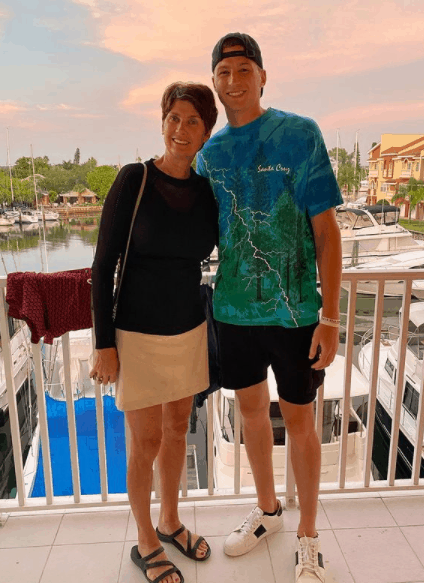 Dylan was up on a traveling team for baseball and played baseball throughout middle school. He was a lefty only while playing basketball, dribbled with his left hand. Other than that, he played baseball and football right-handed.
He swung a golf-club right-handed but could not hit it more than 10 or 20 yards while going to the driving range with his dad.
Family Line
Dylan belongs to a family, which quite has an athletic background. His mother was a state-competing high-jumper. And to this day, no one has ever broken her record in high school, the same high school where Dylan went. The name is still displayed there in the gym of his high school.
She was enrolled in track and field in high school and also played basketball. She played both the games exceptionally well.
Dylan's sister Corey also did a high jump. She also played soccer and basketball. She goes to Ball State but has never played organized games there.
If you are interested in buying Basketball jerseys, click here>>
Also, to bring it on, Dylan has a stepfather Steve Eickman alongside whom he played golf initially.
Dylan Windler | High School Career
He went to Perry Meridian High School in Indianapolis, where both his sister and mother also went. He played basketball, but at the same time, he was outstanding at gold. Dylan participated in junior golf tournaments.
Dylan played for the Indiana Elite AAU team along with future Virginia player Kyle Guy in the summer of 2014. As a senior year player, he conquered 27.3 points and 10.2 rebounds per game.
Dylan Windler | College Career
Dylan's rock-solid performance for the AAU team headed him to scholarship opportunities from 15 Division I schools. However, he went on attending Belmont University later.
His freshman season was completely below par, scoring around 4.3 points per game. He was benched out on his team, which dropped in for finales in the Ohio Valley Conference.
Following that, Dylan's sophomore year was full-on power-packed. He was a full-time starter and scored double than his previous season. His junior year was phenomenal, leading with 17.3 points, 9.3 rebounds per game. He was entitled to First-Team All-OVC.
View this post on Instagram
Following that in his senior season, Dylan was also entitled to Julius Erving Award watchlist in 2019. Also, he earned a spot on the OVC Commissioner's Honor Roll three times and an Academic All-American twice.
Dylan also grabbed an opportunity to lead his team to the NCAA tournament but lost against Maryland Terrapins.
Dylan also served as the student-athlete liaison on the NCAA Division I Men's Basketball Competition Committee. He led his team win over teams like Morehead State, Temple Owls.
Also, Dylan stayed very close to his roommate, Belmont guard Kevin McClain. He had also remained friends with Ty Jerome, Carsen Edward, Admiral Schofield, and Ethan Happ, with whom he played against and lived alongside when he moved to Chicago to work out signing with Priority Sports and Entertainment.
Dylan Windler | Professional Career
Dylan's professional career landed in its place when Cleveland Cavaliers drafted him with the 26th overall pick in the first round of the 2019 NBA draft.
Dylan hovered with excitement when news came out. He dropped his head to his knees, opened a bottle of champagne, and partied with his family.
However, the situation did not go in his favor; Dylan was diagnosed with a left tibial stress reaction in September.
If you are interested in buying Basketball boots, click here>>
And soon, in January 2020, he was sent out for the season because of a leg injury. That was quite an unlikely journey. But the journey has not come to an end. If not NBA, there is always golf aside.
View this post on Instagram
As they say, every cloud has a silver lining; there are hearsays about his comeback. Click here to know more.
Dylan Windler | Personal Life
The 6 feet 6 inches shoot guard has not traveled so far in the NBA road, but he is surely into a long-run with his partner regarding relationships and hookups. Yes, you are getting it right.
Dylan is in a romantic relationship with his long-time girlfriend, Lauren Rau. She is also an athlete, who plays women's basketball for Lipscomb, Belmont's arch-rival. She belongs to Greenwood, Indiana. She was enrolled at the Grove High School Center, where she served as a guard.
While going through his Instagram posts, we happen to find out that the lovely pair has been in a relationship for five years. As of now, there are no such rumors about their marriage, but hopefully, they will surely give it a second thought.
You may be interested in reading yet another article, Alize Johnson Bio: Age, Early Life, Career, Net Worth
Dylan Windler | Body Measurement
Not to mention, Dylan is an ideal match, meeting all the qualifications to become a leading athlete. He is conscious when it comes to fitness and diet. He likes spending time at the gym when he is not on the court. He stands 6 feet 6 inches tall and weighs around 196 lbs.
Dylan Windler | Would be Philanthropist
Keeping sports and athleticism aside, What else did he do? Here's an answer, Dylan joined a squad of athletes from Belmont on a trip to Nakuru, Kenya, during the last months of his junior year.
They visited an orphanage named Streets of Hope, an organization that focuses on looking after children abandoned on the streets. According to him, Interacting with them brought a smile to his face, and the more you learn about the life, the more it becomes less.
Dylan also paid a visit to Nicaragua's Hope Road, a similar kind of organization. He is affirmative towards launching his own foundation but has never remained vocal about it. He is willing to work for his community and spread positivity.
Dylan Windler | Net Worth
Well. His journey in the NBA is something that we would never wish for. Despite proving his performance and talent during his time with Belmont, he could give a playful start to his team Cavaliers. That was really unfortunate.
As per reports, Dylan was the first player in 47 years to get selected in the NBA draft 2019 from Belmont.
Moreover, as mentioned in hoopshype.com, Dylan projected salary for 2010/21 was $2,137,440, notching a cap hit of $2,137,440. And, he ranks in the 270th position as the best-paid NBA player this year.
And while signing up for a two-year deal with the Cleveland Cavaliers in 2019, his net worth was around $4000000. Following that, there is no such updated information on his net worth.
Other than that, Dylan has also not shown up for any endorsement and sponsorship. But yes, he has always dreamt of playing harder and making a living out of sports.
Dylan Windler | Social Media Presence
He is pretty much moderate when it comes to social media presence. Dylan knows it all; he has maintained balance with his posts and fandom. He lends an update of him through his Instagram posts and tweets on Twitter.
Dylan keeps posting all about his friends, family, sports tournaments, outdoor destinations, adventure trips. He has never shied away from showing how much of a fitness freak he is?
We can certainly get a hint of his life from his Instagram profile as it looks colorful and vibrant in one shot. Let's click on the given link and not be hesitant to give him a follow.
Twitter- @Dylan_Windler23 with 12.5k followers.
Instagram- @d_win23 with 23.7k followers.
Also, read about another bonafide player in the NBA, Kevin Love.