David Kampf and his wife, Eliska Stedronska, have been together ever since their youth which might be a surprise to the fans. She continues to be a pillar of support in his life.
Born in the Czech Republic on January 12, 1995, David Kampf is an ice hockey forward player representing the Toronto Maple Leaves.
Currently, this is his second season on the team, and he has scored 18 goals and 35 assists in 164 games for the Maple Leafs.
Having played in three leagues throughout his career, Kampf is sleek and smooth in his movements across the rink. He scuffles like an elegant ballerina and shoots from his left.
Putting his professional life as an athlete aside, the player seems to be a nature lover. He loves to go hiking, swimming, and cycling in the outdoors, away from the bustle of the city.
Kampf is also a nerd when it comes to comics and superheroes. He dressed up as "Starlord" from Guardians of the Galaxy in the Halloween of 2018.
To top it all off, the player is also a health-conscious powerlifter who loves to spend a significant amount of this time in the gym.
David Kampf Wife: Eliska Stedronska
Eliska Stedronska-Kampf is David's long-time girlfriend turned-wife. The couple exchanged vows in June 2019 at the Horský Hotel Lesná.
She has been very supportive for a significant period of Kampf's life. Stedronska can always be spotted at his game cheering and rooting for him.
Like Kampf, Eliska is also an outdoor person and a fitness enthusiast. The couple shares almost all of their adventures together and can be seen traveling whenever they find the time.
Eliska appears very private, unlike her husband, who loves to post publicly on social media.
She has a private Instagram profile with a following of about twenty-two hundred followers.
The couple has an adorable son named Michael, born on September 26, 2022.
They also have a chocolate labrador that they have named Dobby. Dobby himself boasts an Instagram following of about two thousand followers.
It is not clear if she is a comic fan like her husband, but she dressed up as Gamora for Halloween when Kampf dressed up as Starlord.
Is David Kampf Injured?
David Kampf appears to be fine as a fiddle this season. He has scored seven goals and provided twenty assists in the 2022-23 season.
His most recent injury was logged in November 2021, which was of the upper body. He had to leave a game after getting hurt on his first shift on a hit from Rasmus Kupari.
After receiving contact to the side of his head, Kampf fell hard to the ice on his left arm. Kupari was charged with a tripping minor for the collision.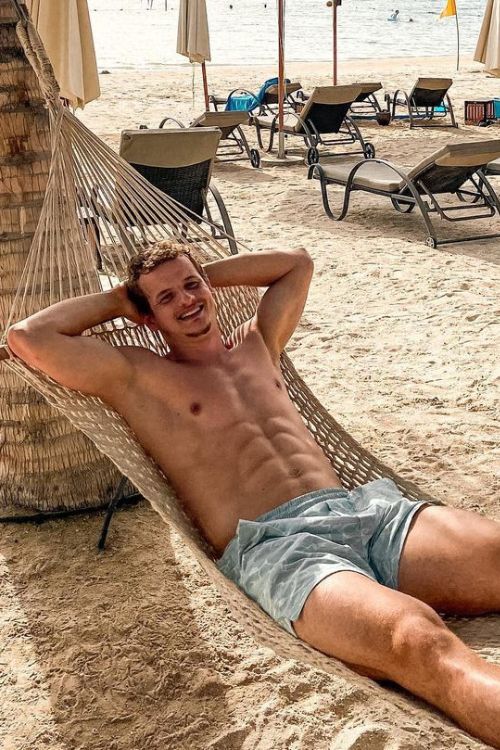 The player was able to participate in practice but had to remain on a game-time decision after that injury.
Back in February 2019, Kampf was forced to leave a game in Edmonton with a foot injury. Initially, he was expected to be out for only three weeks.
But as the injury turned out to be more severe, he had to miss a few more weeks of his games.