Felix Auger-AliassimeFelix Auger-Aliassime doesn't have a brother, but he has a supportive sister Malika Auger-Aliassime.
The tennis star's older sister has been an important figure in his life on & off the court.
Félix Auger-Aliassime is a rising star in the world of professional tennis. Born in Montreal, Canada, to his parents, Sam Aliassime and Marie Auger.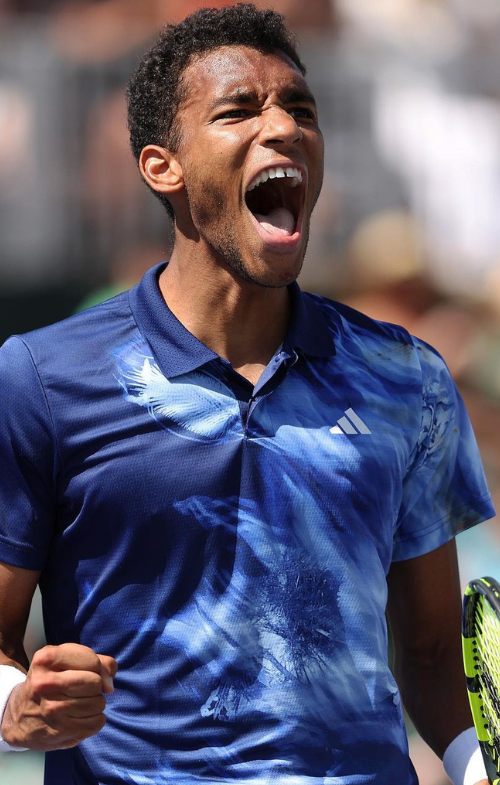 He began playing tennis at a young age and quickly developed a passion for the sport. He is known for his powerful serves and aggressive style of play on the court.
Auger-Aliassime achieved his career-high singles ranking of No. 6 on November 7, 2022. According to the Association of Tennis Professionals (ATP), he is the third-youngest player in the top 10.
At a young age, Auger-Aliassime started participating in the professional tour.
He is one of seven players to win a Challenger title by the age of 16 and the youngest player to win a main draw match on the lower-level ATP Challenger Tour at the age of 14 years and 11 months.
Felix Auger-Aliassime Sister: Does He Have A Brother?
No, Felix Auger Aliassime does not have any brothers. His parents only had one son, him. but he has a supportive sister. His sister Malika Auger-Aliassime was a part of his childhood.
Malika was born in Montreal, Quebec, Canada, on December 28, 1998.
When she was six years old, she picked up a racquet for the first time. Her father Sam coached her as a young player at the Académie de Tennis Hérisset-Bordeleau in Quebec City.
Malika received the prize money of $1,561 from the event.
In the singles event, she has a lifetime record of 0-4 (0%).In the doubles event, she has a career record of 0-3 (0%). At the 2015 Coupe Banque Nationale in September, she made her professional debut.
Overall, Malika Auger-Aliassime has been a key figure in Félix's life and career, providing him with support, guidance, and inspiration both on and off the court.
Felix Auger Aliassime Family Tree
Felix Auger-Aliassime is the son of Sam Aliassime and Marie Auger. He was born on August 8, 2000, in Montreal & grew up in L'Ancienne-Lorette, a suburb of Quebec City.
His father Sam is a native of Togo who emigrated to Canada & now works as a tennis coach. There is no denying he has a significant role in imparting tennis enthusiasm to his son Felix.
Marie Auger, his mother, is of French Canadian ancestry.
The Canadian tennis player grew up with his elder sister Malika.
He refers to her as his "best friend," and she helps him maintain his competitive edge.
He began playing tennis when he was 4 years old and trained at the Club Advantage in Quebec City as a member of the Académie de Tennis Hérisset-Bordeleau.
In 2012, he won the Open Super Auray for children ages 11 to 12. He has been a participant at Tennis Canada's National Training Centre in Montreal since the autumn of 2014.
Felix Auger Aliassime Career
Félix Auger-Aliassime began playing tennis professionally in the year 2015. He participated in matches in 2015 and took home the G3 junior singles ITF championship. In College Park, he and fellow countryman Denis Shapovalov also won the junior G1 title.
He was the youngest player to compete in the ATP Challenger while playing tennis at the Challenger Banque National de Drummondville.
He performed and competed at the ITF Futures in Plantation in 2017, but he was unable to defeat Roberto Cid Subervi in this match. He has a long history of playing tennis and has consistently produced top-notch work over the course of his career.
Throughout his career, Félix has participated in several games. In 2023, Félix reached the top of the list at position six. The Association of Tennis Professionals' list of the top tennis players in the world now includes him as the third-youngest player.
He began playing tennis when he was four years old. Therefore, he developed the skill at an early age.