Ferran Torres, a Spanish soccer star's fierce games & faith in god, is an everyday story whenever he lands on the pitch. Many fans wonder what religion Torres follows- well, his goal celebrations explain it all.
The La Liga club Barcelona's forward comes from a family of devout Catholics.
Not only did his family's impression embrace him with religious faith, but also a strong work ethic & dedication to passion.
Having played for football clubs like Manchester City and Valencia, Ferran Torres joined FC Barcelona ahead of the 2022-23 season.
Moreover, the 1.84 m tall soccer player also plays for the Spanish national football team. In the 2020-21 UEFA Nations League, he scored a hat-trick in a 6-0 win over Germany.
In addition to that, Torres represented Spain in the 2022 World Cup, joining bonafide soccer stars like Sergio Ramos, Andres Iniesta, Jordi Alba, & Alvaro Morata, among others.
The former Valencia star even scored a goal in the group stage (Group E) game against Costa Rica.
There is no denying that with his technical skills, versatility, and hunger for success, he has all the attributes to become one of the best forwards in the world.
What Is Ferran Torres' Religion?
Ferran & his family members are Catholics- they invocate to the Virgin Mary.
In an Instagram post from August 2018, he is seen in a floral offering in a Cathedral & wrote: "Very proud to visit Our Lady of the Forsaken in the floral offering."
Whether success or failure, faith is what keeps a person driving, and so is for the Spanish soccer player.
Before games, he does prayer and makes a cross sign whenever he steps into the field to play.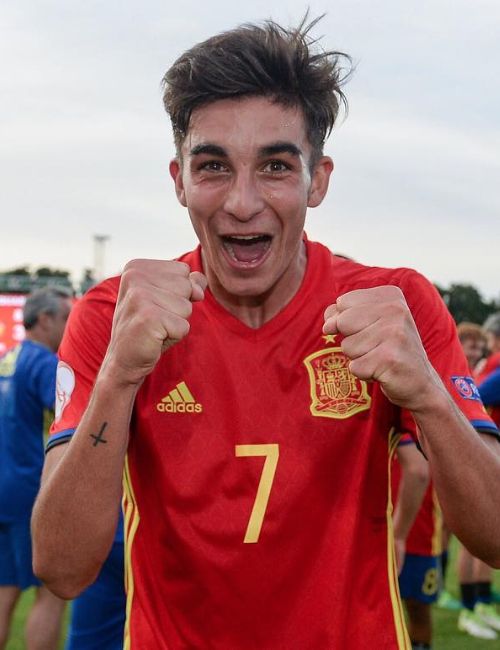 Moreover, Ferren has a tattoo of a cross on his right wrist.
Apart from that, the dog-lover also has tattooed the face of his first pet named Rex & his death of demise under his left biceps.
While Torres's religious beliefs may not directly impact his performance as a footballer, they can contribute to shaping his overall worldview, ethics, and personal values.
The faith he shares with his family may give him a sense of support, guidance, and spiritual strength, which can be influential in his personal and professional life.
Family & Ethnicity Of Ferran Torres
Torres was born on February 29, 2000, in Foios, Spain, to M. Dolores Garcia Alcover & Fernando Torres Bueno.
Though further about his parents & his family background remains under wraps.
Ferran grew up with an elder sister named Arantxa Torres; as reported, he & his sister have the same anchor tattooed on their feet.
A Spanish by nationality, the Barcelona forward comes from Spanish ancestry.
The soccer player was born into a middle-class family in Spain. He had humble beginnings in his early life, but it never came in between his passion for football.
Torres is close to his grandparents, who have also mentioned his success and journey in many interviews.
In December 2022, Torres bore the personal loss of losing his grandfather. He bid farewell to his grandfather per the traditions and remained with the family for a few days.
Torres's family has supported, encouraged, and guided throughout his journey as a footballer. His family members played an essential role in his life and career.
Girlfriend & Relationship
The former Manchester City star Ferran Torres has a girlfriend Sira Martinez. She is the daughter of former Spain national head team coach Luis Enrique.
As reported, the two began dating in 2021 and have been public about their relationship ever since.
Besides the fame eclipse of her father & soccer star boyfriend, Sira has a notable career of her own.
Born on April 7, 2000, Sira Martinez is a professional equestrian sports player and social media personality. She even has a Royal Polo Club membership.
Both Torres & Martinez often share pictures of each other on their social media profiles.