Francesco Bagnaia, the Italian motorcycle racer, has two siblings. His older sister, Carola, has played a significant role in his life, being both a supportive sister and a dedicated assistant to him.
Francesco "Pecco" Bagnaia is an Italian motorcycle racer who competes in the MotoGP World Championship for the Ducati Lenovo Team. He has a successful career in motorcycle racing, starting with his early achievements in the lower categories.
Bagnaia won the European MiniGP championship in 2009. He later joined the VR46 Riders Academy. In Moto3, he had a solid performance with several podium finishes and his first victory at Assen.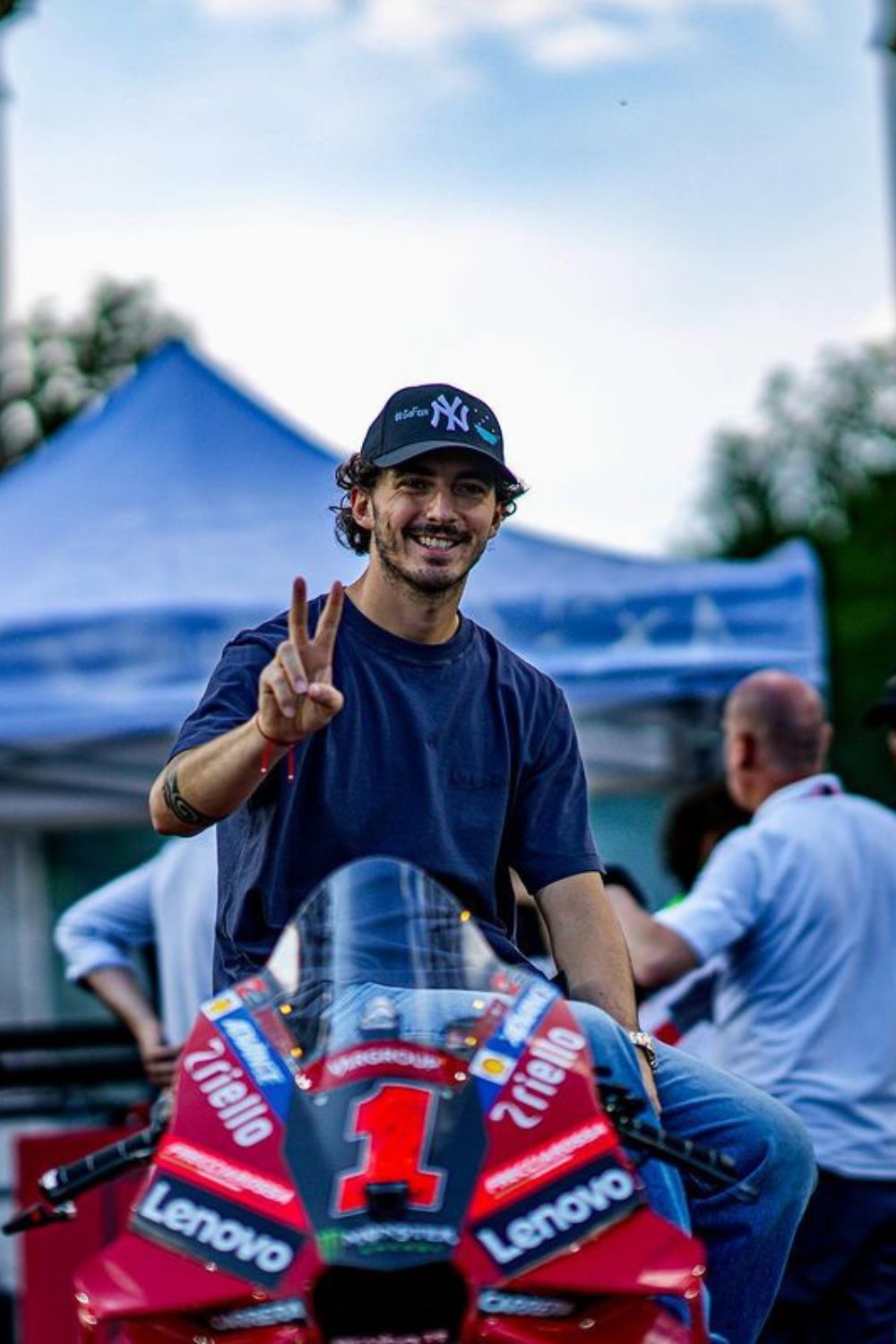 Bagnaia then moved up to Moto2, where he continued to excel and won the championship in 2018 with a total of 12 podiums and eight victories. He debuted in MotoGP in 2019 with Pramac Ducati and secured his first podium finish in 2020.
In 2021, Bagnaia joined the factory Ducati team and had a breakout season. He earned his first MotoGP pole position and two race victories. Despite a crash in Misano, he showcased his talent and competitiveness throughout the year.
His performances in 2021, including pole positions and victories, demonstrate his potential to become a prominent figure in the premier class.
Francesco Bagnaia Sister Is His Assistant
Carola Bagnaia, the older sister of Francesco Bagnaia, plays a crucial role in his life, both personally and professionally. Born on May 3, 1995, Carola took it upon herself to give Francesco a nickname, 'Pecco,' as his actual name proved quite challenging to pronounce.
Despite their mere 1.5-year age gap, Carola remains indispensable in Francesco's professional journey. She has been by his side for many years, accompanying him on his global ventures, offering invaluable guidance and unwavering support.
Carola takes on many responsibilities that significantly contribute to Francesco Bagnaia's success.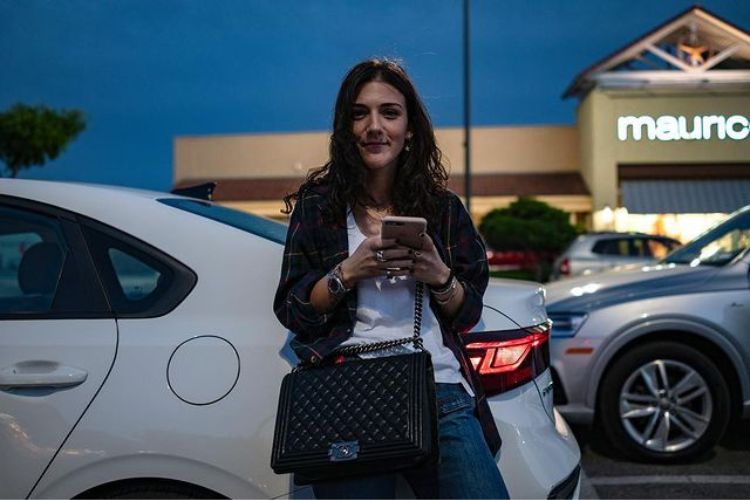 From managing his social media interactions to handling personal sponsorships, organizing events, and efficiently dealing with administrative tasks, she ensures that every aspect of his professional life runs smoothly.
Carola's impact extends beyond her brother's professional life, as she has also garnered a considerable following. She has amassed an impressive fan base on her Instagram account, with over 21.4k devoted followers who eagerly follow her journey alongside Francesco.
Carola's personal life revolves around her love for travel and spending quality time with friends. She is in a relationship with Luca Calandrino, a fellow bike-riding enthusiast.
Despite the busy schedule of taking care of Pecco's activities, Carola makes sure to allocate some time to be with her loved ones.
Family
Francesco's parents are Stefania Atzori and Pietro Bagnaia. They play a significant role in his life and are his great supporters. The accomplishments of Pecco fill both of their Instagram accounts, showcasing their pride in his achievements.
As mentioned earlier, Pecco also has an older sister named Carola. Additionally, he has a younger brother named Filippo Bagnaia, who celebrates his birthday on June 7th every year.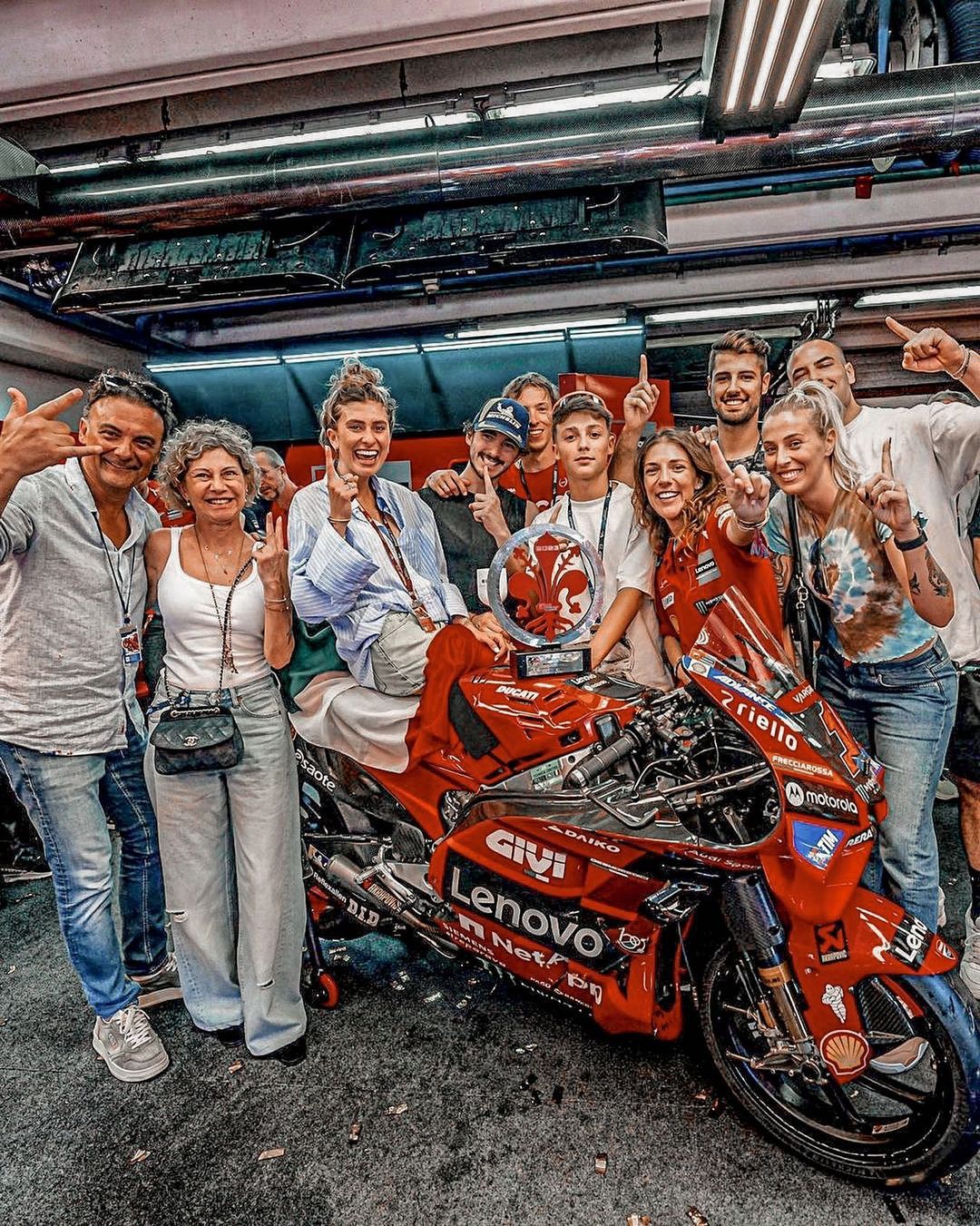 Francesco got engaged to his long-term girlfriend, Domizia Castagnini, on December 24, 2022. Domizia is a prominent social media personality, with over 53k followers on her Instagram.
She is a devoted supporter of Pecco and a consistent presence at his games. She never misses an opportunity to cheer him on. Their relationship reflects a strong bond and shared passion for Pecco's endeavors.