Garrett Johnson underwent cancer treatment for the last time six months ago. On November 7, the Virginia native made his collegiate debut and was the game's star.
The 2018 Concorde District Champion and 2019 Concorde District Player of the Year, Garrett Johnson, was set to take the collegiate basketball program by storm. But in 2021, the youngster was diagnosed with a benign tumor on his left hip.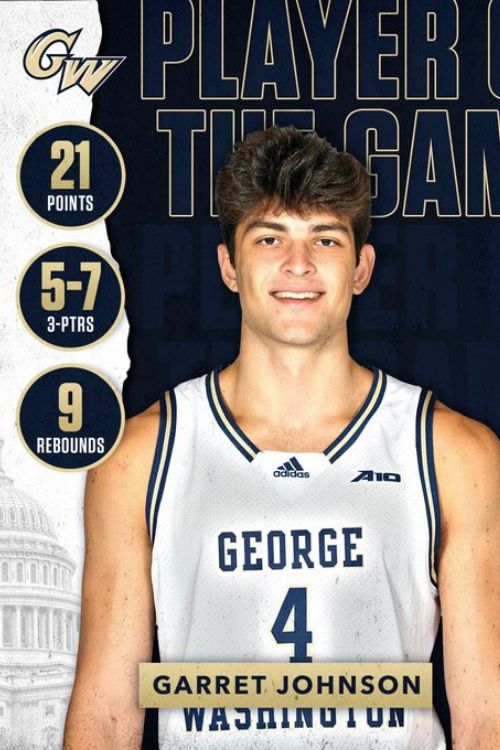 He had already committed to Princeton University but dropped out to undergo chemotherapy. Now, after two and a half years, Johnson has finally made his debut.
On his collegiate debut for George Washington Revolutionaries, Johnson scored ten of the team's first 17 points and ended the night with 21 points in total. Revolutionaries defeated Stonehill Skyhawks with a scoreline of 89-44.
In a video shared on X/Twitter, Garrett was soaked in water by his teammates. Hopefully, the youngster can carry the same form for the rest of the season.
Garrett Johnson Cancer Update
Garrett Johnson's recent health update has certainly made every basketball fan happy. The 6'8 guard had been diagnosed with a rare begin tumor in his left hip at the start of his freshman year in 2021.
But since then, the youngster has fought the disease and underwent his ninth round of chemotherapy six months ago. After appearing on the basketball court two and a half years later last night, Garrett gave a quick health update on X.
He shared a side-by-side photo of him when he was undergoing chemotherapy and of his latest appearance at the court. When he was first diagnosed with cancer, Garrett underwent four different surgeries, but they proved to be ineffective.
Johnson and his family decided to unenroll from Princeton and undergo the treatment. In his latest interview, Johnson said, "It has been a long time. But I am feeling healthier now."
Garrett had a spectacular debut performance against Stonehill Skyhawks, scoring 21 points and collecting nine rebounds. After the game, Johnson alluded to the fact that at one point, he thought he could never play basketball again.
During the post-match interview, Garrett said, "I went through a lot in two-and-a-half years. To see the first [shot] go in took away a lot of the nerves."
Garrett Johnson Career So Far
Before committing to George Washington Revolutionaires, Johnson was enrolled at Princeton University. But he couldn't play a single game for the university in 2021.
There aren't many clips of Johnson in action as COVID was also a big factor during his high school year. Johnson describes himself as an athletic and versatile player who can shoot from all three levels.
He also added that he can defend one through four. When asked what made him choose GW, Johnson said he wanted to be closer to his family, which is understandable after what he went through.
Native to Oakton, Virginia, Johnson graduated from Episcopal High School and competed in AAU for DC-based Team Takeover. Johnson's family home is only 20 minutes from GW's campus, and he has also stated how important the community has been during his difficult time.
With the campus being near his home, Johnson said it would be cool to have people from his area to watch him play. Academics was another reason for the basketball player to choose GW, as he is pursuing a political science program.