The sportscaster and former NFL tight end Greg Olsen and his wife, Kara Olsen, are proud parents to three bright kids.
Greg and Kara welcomed their firstborn, Tate Olsen, shortly after their marriage. They also became parents to twins- TJ and Talbot Olsen.
Unfortunately, their son TJ Olsen has endured agonizing pain & been through a lot in the past couple of years.
Nonetheless, TJ's parents have always remained by his side when he was fighting for his life because of his health complication.
Greg Walter Olsen was born on March 11, 1985, in Paterson, New Jersey, to his parents, Chris Olsen Sr. and Sue Olsen.
Greg has an older brother Christian Olsen Jr. who played quarterback for the University of Virginia. Moreover, his younger brother Kevin also played for Greg's alma mater, Miami.
Olsen enrolled at the University of Notre Dame but transferred to the University of Miami as a freshman.
After redshirting in 2003, he became the starter for the Miami Hurricanes as a sophomore & played through 2006.
In the 2007 NFL Draft, the Chicago Bears selected Olsen as the 31st overall pick, where he played from 2007 to 2010.
He was then traded to the Carolina Panthers (2011- 19)- there, Greg played for the Panthers in the Super Bowl 50 but lost to the Denver Broncos.
The three-time Pro Bowl honoree signed a $7 million one-year contract with Seattle Seahawkaws in 2020. After a season full of injuries, on January 24, 2021, Olsen announced his retirement.
Greg Olsen Kids: Son TJ Olsen Health Update After Heart Transplant
Greg and Kara are parents to three children.
The eldest, Tate Olsen, was born on June 7, 2011. Shortly after Tate's birth, the two parents were blessed with twins TJ and Talbot.
TJ was born on October 10, 2012, alongside his twin sister Talbot.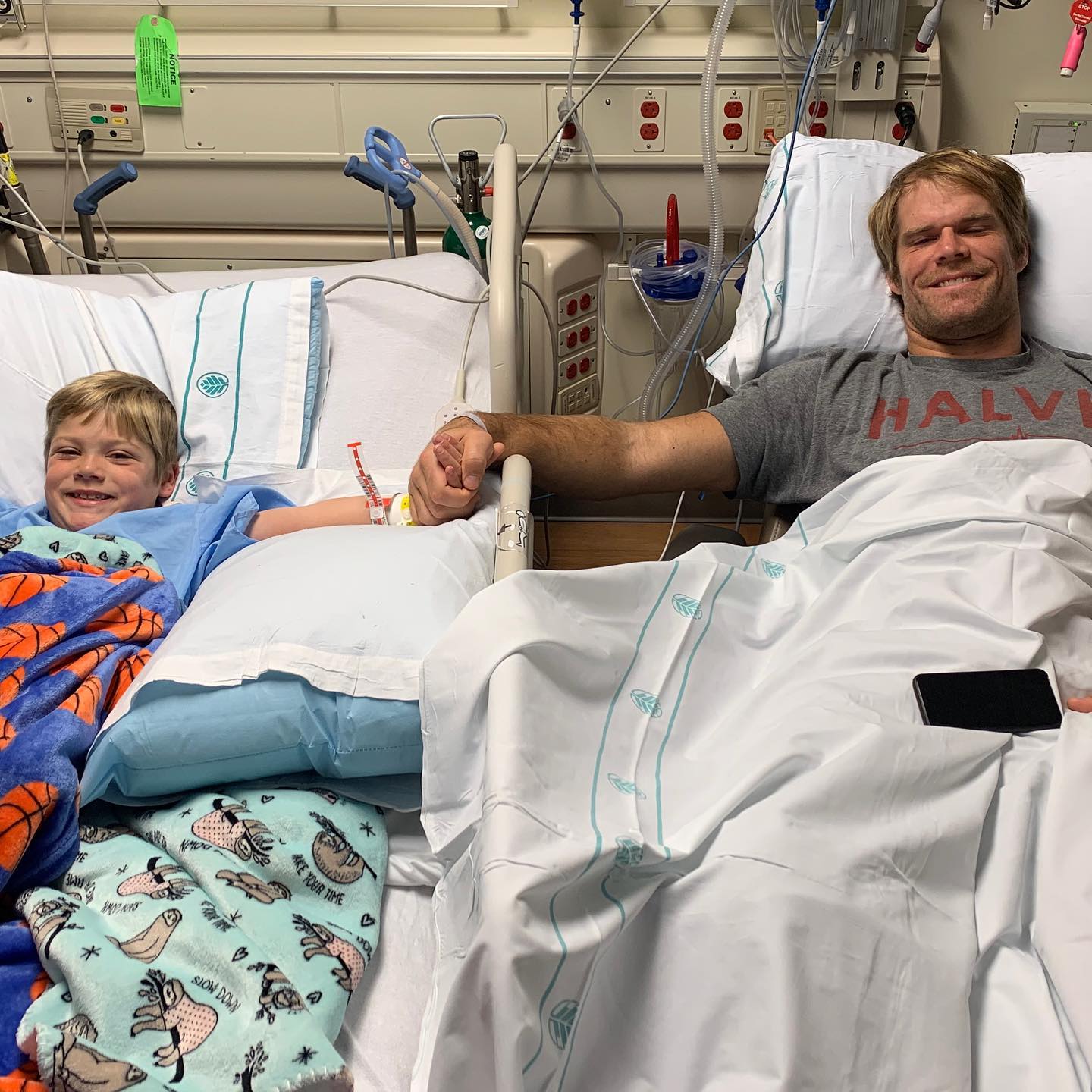 The Olsen Family went through a roller coaster of emotions with many ups and downs during TJ Olsen's heart transplant journey. He was born with a congenital heart condition called hypoplastic left heart syndrome.
The then 9-year-old, TJ, went through three open heart surgeries in three years before the transplant in 2021.
Many showed support and kept TJ in their prayers when was in the surgery.
The Carolinas, where Greg played 9 of his 14-year NFL career, tweeted, "TJ's favorite color is green so we made sure @BofAstadium was lit up green tonight," lighting up the stadium green throughout the night.
Moving forward, TJ is now back in school, playing sports and living a "fairly normal life, all things considered," Olsen said. He further added, "He's really doing well, We kind of go checkup at a time. So far, the follow-ups have gone really well."
Furthermore, TJ said during his transplant that one of his wishes was to go to Green Bay and meet Aaron Rodgers. On October 17, 2022, he was fortunate enough to have his wish granted.
Similarly, the fans and well-wishers have conveyed the message that Greg's son TJ is a 'real-life-MVP' & a 'fighter,' which, of course, is evident.
Philanthropic Work
Greg founded The Greg Olsen Foundation during his third season with the Bears in 2009. This foundation helps fund cancer research.
Greg's mother, Sue, is an 11-year breast cancer survivor and the inspiration for his foundation.
Similarly, one of his fundraising events includes the Kicks for a Cure Kickball Tournament, the world's largest charity kickball tournament. The event hosts over a thousand participants each summer in Chicago's Grant Park.
Olsen continued his charity work during his time with the Panthers. He and his wife also founded The Heartest Yard, a Charlotte, NC-based organization that assists children with pediatric cardiovascular complications and their families.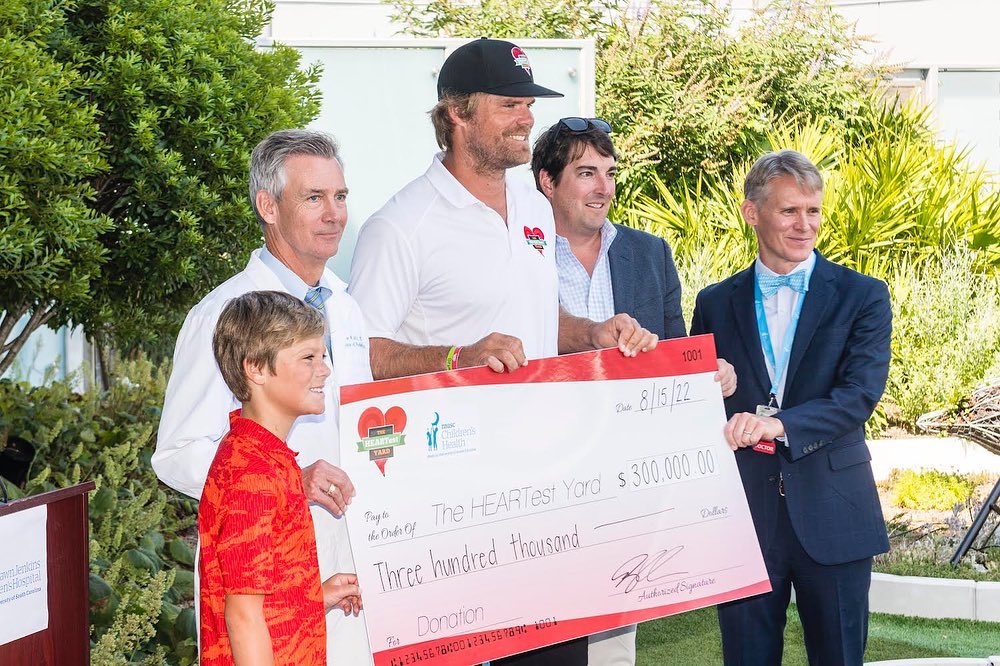 Moreover, according to the Panthers' official website, the couple founded The Heartest Yard after doctors said that their unborn son, TJ, will be born with hypoplastic left heart syndrome (HLHS).
In 2017 & 2018, Greg Olsen was a two-time finalist for the Walter Payton NFL Man of the Year award.
Post-Football Life
The former NFL athlete, his wife Kara, and their children Tate, TJ, and Talbot currently live in New Jersey.
Olsen started his sports broadcasting career shortly after his pro football retirement following the 2020 NFL season. He announced that he was joining FOX Sports as a football analyst on January 24, 2021.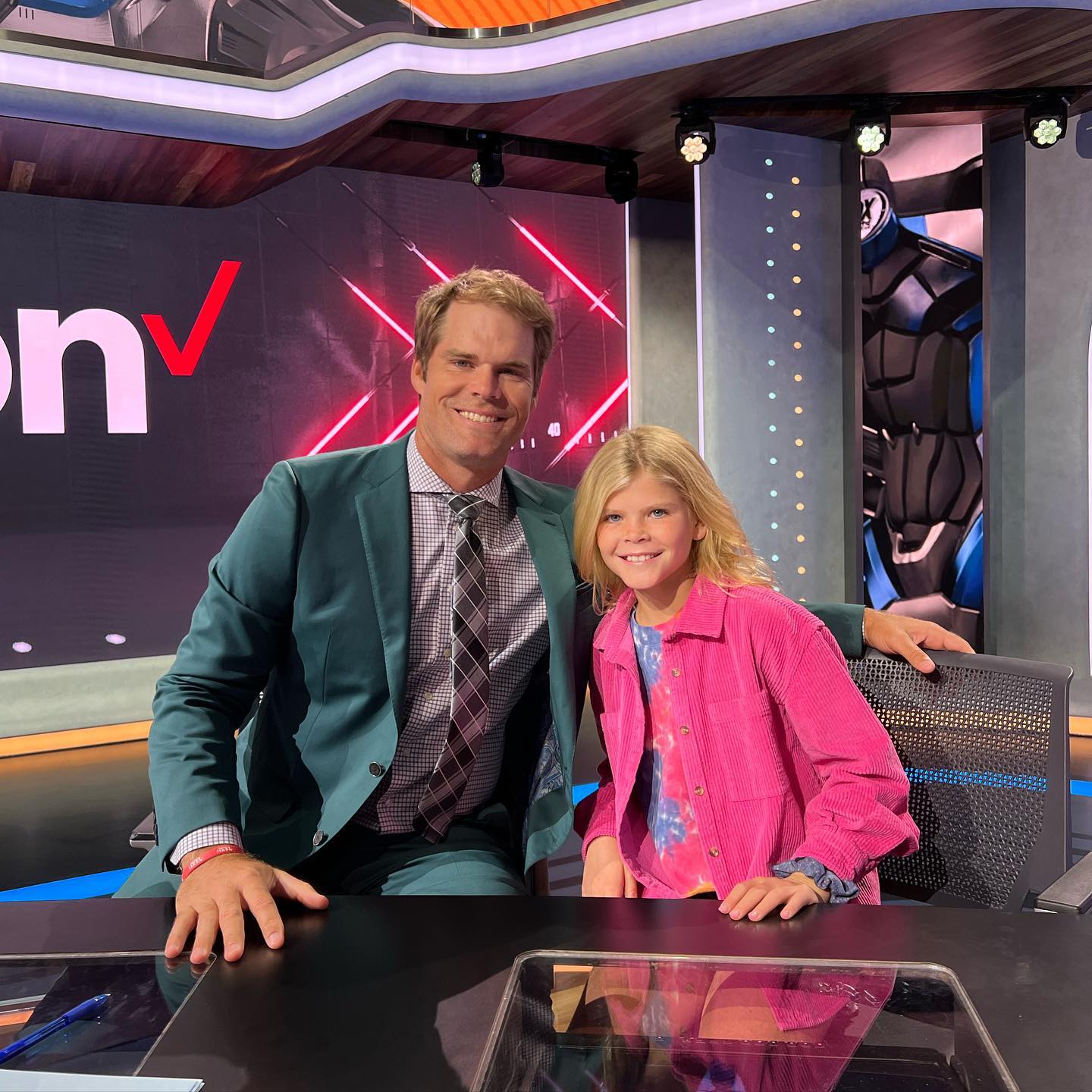 Despite just working for a year, the network promoted Olsen and his broadcast partner Kevin Burkhardt to No. 1 NFL broadcast duo status on May 31, 2022.
Apart from this, Gren co-hosts the Youth Inc. Podcast, Audiorama's flagship podcast that focuses mainly on youth sports & development.
Greg Olsen loves to spend time with his wife and kids, he usually takes a flight back home after his broadcasting work on Sundays.