Guy Damien is a Canadian retired professional ice hockey player with lots of nicknames like 'The Flower' and 'Le Demon Blond.' He is the first player who scores five goals and 100 points in six consecutive seasons of the National Hockey League.
Moreover, from 1971 to 1991, he played for the Montreal Canadiens, New York Rangers, and Quebec Nordiques in 17 seasons of an NHL career. Similarly, he won five Stanley Cups championships, and in 2017, he was listed in the name of one of the 100 Greatest NHL Players in history.
He is lucky enough to earn millions of fans, and I am sure that the following 45 quotes by Guy Lafleur would add more people to the list of his fan followers.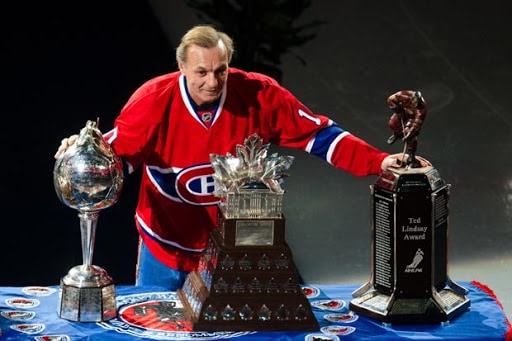 "Most of life is sad."― Guy Lafleur
"Hockey is not a one-man show; it's a team effort. If you don't work as a team – even if one or two guys aren't working – you're not going to win. That's the way it is."― Guy Lafleur
"When trouble comes, it's your family that supports you."― Guy Lafleur
4th of 45 Guy Lafleur Quotes
"No matter what happens to us in life, we must get back on our feet and continue on the path."― Guy Lafleur
"You do not play hockey for good seasons. You play to win the Stanley Cup. It has to be the objective."― Guy Lafleur
"The day you hear someone call me captain will be the day I buy a boat."― Guy Lafleur
"Anyway, I've never been a captain in 16 years in the NHL. But that didn't stop me being a leader in my own way."― Guy Lafleur
"I think it was always there, and it was maybe a matter of bringing it out. It was harder than I thought it would be, and I had to try harder. I had to regain my confidence, maybe the most important thing. I have learned a lot to relax. I know what I can do now, and I do it."― Guy Lafleur
"I realized that my family was more important to me than downtown nightlife."― Guy Lafleur
"Go ahead, work hard, and never be afraid to try something. Even if you don't make it, at least you can say you tried."― Guy Lafleur
"I was not the best student. Thank God I had a lot of hockey talent."― Guy Lafleur
"That's why I made a comeback in 1988. I knew there were chances of not making it, but I didn't want to end up at sixty years old and say I should have tried when I was thirty-eight."― Guy Lafleur
"I went out almost every night with the guys on the team between 1975 and 1981. We were winning in those years. It was fun."― Guy Lafleur
"The crowd doesn't give a crap as long as you bring the money in."― Guy Lafleur
"After 13 years, I couldn't accept to be number two."― Guy Lafleur
"Play every game as if it is your last one."― Guy Lafleur
"It's nice to go to small places where we had a lot of fans. They followed our career, and it's kind of a way to say thank you to them and do it for a good cause."― Guy Lafleur
"Well, it's always nice to know the fans didn't forget what you did when you played in the NHL."― Guy Lafleur
26 Motivating Wayne Gretzky Quotes
"It's nice to see the young ones 7, 8, 9 years old. It seems like they know you through their parents."― Guy Lafleur
"A lot of the players are not involved with any NHL team, so to play and travel around with the Oldtimers' it's a kind of gift that the players really appreciate."― Guy Lafleur
"I was working on the farm to get in shape, about a mile away from my parents. You know, I did everything as a kid to stay in shape – jogging, work on the farm, driving the tractor. I'll never forget."― Guy Lafleur
"The players wanted more money, higher salary caps, and they didn't have that family relationship we felt with the players. Mentally, the players were more businesslike."― Guy Lafleur
"I would compare that to when I first started with the Montreal Canadiens; it was a big family then, where the guys really stuck together and worked like a unit. But when I came back in '88, it was not like that anymore."― Guy Lafleur
24th of 45 Guy Lafleur Quotes
"It was my dream playing for the Montreal Canadiens – it was my dad's team."― Guy Lafleur
"Being drafted by the Montreal Canadiens, that was the greatest moment in my career. And stealing the Stanley Cup in 1978 and bringing it back to my hometown of Thurso."― Guy Lafleur
"I was impressed all my life. Because of the Montreal Canadiens' past, it means a lot because it was a team I cherished as a kid. It was my dream playing for the Montreal Canadiens – it was my dad's team."― Guy Lafleur
"I really love my family and kid, but first of all, it's my hockey, my career. My family is second, and my fans go third. Sometimes my fans go second, and my family is third. It's turning all the time."― Guy Lafleur
"I would like to write my biography sometime. I love to write. I could write for weeks and weeks, maybe say nothing but just for the writing."― Guy Lafleur
"The only time I'm relaxing is when I have the puck and controlling the puck. If I don't have it, I'm getting anxious, and I want to have it."― Guy Lafleur
"I hate golf."― Guy Lafleur
"That's the key to win a lot of games: you have to pull the wagon together, and everybody has to give 100 percent, and that's how you're going to win games."― Guy Lafleur
"I love the game. I want to see creativity. I want to see great goals. I want 'Wow!'"― Guy Lafleur
"You can't replace a guy like Jean Beliveau."― Guy Lafleur
"When I was on the ice, I felt like a free man. With flying, it's the same thing. When I'm flying by myself on an afternoon, I feel free."― Guy Lafleur
"People say that I must get bothered when someone stops me for an autograph or a photo. I'll get bothered when no one asks me. Being asked means people haven't forgotten the time I played."― Guy Lafleur
38 Bobby Orr Quotes that will inspire you
"I've been playing hockey since I was five years old. It's a part of my life."― Guy Lafleur
"My night is over only when there are no more photos to take and nothing left to sign."― Guy Lafleur
"I hated school."― Guy Lafleur
"I didn't go to the 12th grade… I stopped at 11."― Guy Lafleur
"I was lucky enough to have a hockey career in the NHL."― Guy Lafleur
41st of 45 Guy Lafleur Quotes
"When you win in Montreal, it's the best place in the world to play hockey."― Guy Lafleur
"I always liked speed."― Guy Lafleur
"In the NHL, 95 percent of success is confidence."― Guy Lafleur
"A captain shouldn't be chosen on the number of goals he's going to score."― Guy Lafleur
"I was a right-winger, but I was all over the ice."― Guy Lafleur