Even the strongest people are often a victim of racism. Amidst rising hate comments, UFC fans are curious about what Anthony Smith ethnicity is.
Anthony Jay Smith, popularly known by his ring name "Lionheart," is a professional mixed martial artist from the United States born on July 26, 1988.
The fighter currently fights in the Ultimate Fighting Championship (UFC) 's Light Heavyweight division.
Fighting in orthodox style, Smith received his first degree BJJ black belt in Omaha, Nebraska.
He has been a professional combatant since 2008 and has previously competed for Bellator MMA and Strikeforce.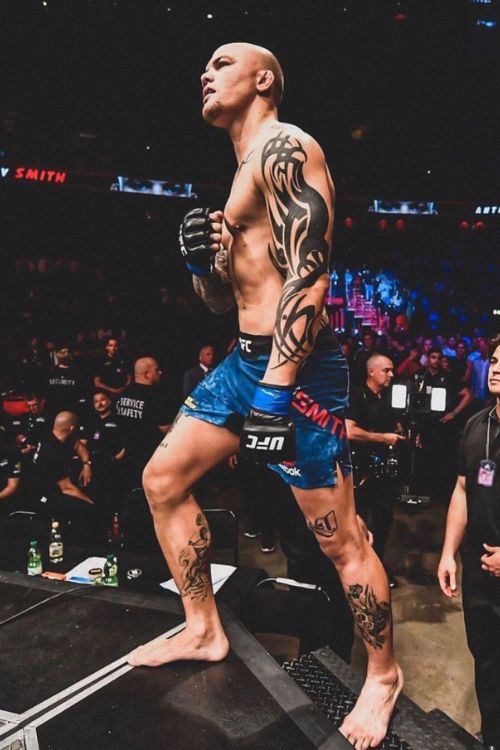 He is currently ranked number five in the UFC light heavyweight rankings as of May 12, 2023.
After dropping out of high school, the Texas-born started working full-time as a concrete finisher, a job he held until 2016, even when fighting professionally.
He believes in giving back to society and is involved in several community development programs and charity.
The fighter has also sponsored a local kid's baseball team named "Millard Red Legend."
What is Anthony Smith's Ethnicity And Religion?
Smith has himself declared that he is of a mixed race. Regarding Anthony Smith ethnicity, he would call himself half-black and half-white.
On Oct 13, 2017, he tweeted, "Confession: As a mixed male (1/2 black, 1/2 wht) in America I wasn't aware being called "boy" was racist? Seriously? Lol this world is weird"
In another Instagram post, after being asked about his children, "Why are they so black?" He addressed the issue after feeling very offended.
He writes, "Once upon a time, a bunch of times, my mom had sex with a black man and had a baby. That baby went on to have his own babies."
Smith further defends his ethnicity by saying, "Those legendary black genes shine through strong. If any of that is a problem…you know where the door is."
His mother and grandfather raised the fighter as his father left him when he was an infant.
Unfortunately, his mother, Dixie Jean Tonacchio, a white female, died on May 6, 2022,
In terms of religion, Smith is a god-loving Christian. He could be seen giving back to the community on easter holidays.
Wife & Family Of Anthony Smith
Anthony Smith is married to Mikhala Renee Newman. The pair tied the knot in Omaha, Nebraska, on September 20, 2019.
Talking about Mikhala, she is a licensed nurse who obtained her nursing degree from Lutheran Liberal Arts University in Fremont, Nebraska.
The couple is blessed with three daughters, Ariah (born: 2011), Avaya (born: 2014), and Adley (2017).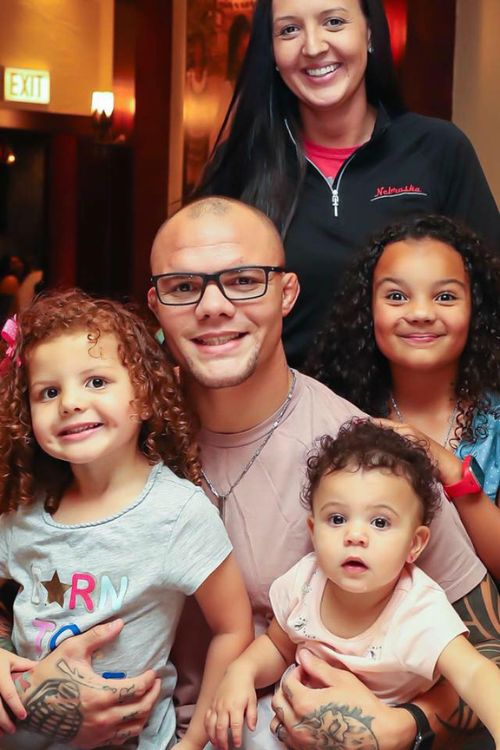 Anthony frequently uploads pictures of his family which demonstrate that the couple enjoys spending their free time with their three daughters.
The fighter currently lives with his wife, three daughters, and mother-in-law in Nebraska, USA.
In April 2020, a person named Luke Habermann invaded the family's home. The fighter had to fight off the invader in front of his wife and kids.
Smith ended up holding a kitchen knife to the throat of the invader until the police arrived, which ended the tussle.