Jacolby George parents, Jimmy and Beth George, have kept themselves out of the public limelight. In one of his pictures, we can see Jacolby with his two little brothers.
But the UM athlete also had an older half-brother who passed away in 2021. His older brother, Armani Harrison, was shot dead when he was returning home from a Mother's Day party.
That day in 2021, Jacolby lost a vital person in his life. He has paid tribute to his older brother in his own way, in a way that he can always keep him close to his heart.
Though Hurricanes recently lost to Florida State Seminoles, Jacolby impressed everyone with his performance. He scored two touchdowns in the loss and earned a career-high 153 receiving yards. George also won ACC Wide Receiver of the Week honors, his second of the season.
Jacolby George Parents: Meet Jimmy George And Beth George
Jacolby George's parents, Jimmy and Beth, raised the University of Miami player in Lauderhill, Florida. His parents have kept themselves away from the public limelight.
Unlike, a few collegiate players, Jacolby hasn't shared any photos of his parents on his Instagram handle, nor has he mentioned them much in his interviews. He has revealed only a few details of his life.
Jacolby's dad, Jimmy George, is a self-employed man working in Florida. He is available on Facebook and has shared a few pictures with his family.
In 2020, Jimmy shared the snap of him and Beth with Jacolby putting the pen on paper for Miami. He had his two other sons present on the spot, sitting next to each of their parents.
In an interview with The Miami Herald, George's high school coach, Steve Davis, said that the wide receiver didn't inform him or his parents before committing to Miami for the first time.
But after he committed to Miami, Jacolby started receiving numerous offers and thought of backing out. But even later, after much thinking, he committed to the University of Miami.
Beth has kept herself out of social media, and there isn't much information about her. But this could be Jimmy and Beth's second relationship, as Jacolby had a half-brother with a different family name.
Jacolby George Brother, Armani Harrison, Was Shot In 2021
The Hurricanes' wide receiver, Jacolby George, had a strong bond with half-brother Armani Harrison. A few years older than Jacolby, Armani was shot dead at a Mother's Day party in North Lauderdale.
The incident happened when Armani returned home from the party on May 9 at 12:16 AM. The witnesses present at the scene said the attacker was in a car that sideswiped Harrison's car in the parking lot before driving away.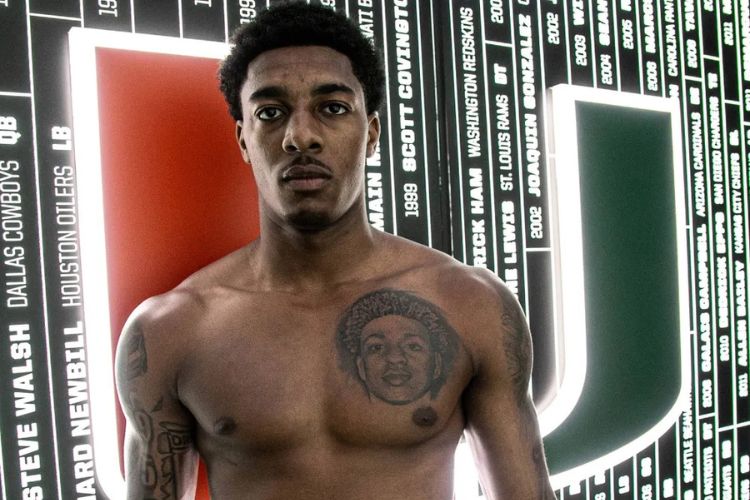 At the time, the police said the investigation was still going on, and the murderer hadn't been caught. During his conversation with the college website, Jacolby said Armani was his biggest cheerleader.
Jacolby has the image of his brother tattooed on his chest. He said it's his way of keeping his brother close, even during his lowest moments.
As said by Jacolby, Armani was a humble guy and always wanted him to do his best in everything. Armani would tell Jacolby, "Never stop working because there is somebody out there working harder than you."
The UM athlete said this saying alone always motivated him to give his best on the field.