Janet Elway is popularly known as the ex-wife of the great football star John Elway.
She is so associated with John Elway that people still address her as Janet Elway, not Janet Buchan, which is her maiden name, even after all these years of divorce.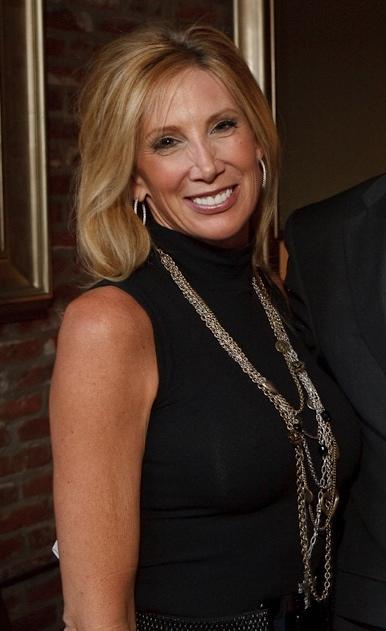 After the retirement, the couple headed off on their own road. They both got remarried to someone else and have a new love in their life after being together for 18 long years.
What happened between the two? What caused them to divorce after such a long time?
Let's find out in this article, beginning with some quick facts.
Janet Elway | Quick Facts
Full Name
Janet 'Buchan' Elway
Birth Date
17th of February 1961
Birth Place
Seattle, Washington, United States
Current Residence
Belcaro, Colorado, United States
Nick Name
None
Religion
Christianity
Nationality
American
Ethnicity
Caucasian
Education
Woodrow Wilson High School
Stanford University
Horoscope
Aquarius
Father's Name
N/A
Mother's Name
N/A
Siblings
N/A
Age
61 years old
Height
approx. 6 feet (182 cm)
Weight
165 lbs (75 kg)
Hair Color
Black
Eye Color
Blonde
Favorite Color
N/A
Build
Slim
Bust
N/A
Waist
N/A
Hips
N/A
Shoe Size
N/A
Profession
Swimming
Marital Status
Married
Ex-Husband
John Elway
Current Husband
Kevin Kretzmar.
Net Worth
$1 million
Merch
N/A
Last Update

June, 2022
Janet Elway Early Years
The former wife of John Elway was born on the 17th of February, 1961. Janet was born and raised in the city of Seattle, Washington. Information regarding her parents and siblings is still under wrap.
Janet attended the Woodrow Wilson High School in Tacoma, Washington. The school is now known as Dolores Silas High School.
Following her high school education, she joined the Stanford Uni located in, as the name suggests, Stanford, Washington. Janet majored in Sociology and got her bachelor's degree from the college in 1983.
You might be interested in reading about Deshaun Watson's wife and kids.
Janet Elway Career and Achievements
During her time at Stanford college, Janet was an excellent swimmer. She was fond of swimming back then.
She won multiple major swimming contests and also led her college to the 1980 national women's swim title. That was the first national women's swim title the college got to taste the victory of.
Janet enjoyed a successful swimming career in her college days, bagging in different high-class titles along with six state championships.
The six state championships were: Two in the relay, two in the 500-yard freestyle, and two in the individual medley.
Moreover, she won in 400-meter Individual Medly (IM) at Mexico's 1979 World University Games.
At the time, Janet was the national record holder for the 400-meter IM. She was also a high-point winner in the AIWA (Association of Intercollegiate Athletics for Women) meet.
Janet was listed in the Hall of Fame for Pacific Northwest Swimming and Tacoma-Pierce County Sports in 2005.
Besides swimming, Janet is also fond of philanthropy. She began a fundraiser program named Janet's Camp to support the YMCA summer camps.
Moreover, she involves herself in numerous volunteering projects for a number of non-profit organizations based in Denver.
Janet Elway Net Worth
Janet Elway's net worth is estimated at around 1 million dollars.
The source of her new worth is speculated to be her swimming career and the money she got in the divorce settlement.
On the other hand, her ex-husband John Elway's net worth is $145 million.
Read more about John Elway's net worth, house, lifestyle, and more.
John Elway
Early life
John Elway was born on June 28, 1960. He was born and raised in Port Angeles, Washington, alongside his two sisters.
From an early age, Elway was obsessed with football that he would wear out an average pair of sneakers every month as he would play extensively. Even before joining high school, he had all the talent needed to be a great player. He was accurate and had a great sense for the game.
"I love John a lot, but it wasn't fun playing with him as he took everything so seriously," commented his sister, Jana. "He was just so competitive. Even back then," Jana reported to the Denver Post.
Moreover, Elway's father, Jack, was aware of his talents and thus, decided to mature his talents by training him in the backyard.
John's father would not even let him go on trips while his two sisters would because Jack did not want John to get injured in any way.
Achievements
Elway's most notable achievement is winning two consecutive Super Bowls in which he played an important role. Many fans agree that John Elway was one of the leading players during "The greatest Super Bowl game ever."
In 1998, Elway led his team to a 31-24 victory over the greatly predicted winner Green Bay Packers.
Most of the viewers and football fans speculated that the Denver Broncos (John Elway's team) would lose as they were the inferior team in comparison.
But John Elway came to the rescue and led the team to victory like a motivational sports movie. The Qualcomm Stadium at San Diego was filled with fans chanting "Elway" over and over again.
The following year in 1999, he led his team to the Super Bowl title once again. He was entitled the Most Valuable Player for his tremendous and untiring effort.
In 1983, he was drafted by the Baltimore Colts but was traded to the Denver Broncos, for whom he ended up playing for 16 years.
You might be interested in reading about the 15 greatest NFL players of all time.
The Marriage and Divorce
Janet did not get much news coverage until her marriage with John Elway, then Denver Broncos quarterback, despite having a great college career.
The two started dating when they were studying at Stanford. In 1984, a year after Janet graduated from Stanford, she and her then-partner, John Elway, decided to marry.
The marriage was kept limited to only a handful of guests. The pair stayed together for about a decade before separating their ways in 2002; the divorce was finalized the following year, in 2003.
During their time together, the couple gave birth to four children; two sons, Jordan and Jack, and two daughters, Juliana and Jessica.
The reason for the divorce is not specified, but some claim that John's tight schedule ruined their relationship in the long run.
Son of Janet Elway Accused of Domestic Violence
Jack, one of her sons, was accused of domestic violence against his girlfriend.
As reports state, he was arrested in 2014 for alleged violence against his then-girlfriend. The former couple was verbally abusing each other during a car ride until things got rough and physical.
Jack's girlfriend hurt her knee in the process. He was arrested by the authority but was released upon bail by Janet's ex-partner John. His bail was set at $550.
Fun fact, Jack was named after John's father. Unfortunately, Jack did not live up to his grandfather's name.
Like her mother, Jessica Elway studies at Stanford Uni, whereas Jordan studies at Virginia University. Furthermore, Juliana and Jack attend Cherry Creek High School.
Second Marriage
After their divorce, Janet went on to find another love. She got along and married the former president of Safe Money Inc, Kevin Kretzmar. At the time, Kevin was a financial advisor for NTB Financial.
The new couple emerged in Feb. 2010, when they were attending "Love Letters," a theatric drama by Cherry Creek Theater production.
Janet and Kevin got engaged in 2011. The couple dated for a year until Kevin showed the courage to propose.
Furthermore, the couple announced their marriage over a dinner party hosted by the Mizel Museum celebrating its 2011 Community Enrichment Award.
At present, the couple has already separated their ways, and Kevin has moved on to a new love. He got engaged with Patricia Dennard in 2020.
On the flipside, Janet prefers to keep her relationships as private as possible. As a result, any new information about her relationship has not surfaced in the media.
Social Media Links
Janet Elway is not available on any social media platforms. Janet believes in maintaining a life away from the limelight.
But, on the other hand, her famous footballer ex-husband has a couple of social media accounts.
Instagram of John Elway: 71.3k followers
Twitter of John Elway: 1 million followers
Facebook of John Elway: 531k followers
(Note: The data available above are as of Oct 2021).
Frequently Asked Questions (FAQs)
Did Janet go through surgery?
Janet Elway was diagnosed with Crohn's disease back in 1998. Her colon surgery was successful, and she made a full recovery in a short period of time. However, she reportedly spent only a couple of days at the Rochester-based Mayo Clinic.
How old is Paige Green John Elway's wife?
Page Green Elway was born on the 11th of September 1975. As of now, she is 46 years old, which makes her 15 years younger than John Elway.
How old is John Elway's?
The former NFL player, John Elway, was born on June 28, 1960. At present, he is 62 years old.