Jarred Vanderbilt is one of the bright young prospects in the Minnesota Timberwolves roster, filled with budding talents.
Moreover, he was always destined to play basketball as everyone from his family, including his parents and siblings, played the sport at some point in their career.
So join us on this journey of Jarred, where you will get to know about his entire life history. You will also find information on his salary, net worth, relationships, age, nationality, and social media.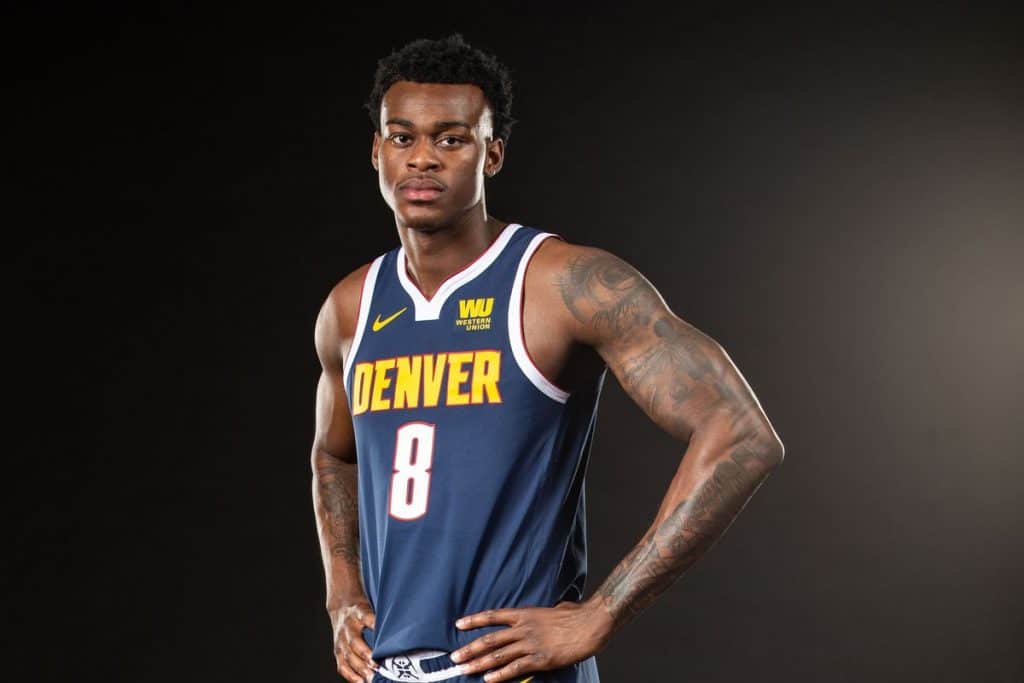 But first, let's warm up with some quick facts.
Quick Facts about Jarred Vanderbilt
| | |
| --- | --- |
| Full Name | Jarred Vanderbilt |
| Birth Date | April 3, 1999 |
| Birth Place | Houston, Texas, Brazil |
| Nick Name | Not available |
| Religion | Not available |
| Nationality | American |
| Ethnicity | African-American |
| Education | University of Kentucky |
| Horoscope | Aries |
| Father's Name | Robert Vanderbilt |
| Mother's Name | Gwendolyn Vanderbilt |
| Siblings | Jamal, Robert Jr., Rean, Jenae, Tasha |
| Age | 24 Years Old |
| Height | 6 feet 9 inches (2.06 m) |
| Weight | 214 lb (97 kg) |
| Shoes | Nike |
| Hair Color | Black |
| Eye Color | Black |
| Body Measurement | Not available |
| Build | Athletic |
| Marriage status | Not in a relationship |
| Girlfriend | No |
| Children | No |
| Profession | Basketball Player |
| Franchises | Minnesota Timberwolves, Iowa Wolves (Current); Denver Nuggets, Delaware Blue Coats (Former) |
| NBA Draft | 41st pick (2018 NBA Draft) |
| Salary | $1.3 million |
| Net Worth | $2 million |
| Social Media | Instagram |
| Merch | Rookie cards, Minnesota Timberwolves Gears |
| Last Update | November, 2023 |
Jarred Vanderbilt – Early Life & Family
Jarred Vanderbilt was born to his parents, Gwendolyn and Robert Vanderbilt, in Houston, Texas, on April 3, 1999.
Moreover, both his parents were former basketball players. To illustrate, Robert played at Wiley College while Gwendolyn showcased her talents at Xavier of Louisiana.
Aside from that, Jarred grew up with his five siblings. Of those, two are brothers, Jamal and Robert Jr., while the rest are sisters, Rean, Jenae, and Tasha.
Growing up, Timberwolves small forward received all the love from his family as he is the youngest child of his parents.
Besides, it seems that basketball runs in the Vanderbilt family's blood as Jamal played at Texas-Tyler and Jenae at UTSA.
Education
For his education, Jarred went to the most successful college in the history of NCAA Division I basketball, the University of Kentucky.
However, Vanderbilt played there for only a year before declaring his eligibility for the 2018 NBA Draft.
Jarred Vanderbilt – Basketball Career
On June 21, 2018, the Orlando Magic drafted Jarred as the 41st overall pick in the 2018 NBA Draft to kick start his professional career.
But, the same day, he got traded to the Denver Nuggets.
Subsequently, Jarred remained one and a half-season with the Nuggets alternating between their G-league affiliate team and the main roster.
During that period, Vanderbilt appeared 26 times, averaging 1.3 points, 1.2 assists, and 4.2 minutes per game.
Then, on February 5, 2020, 21 years old small forward was traded to the Minnesota Timberwolves.
Since then, Jarred has played in two games for the Timberwolves. Due to the world pandemic of Corona Virus, the NBA has been postponed until at least June 2020.
Jarred Vanderbilt: G League
Talking about his G-League career, Jarred has made 25 appearances averaging 14.8 points, 10.1 rebounds, and 2.2 assists. Currently, he is playing for the Iowa Wolves.
Jarred Vanderbilt – Jersey
Vanderbilt wears jersey number 8 for the Minnesota Timberwolves. Here's a picture of him wearing the jersey:
Jarred Vanderbilt – Potential
Vanderbilt is a very versatile player who has the ability to shine as a power forward, small forward, and also a center. His wingspan is 7 feet and 1 inch and his reach is 8 feet and 10 inches.
Jarred's ability to make plays in transition and in space has to be his most notable skill. His rebounding ability makes him an even better player. He seems to have a sixth sense when it comes to going to get the ball after it clanks off the cylinder.
His rebound percentage was 19.7 percent throughout the 20 G-League games that he played in. Only eight regular rotation players could achieve the percentage higher than Jarred.
His second-jumps are absolutely quick and bouncy, making him an excellent offensive rebounder. He is quicker than most players of his size and his forenamed handle lets him to maneuver past defenders.
His bounce passes are silky and smooth, and his back drop-off makes the room for a wide-open triple for his fellow players.
Vanderbilt is very good with defense. His speed assist his team in terms of both interior and perimeter defense.
— Jarred Vanderbilt (@JVando) June 20, 2020
He is tall that enables him to smother opposing ball-handlers and have the awareness of when to accurately jump passing lanes at the same time. It enables him to lead the run-outs and fast-break opportunities, which he thrives for.
While at Kentucky, he had stunning offensive rebounding. His height allowed him to get his hands on a lot of misses, grabbing 23.1 percent of the UK's misses.
He would have made the No. 1 nationwide in offensive rebounding percentage if he didn't have a wide margin of playtime to qualify. Michigan State's Nick Ward was ranked No. 1 recording 18.3 percent.
Comparison
The Minnesota Timberwolves acquired Jarred Vanderbilt on the same deal that went with Malik Beasley and Juancho Hernangomez's way to Minnesota.
His physical attributes are considered similar to that of 2020 draft prospects Precious Achiuwa, Paul Reed, and Tyler Bey.
He is also compared to Australian basketball player Ben Simmons, considering his skills and game-play. Similarly, his dunks are compared to that of Dennis Rodman.
Dunk
Here's a clip showing the comparison of Vanderbilt's and Rodman's dunk.
Jarred Vanderbilt = Dennis Rodman

What do you think of this comparison, @Timberwolves fans? pic.twitter.com/P0Q4Ceg1Et

— Bally Sports North (@BallySportsNOR) January 8, 2021
Rating
You can check the website of Jarred Vanderbilt – Fantasy Data to see the ratings that he had received and also an overview of his career.
Jarred Vanderbilt – Outlook
You can see an outlook towards Vanderbilt on the website of Draft Express.
Jarred Vanderbilt – Age, Height & Nationality
At the time of writing, Jarred is 21 years old. Further, he shares his birthday on the third day of April, which makes his birth sign Aries.
Likewise, Aries lead their life with blind optimism, barreling through life with a joyous attitude.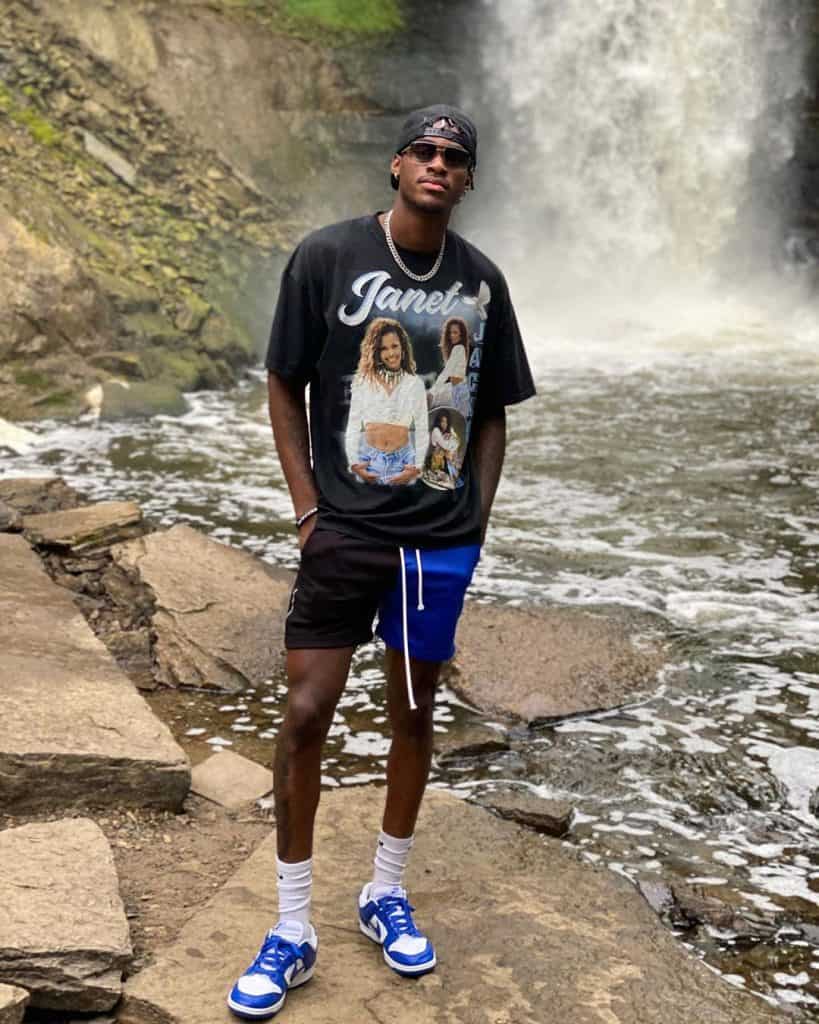 Moving on, Vanderbilt measures at 6 feet 9 inches (2.06 m) and weighs 214 lb (97 kg). Moreover, Jarred plays in the small forward position and shoots with his right hand.
As for his nationality, the 21-year-old was born in Houston, which is the most populous city in the state of Texas. Hence, he holds an American nationality.
Jarred Vanderbilt – Injury
As of now, Jarred is fit and fine. Similarly, he has not been heavily injured or been plagued by recurring injuries in the past.
Jarred Vanderbilt – Net Worth & Salary
Vanderbilt has been playing professional basketball for only two years. As a result, his net worth stands on the low side for now. To be precise, Jarred has a cash reserve of $2 million.
Moving on, the 21-year-old earns a salary of $1.3 million per year due to his rookie scale contract. Moreover, Jarred has earned $2.5 million in wages until now.
Jarred Vanderbilt – Contract
On July 11, 2018, the Denver Nuggets signed Jarred on a three-year rookie contract. As per the deal, Vanderbilt will take home $3.9 million by the end of the contract.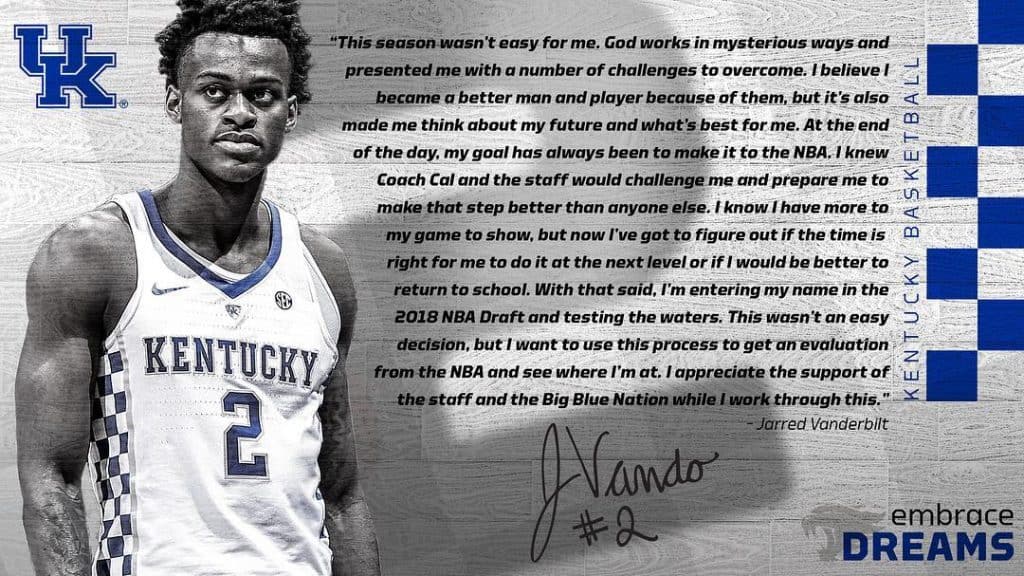 Jarred Vanderbilt – Personal Life
Considering the fact that Jarred is only 21 years old and just beginning his professional career, it is quite right that he is focused on his career currently.
Aside from his love for basketball, Vanderbilt is also fond of fashion.
Furthermore, he constantly posts pictures of himself on his Insta handle. Besides, Jarred's love for nature and vacations is also quite evident from his social media accounts.
Jarred Vanderbilt – Social Media Presence
Common Queries about Jarred Vanderbilt
Where did Jarred Vanderbilt go to college?
Jarred Vanderbilt went to the University of Kentucky where he played for the Kentucky Wildcats men's basketball team.
How tall is Jarred Vanderbilt?
Jarred Vanderbilt is 6 feet and 9 inches tall.
Who are Jarred Vanderbilt's agents?
Bill Duffy and Kevin Bradbury are Jareerd Vanderbilt's agen