Some games are more than just competition between two teams or players. They are deeply engraved in people's hearts and souls, like baseball is for Americans.
Playing baseball is a common yet glorious game for Americans.
Jason Castro is one of those Americans, who played in Major League of Baseball (MLB), an American Baseball Organization, for four different teams from 2010 to 2020.
Castro is an American Baseball catcher who is leading a successful career. Jason Castro was born on June 18, 1987, in Castro Valley, California.
Castro went to Castro Valley High School and graduated from there. In high school, Castro played both basketball and baseball.
Jason grew up with a supportive family where his dream was his family's dream. His mother, Lori, says it is a dream for all of them.
Moreover, Jason was first drafted in 2008 by the Houston Astros, and his career stat went up after that major push. Eventually, Castro made his MLB debut on June 22, 2010, with the Astros.
People call him a complete player. Further, Castro is an athletic catcher with offensiveness. He is a defensive player with the intelligence that is required for the game.
We will discuss more about the MLB allrounder, Jason. Before that, let's check out some quick facts.
Quick Facts:
| | |
| --- | --- |
| Full Name | Jason Michael Castro |
| Birth Date | June 18, 1987 |
| Birth Place | Castro Valley, California |
| Nick Name | Not Available |
| Religion | Not Available |
| Nationality | American |
| Ethnicity | White |
| Education | Stanford University |
| Horoscope | Gemini |
| Team | Houston Astros, San Diego Padres, Minnesota Twins, Los Angeles Angels |
| Father's Name | Tom Castro |
| Mother's Name | Lori Castro |
| Siblings | Not Available |
| Age | 35 Years Old |
| Weight | 84kg |
| Height | 6 feet 2 inches |
| Hair Color | Dark Brown |
| Eye Color | Blue |
| Body Measurement | Not Available |
| Shoe size | Not Available |
| Build | Athletic |
| Married | Yes |
| Wife | Maris Perlman |
| Profession | Professional Baseball Catcher |
| Position | Pitcher |
| Children | 2 |
| Net Worth | $25 million |
| Retirement | Active |
| Social Media | Twitter |
| Merch | CD, Autograph, Poster |
| Last Update | September, 2022 |
Where was Jason Castro born? Early Life & Family
The MLB player, Jason, was born in Castro Valley, California, to parents Tom Castro and Lori Castro.
Sadly, there is not much known about Jason's early life or siblings. It looks like he had a supportive family. His mother once said, playing baseball is a dream for all of us.
Their love and support helped him to continue his career. Jason does not talk much about his family; he seems quietly loving to his parents.
A good family has made him a modest and balanced person and player. His good upbringing may have made him support social causes like Covid 19.
How old is Jason Castro? Age, Height & Weight
The intelligent baseball catcher, Jason, is 35 years old. He stands 6 feet and 2 inches tall and weighs around 84 kg.
Playing baseball does not require a specific body type or weight. Castro is a regular-looking guy yet perfectly qualified for playing baseball.
Moreover, Castro was born on June 18, which makes him a Gemini. Gemini people are usually intelligent and witty. Jason uses his intelligence and quick wit while he plays.
Being born in 1987 makes Jason a Rabbit in Chinese Astrology. Rabbits are modest and pleasant to be around, and obviously, intelligent like Jason Castro.
Jason Castro | Career
Early Career
When Jason went to high school, Castro Valley High School, he played both baseball and basketball. Eventually, he focused on baseball in college.
The unstoppable MLB catcher, Castro, played college baseball for Stanford Cardinal. He won the title of the most valuable player in his junior year.
In 2007 after sophomore, Jason played Collegiate Summer Baseball for the Yarmouth Dennis Red Sox; he batted .341 in 39 games.
Yet again, he won the title of the Starting Catcher for the East Division All-Star team. In the 2008 Major League Baseball Draft, the Houston Astros selected Jason in the first round.
Soon after, Castro started playing in Single-A with the Tri-City ValleyCats. Then he played for the Class AA Corpus Christi Hooks in 2009.
The same year Jason went to Nettuno, Italy, to play in the 2009 Baseball World Cup.
In 2009, Jason was ranked 53rd in the list of "Top 100 Prospects" after a three-run home run and threw a runner out in the 2009 All-Star Futures Game.
Don't forget to check out: <<Ryan Madson Bio: Baseball Career, Injury, Family, Net Worth Wiki >>
Houston Astros
Eventually, on June 20, 2010, the Houston Astros took Jason to MLB from the Class AAA Round Rock Express. The persistent player, Castro, beat the odds and made it to MLB.
On June 22, 2010, Castro played at Minute Maid Park in MLB against the San Francisco Giants. He had his major league home run two days later against Matt Cain.
All players do not make it to the MLB. Castro was one lucky player. The rising star, Castro, had some bad news on March 2, 2011, when he got injured his knee while playing against the Detroit Tigers.
Castro went under knee surgery, due to which he missed all games in 2011. But in 2012, he played 87 games with a .257 average, 6 home runs, and 29 RBI.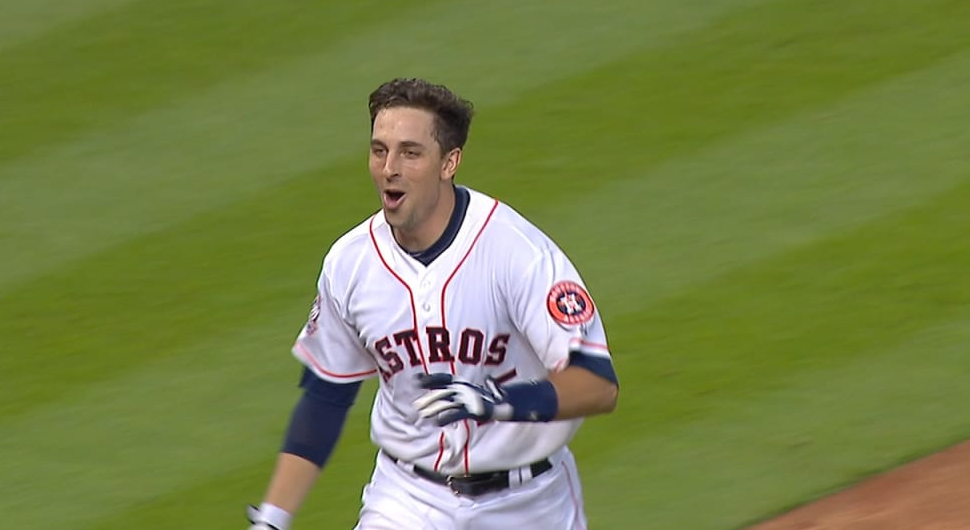 The next year, 2013, was a good year for Jason. On May 20, he got honored to be American League Player of the Week.
Further, he got into his first All-Star Game Selection. The honored player, Castro, had club catcher records with 63 runs, 18 home runs, and a .485 slugging percentage.
Again in September, Jason went through knee surgery. He again missed the rest of the season.
Even after hectic playing schedules and surgeries, Castro completed his Sociology degree from Stanford University in 2013.
In 2014 and 2015, Jason signed contracts with the Astros worth more than $6 million.
Minnesota Twins
Jason left the Astros to join the Minnesota Twins in 2016. In November 2016, he signed a three-year contract of $24.5 million.
The baseball star Castro changed his playing style when Jason entered the Twins. In the first season with the Twin, he hit .242, 10 home runs, and 47 RBIs.
Jason was required to go under knee surgery toward the end of the season in 2018. In 2019, Castro played only 79 games for the Minnesota Twins.
Jason was a significant part of the Twins. His offensive and defensive skills contributed to improving the team's performance.
Los Angeles Angels
After playing for the Twins from 2016 to 2019, in January 2020, Jason had a one-year deal of $6.85 million with the Angels. He played his debut as a starting catcher in July 2020.
San Diego Padres
Again after the Angels, Castro signed a contract with the San Diego Padres in August 2020; it was a trade-off between Jason and Gerardo Reyes.
The ambitious catcher Castro's luck and hard work made him play in MLB with four major teams from 2010 to 2020.
Come back to Houston
On January 22, 2021, Castro inked a two-year contract worth $7 million contracts with Houston.
Injury
Astros catcher Jason Castro was placed on the injured list with a right knee injury during the last few days of August.
Soon then, he was sent back to Houston to get the knee checked and treated while the catcher Garrett Stubbs made attendance from Triple-A to join the club.
The knee that he got injured was the same knee he had operated on three times. Thus the possible best thing was to get him to doctors and get a scan, then go for a prognosis.
Castro shares a history of right knee injuries back from 2011 when he tore his ACL while running the bases in spring training and missed the entire season.
In 2013, Castro had a cyst drained from the knee, due to which he could only play 19 games in 2018 after going through right knee surgery.
The latest update on his injury, Castro is supposed to resume serving as Martin Maldonado's backup going forward. As per sources, he is all set to start behind the plate Friday and bat ninth.
Career Stats
| | |
| --- | --- |
| Batting average | .228 |
| Home runs | 92 |
| Runs batted in | 314 |
Let's Talk about his defense
Well, Castro's pitch framing is more than above average, but when it comes to defense, most are dissatisfied, as it is in a little bit of a downgraded position.
Not to mention, Castro seems brutal at blocking wild pitches. The sources also claim Castro's offense is not as good as his competition.
Also, it is said that Castro is the 15th best catcher in the MLB as of now and surely in the coming days as well.
Social Cause
Besides giving the best in the baseball field, the Sociology graduate, Jason Castro, has made a significant contribution to society.
Along with his wife Maris, Castro founded "Castro's Kids," which is a literacy program. Castro's Kids provides books for schools in the Houston area.
Moreover, Jason seems invested in various other social causes.
Jason Castro | Net Worth | Salary
Jason is one lucky player to play in MLB for almost a decade. He had had contracts with four major MLB teams from 2010 to 2020.
During Castro's career, he has acquired a net worth of approximately $25 million.
According to sources, in 2010, Jason had $400,000 as a salary when he played for the Astros; the consecutive year, it went up to $486,000.
Within a period of six years, it increased from $400,000 to $5 million.
Again with the Minnesota Twins, Jason's salary went up to $8 million, whereas with the Angels and the Padres, his salary is undetermined.
The intelligent catcher, Jason, is still active in his baseball career, which is likely to increase his net worth in the coming years. Let us wish for a long career for Jason.
You can find the latest season stats, game log, daily projections, play log, and much more of Jason Castro on the FanGraphs website.
Is Jason Castro single? Wife & Children
Jason Castro is happily married to his long-time girlfriend, Maris Perlman. Jason and Maris met at Stanford University, where she was a lacrosse player.
Not knowing Maris does not enjoy sushi, Jason took her to a sushi restaurant to surprise her on their first date.
Later after eating the sushi, she had to excuse herself. After dating for three years, Castro proposed to her.
The modest-looking baseball star Jason Castro married his Maris Perlman in 2012 in a lavish ceremony at Belle Mer in Newport, Rhode Island.
It was a beautiful affair with the wedding venue decorated with beautiful flowers; the bride wore a gorgeous dress with her great-great grandmother's wedding band from 1899.
The wedding was a timeless experience for the couple. It was accommodating for the guests yet looked stylish.
There is not much written about Jason's children, but Jason has two children, once he mentioned in his interview.
You may also want to read about another baseball pitcher: <<Dakota Hudson Bio: Baseball Career, Injury Family, Net Worth, & Wiki >>
Social Media Presence:
Not everyone makes social media their priority. Many players and stars like to stay low-key.
Jason is not that active on social platforms like Facebook and Instagram, but he has a Twitter account where he likes to share baseball posts.
He posts, shares, and enjoys the attention of fellow players. Hopefully, he will be more visible in the social scenes so that we can get to know him better.
Twitter: 24.1k followers, 186 followings
Some FAQs:
Is Jason Castro retired?
No. Jason is still active in baseball. He may be playing for the San Diego Padres in the coming years. Castro already has a decade-long career in MLB; no one knows how many more years he will be playing.
What is Jason Castro's jersey number?
Castro's jersey number is #11 for the San Diego Padres. It was #15 for the Houston Astros, #21 and #15 for the Minnesota Twins, and #16 for the Los Angeles Angels.
Is Jason Castro active on Instagram?
No. Castro does not Instagram or Facebook account. He only uses Twitter. Jason is not very active on social platforms, unlike his personality. However, he is popular among his friends and family.
When was Jason Castro first drafted?
Jason Castro was first drafted by Houston Astros in the first round of the 2008 Major League Baseball draft.
How much is Jason Castro's rookie baseball card worth?
Jason Castro's rookie baseball card price ranges from $0.21-$15.53.
Is Jason Castro hurt?
Jason Castro has been on the injured list since August 29, 2021, because of a right knee injury.
What must be Jason Castro's batting average?
Jason Castro's batting average is 0.2.