Jenna Bandy, a social media influencer, is famous for her trick shots and holds a Guinness Book of World Record for the farthest football throw into a target by a female at 90 ft.
The multi-faceted talent is an alum of California State University, Monterey Bay, where she played collegiate basketball.
Initially, she wanted to become a broadcaster and sports reporter but became an influencer and YouTuber, which she cherishes.
She has collaborated with stars like Stephen Curry, Josh Horton, Marcelas Howard, and Chris Staples.
Moreover, Jenna also owns Game ChangeHer, which aims to empower women with athletics.
Upon graduating, Jenna worked as a varsity basketball coach at her alma mater, Thousand Oaks High School.
Her coaching was halted due to the COVID-19 pandemic, so she inclined to Instagram and YouTube, where she began posting her trick shots.
Bandy's social media career soared after she won the House of Highlights-organized $100K Knockout Royale in March 2021.
Now, the California native has more than 722k followers on her Instagram, while her YouTube account has over 793k subscribers.
Jenna Bandy Wikipedia: Age, Height And Weight
Bandy, an American social media star, was born on September 29, 1992, in California, the United States. As of 2023, she is 31 years old.
Jenna is one of four children of her parents, John and Sheryl Bandy.
She has a twin brother named Jace Bandy. Her two elder siblings are Gia Bandy Robbins (b.1988), who works at GitHub, and her brother Jett Bandy (b. March 26, 1990).
She has an age gap of 4 years with her eldest sister, Gia, and two years with her retired MLB player brother, Jett.
The blonde Instagram influencer with brown eyes has a height of 5 feet 8 inches (1.73 m). She weighs about 145 lbs (66 kg).
Jenna doesn't have a Wikipedia page, unlike her brother, but her growing achievements undoubtedly will have one in the coming days.
Bandy's Father Taught Flair Bartending To Tom Cruise
As reported, Jenna Bandy's father, John, taught the flair bartending technique to actor Tom Cruise for the 1988 film Cocktail.
John was a bartender at TGI Fridays in the West Hills/Topanga for a long time. Later, he worked at Bogie's in Westlake Village after his family moved to Thousand Oaks.
Then, he left bartending and worked as a prop builder at Sony in Culver City. At one point, Mr. Bandy had worked for the VP of Sony, who later hired him as a prop builder.
Jenna Holds A Guinness Book Of World Records
On November 6, 2019, Jenna Bandy made it to the Guinness Book Of World Records for the farthest American football thrown into a target by a female at 30 yards.
Then, in February 2022, she set another world record after throwing an NFL ball at the target (basketball rim) at 90 ft.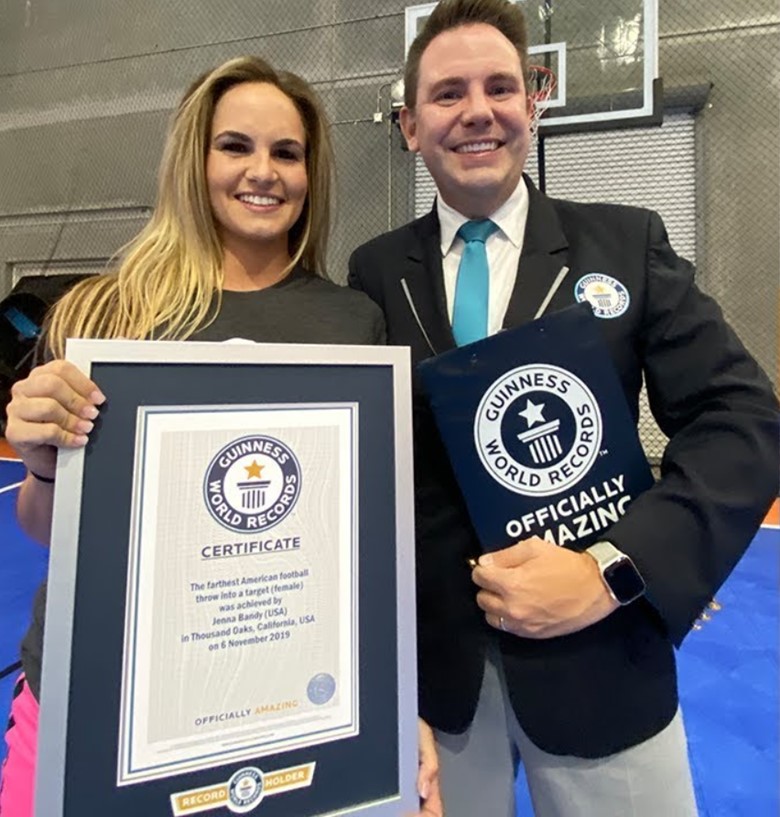 Bandy even appeared in the first episode of America's Got Talent: Extreme to beat her throwing record. But she didn't get six balls in the hoops, thus getting the "X" buzzer.
Later, in March 2023, Jenna posted a video of her throwing the football right into the hoops at 94 ft. But it's still yet to be officially in the world record book.
A Former Collegiate Basketball Player And Coach
Jenna was a varsity basketball player at Thousand Oaks High School. Then, from 2010 to 2015, Bandy played basketball for the California State University, Monterey Bay.
In 2013, she took a medical redshirt season after her knee injury and made her comeback in 2014, where she managed a career-high 152 points and 22 3-point field goals.
Bandy graduated in 2015 with a Bachelor's degree in Communication and Media Studies.
According to her LinkedIn profile, she became a girl's basketball coach at Agoura High School (2015-17) and Calabasas High School (2017-18).
Then, in 2018, she became the varsity girls' basketball coach at her alma mater, Thousand Oaks High School, until the COVID-19 pandemic.
Jenna Bandy's Instagram and YouTube
In January 2012, Bandy created her Instagram handle @jennabrandy2021, which became verified in August 2021.
She now has a fan-following of 722k on her Instagram, where she has paid partnerships with many brands. It brings her a considerable sum, allegedly thousands of dollars per post.
On top of that, her YouTube channel (@JennaBandy21), with more than 793k subscribers, brings her an annual revenue between $87.6K – $1.4 million.
So, it's unsurprising that Jenna Bandy has a net worth of $2 million.
Does She Have A Boyfriend?
At the moment, Jenna does not have a publicly disclosed boyfriend or has any dating reports in the outlet. But she was in a relationship with Caleb Nash Feemster, a TikTok star and YouTuber.
There are no details about their relationship or the reason for their break up, but they indeed are on good terms.
In October 2019, she featured Caleb in her YouTube video, "CHALLENGING MY EX-BOYFRIEND to a 3PT CONTEST!!" which she eventually won.