Jevon Holland is an American professional football player who plays in the NFL for the Miami Dolphins. He has been playing as a free safety for the Dolphins since they picked him in the 2021 NFL Draft.
Holland's father, Robert, was a football player and later a coach in the Canadian Football League (CFL).
However, they later returned to the United States, and Jevon played college football for the Oregon Ducks for two seasons before he declared for the draft.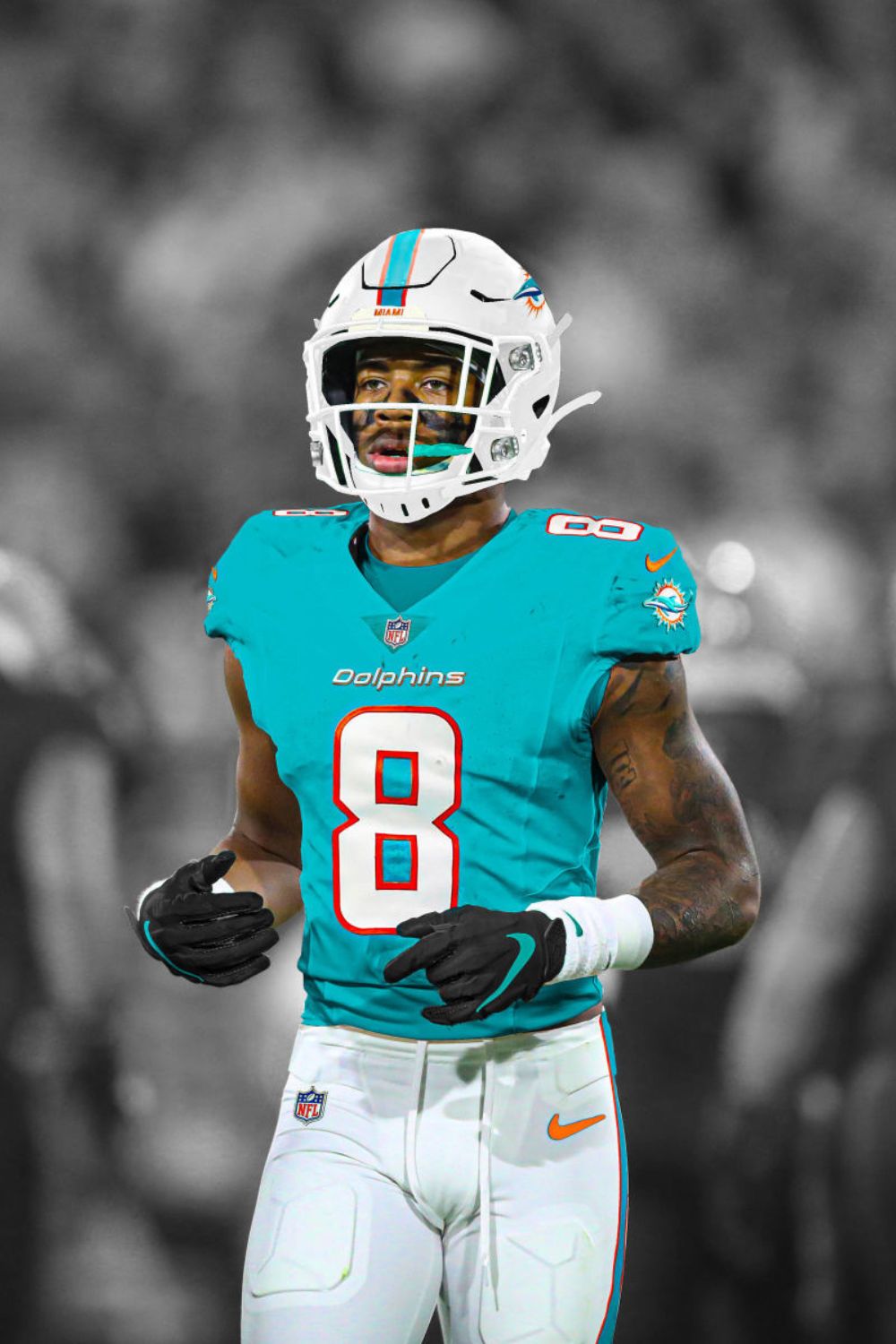 It might be surprising for many, but Jevon had even enlisted himself in the 2021 CFL Draft. Weirdly enough, no any Canadian club bid for him, and consequently, he was undrafted.
This article will briefly discuss young Jevon's early life, budding career, net worth, and much more.
But before we unravel everything, let's examine some quick facts about him.
Jevon Holland | Quick Facts
Full Name
Jevon Holland
Date of Birth
March 3, 2000
Birth Place
Coquitlam, British Columbia, Canada
Nickname
Snowman
Religion
Christianity
Nationality
American
Zodiac Sign
Pisces
Age

23

Years Old
Height
1.85 m/6 feet 1 inch/185 cm
Weight
207 lbs./94 kg
Hair Color
Black (natural)
Eye Color
Dark Brown
Build
Athletic
Father's Name
Robert Holland
Mother's Name
Pamela Holland
Siblings
Two (Jamirr and Jada)
Ethnicity
Nigerian-American
Education

Bishop O 'Dowd High School (Oakland, California)
University of Oregon (Eugene, Oregon)

Marital Status
Unmarried
Sexual Orientation
Straight
Girlfriend
None
Kid
None
Profession
Football player
NFL Draft
2021/Round: 2/36th pick
Position
Free Safety
League
National Football League (NFL)
Active Years
(2021–Present)
Net Worth
$1-$5 Million
Currently Plays For
Miami Dolphins
Career Highlights & Awards
PFWA All-Rookie Team (2021)
Social Media
Instagram, Twitter, TikTok
Miami Dolphins Merch
Signed Helmet
Last Update

November 2023
Jevon Holland | Early Life, Parents & Education
Jevon Holland was born on March 3, 2000, in Coquitlam, British Columbia, to his parents, Robert and Pamela Holland. Besides his parents, Jevon has an elder brother named Jamirr and a younger sister named Jada in the family.
Born in Canada, Jevon spent his early childhood in British Columbia and did his primary schooling there.
His father was previously a college player and later pursued a professional football career, first in America and then in Canada.
By the time Jevon was born, his dad had already started coaching for a team in the CFL.
Similarly, his mother, Pam, was also a college football player but never pursued a professional career.
Jevon's elder brother, Jamirr, had already started playing flag football games before he was seven, and their mother, Pam, was his coach.
Seeing his elder brother play, Jevon, too, was interested, but he was still too raw to play against those older guys.
However, he caught up with his big brother pretty soon, and by age six, he had already started playing flag football games.
Jevon now admits that even though he was passionate about the sport, he was not very good at it.
However, his parents always motivated him and told him he could improve his skills.
As a result, he kept playing and continued to excel.
Education
After transferring to the Bay Area in California from Canada, Jevon attended Bishop O'Dowd High School.
After graduation, Holland migrated to Eugene and enrolled in the University of Oregon for further studies. However, he dropped out of college after his sophomore year to pursue his football career.
Leonard Fournette is an American professional football player who plays in the running back position for the Tampa Bay Buccaneers of the NFL. Fournette had begun his NFL career in 2017 after the Jacksonville Jaguars picked him as the 4th overall pick. Read his bio here!
Jevon Holland | Career
High School & College Career
While at Bishop O'Dowd High School, Jevon surprised everyone with his mature football skills. He quickly got along with his coaches and had impressive stats.
Playing mainly in the defensive back position and sometimes as a wide receiver, he became one of his high school team's key players. He finished his senior season with 34 tackles and five interceptions as a defenseman.
Similarly, he recorded 35 receptions and 12 touchdowns for 1012 yards as a receiver in the same season.
After high school graduation, Holland committed to representing the Oregon Ducks in intercollegiate championships.
His first season with the Ducks went exceptionally well as he got an opportunity to play 13 games in which he had 42 tackles and five interceptions. His sophomore season was even better than the first season.
Jevon played and started all 14 games of the season in which he recorded four interceptions, 66 tackles, and a touchdown.
He eventually quit college and declared that he would go for the 2021 NFL Draft on September 26, 2020.
NFL Career
The Miami Dolphins picked Jevon Holland in the 2021 NFL Draft as the 36th overall pick.
Being one of the top Canadian prospects that same year, Jevon enlisted in the CFL draft too, but he eventually stayed with the Dolphins in the NFL.
Consequently, he signed a four-year rookie contract with the team on July 23, 2021.
His first season with Miami went great as he played 16 matches, out of which he started 13 games. He recorded 69 tackles altogether, comprising 48 solo and 21 assisted tackles.
For his performance in his first season, Jevon was named to the PFWA All-Rookie Team in 2019. The 2022 season has already begun, and he hopes to have even better stats this year.
Jevon Holland | Net Worth & Salary
Even though it has not been official yet, Jevon Holland has a net worth between $1 million and $5 million.
After the Miami Dolphins picked him in the draft, Jevon signed a rookie-level contract worth about $8.7 million. The team paid Jevon around $660k as a salary and nearly a million dollars as a signing bonus.
The defensive end currently has a base salary of around $1.056 million for the 2022 season.
You may also like to learn about Chris Spielman, the professional footballer-turned-broadcaster known as one of the best NFL linebackers during his active years!
Age & External Appearance
As of 2023, Jevon Holland is 23 years old.
Jevon is quite tall, with a height of 1.85 meters (6 feet 1 inch), and weighs around 207 lb. Thanks to his daily workout routine and healthy diet plans, he looks healthy and has a well-maintained body.
Jevon naturally has black hair and dark brown eyes regarding his facial features.
However, he likes experimenting with his hairstyle. A little while ago, he had dyed his hair brown.
Jevon Holland | Girlfriend
The NFL star was dating a girl named Jayna Jordan in 2019, and they were speculated to be living together.
One of the websites had published a screenshot of Jevon pictured together with her, but the photo no longer exists on his Insta profile.
In addition, Holland never officially declared that he was in a relationship, and it seems the media, too, were uninterested.
Apart from that, Jevon has never been romantically associated with any other girl to date.
Social Media Presence
Instagram: @jevholland
View this post on Instagram
Twitter: @HollywoodVon
TikTok: @h0llywood2.0
Frequently Asked Questions (FAQS)
What number is Jevon Holland?
Jevon Holland wears a jersey number. 8 for the NFL team Miami Dolphins.
Why do his teammates call Jevon the Snowman?
The Miami Dolphins had initially given Jevon the jersey number 22, but he later chose the number 8, the digit whose form resembles that of a snowman. In addition, he was born in Canada, which lies to the North of the USA and is primarily cold.
So, because of these reasons, his teammates call him the Snowman.
Click here to learn about Boston Scott, the short yet aggressive American football running back who has been appearing for the Philadelphia Eagles of the NFL since 2018!