Stacey Goff is the wife of Jim Cornette. The couple got married on October 31, 2007. Goff was a manager in OVW and went by the name Synn.
Synn was Batista's manager, who ultimately rose to become a WWE Champion.
Jim Cornette's wife, Synn, has been in some rumors about her alleged relationship with the Big Show. However, the couple had strongly denied the rumor in the past.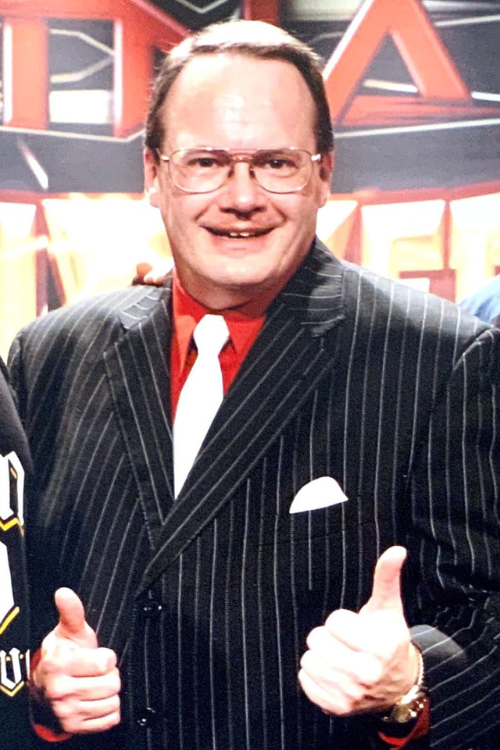 Born on September 17, 1961, in Louisville, Kentucky, Cornette has left an indelible mark on the world of wrestling through his work as an agent, booker, commentator, manager, promoter, trainer, and even occasional professional wrestler.
In the early 1980s, Cornette went to the renowned promotion Mid-South Wrestling, where he managed The Midnight Express.
He also delved into the realms of booking and promotion, working for promotions such as World Class Championship Wrestling (WCCW), Jim Crockett Promotions (JCP), and Smoky Mountain Wrestling (SMW).
Jim Cornette has established himself as an author and podcaster outside of wrestling. He has written several books, including "The Midnight Express & Jim Cornette: 25th Anniversary Scrapbook" and "Jim Cornette Presents: Behind the Curtain – Real Pro Wrestling Stories."
Jim Cornette Wife: Married For Two Times, Any Kids?
Jim Cornette has had many interesting experiences with his relationships and marriage. He is married twice- first with Janice Kelly Crowl and then with his current wife, Stacey Goff, aka Synn.
Cornette and Janice married on February 16, 1987. But after 15 years of marriage, they divorced on June 1, 2002.
After the divorce from Janice, Jim started dating Synn. They dated for five years before getting hitched on October 31, 2007.
Synn was born in San Francisco, California. She is a former wrestler and manager. She has an in-ring experience of 25 years.
Jim and Synn have been together for a long time; however, they are yet to have any children of their own.
There have been previous claims suggesting that Jim might have children with different individuals. Cornette denied the allegation, emphasizing its falsehood and adding that he does not have an actual biological child.
Jim Cornette's Second Wife Synn & Her Cheating Allegations
The #SpeakingOut movement involved Jim Cornette and his wife, Synn, in 2020.
It was reported that young OVW talent was discovered and placed in a strange cult where they were forced to engage in intimate activities and follow various rules.
The Bolin Alley podcast featured Kenny Bolin and his son Chris discussing the situation, affirming the truthfulness of all the allegations surrounding Cornette and Synn.
Kenny confirmed Synn's relationship with Big Show before she met Jim on the podcast.
Kenny Bolin even showed an email written by a famous wrestler where Synn suggested doing something inappropriate to Kevin Nash to resolve the situation.
In the same year, wrestler Phil Earley alleged that Cornette and his wife had engaged in inappropriate behavior.
According to Early, when he first started wrestling, Synn attempted to convince him to engage in inappropriate activities. She sent him inappropriate photographs without his consent and manipulated him into engaging in explicit activities.
However, Jim Cornette vehemently dismissed the notion that these assertions held any truth on his Drive Thru Podcast.