Basketball coach Jon Scheyer is married to a beautiful lady named Marcelle Provencial. The couple is raising three children together.
The American basketball coach and former professional player has been married to Marcelle for over 6 years. Marcelle is a registered nurse by profession.
The couple are doting parents to their three children, Noa, Jett, and James Scheyer.
Jonathan James Scheyer, born on August 24, 1987, is an American basketball coach and former professional player who is now the head coach for Duke Blue Devils of the Atlantic Coast Conference (ACC).
Jon Scheyer played high school basketball at Glenbrook North High School in Illinois. He then went on to play collegiate basketball at Duke University.
Scheyer's professional playing career spanned from 2011 to 2013. His coaching career began in 2014.
In April 2022, Jon officially started his job as the head coach for the Duke Blue Devils. Scheyer also won several awards while playing in the league.
The Duke Blue Devils, under the leadership of head coach Jon recently emerged as champions of the ACC Tournament at the Greensboro Coliseum.
Jon Scheyer Kids
Jon and Marcelle Scheyer have a beautiful family that has grown over the years. Their eldest daughter, Noa Scheyer, was born on January 29, 2018.
On August 24, 2019, the couple became parents for the second time, welcoming their son, Jett James Scheyer.
Interestingly, Jett shares the same birthday as his father, Jon. In an Instagram post, Jon shared a picture of them celebrating their birthdays together, affectionately referring to Jett as his "birthday bud."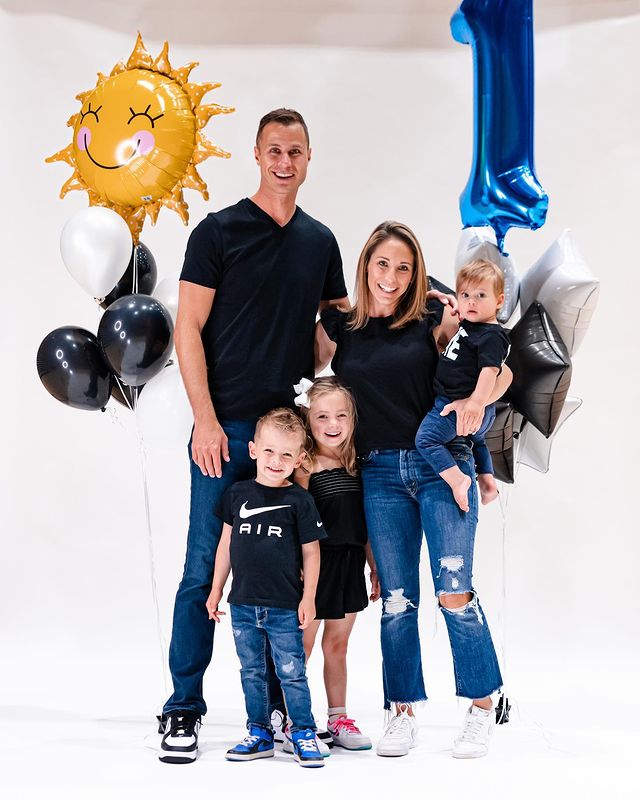 Their family continued to expand when Marcelle gave birth to their third child, James Russell Scheyer, on May 18, 2022, in Durham, North Carolina.
Despite the close age gap between the three children, the Scheyers embrace their growing family with love and happiness.
Undoubtedly, Jon and Marcelle share a beautiful relationship as they navigate parenthood and raise their three children together.
Jon Scheyer's Wife: Marcelle Provencial
Jon and Marcelle exchanged their wedding vows on May 6, 2017, in an intimate ceremony attended by close relatives.
Marcelle was born to her parents, Russell Provencial and Alberta Provencial, in July 1987 in Lauderdale, Florida, United States.
Marcelle has successfully completed her graduation, earning her degree from Duke University School of Medicine. Professionally, she is an American registered nurse specializing as a family practitioner in Durham, NC.
In her career, Marcelle has contributed to Rush University Medical Centre and Medical ICUs. Recently, she has been dedicated to her practice at the Women Wellness Clinic.
Beyond her professional accomplishments, Marcelle is also a loving mother, blessed with three beautiful children. She skillfully manages the delicate balance between her personal and professional life, handling both with grace and dignity.