Jonathan Bernier's wife, Martine Forget, tied the knot with the former hockey player in 2016. Martine and Jonathan share three kids, two boys and a girl.
The Bernier family is one of those who do not shy away when it comes to showing their life on social media. Several of Martine's TikTok videos and Instagram reels target wives and moms with kids.
The former New Jersey Devils goaltender, Jonathan Bernier, recently announced his retirement through an Instagram post. The news of Jonathan's retirement didn't come as a shock, as Bernier hasn't played since 2021 after a hip injury.
In his 14 seasons in the NHL, Jonathan played for six franchises and won the Stanley Cup in 2012 with Los Angles Kings. The goaltender thanked his family and all the teams he played for in his Instagram post and those who supported him in the journey.
Jonathan Bernier Wife: Who Is Martine Forget?
Jonathan Bernier's wife, Martine Forger, is a former model and reality TV star of the show Hockey Wives. Martine appeared in two seasons of the show, which ran from 2015-2017.
Born and raised in Quebec, Canada, Martine began her career as a model but has now settled into more of a family role. On Instagram, Martine shares pictures with her husband and kids while promoting various products.
Having 104k followers on the photo-sharing platform has made many brands reach out to prospective customers through Martine. The mother-of-three is mostly seen promoting healthy lifestyle products on her page.
Martine has previously shared a post for the Vitamins/supplements product from Wholistic by AOR and another from Ritual. She is also seen making relatable mom life videos on her TikTok handle.
On TikTok, Martine has gained 6.7k followers, with many videos geared toward moms living a stressful yet fun life with multiple kids. She is also seen sharing workout videos for which she is also joined by her family, including her kids.
But yoga and exercise is not the only time the family comes together. Martine also includes her family in a few of her Instagram videos. The skits also feature their family dog, Ivy, who has become popular among her Instagram followers.
Jonathan Bernier And Wife Martine Forget Share Three Kids
Martine Forget had previously revealed that she didn't watch hockey before she met Jonathan. But throughout the years, the former model adjusted herself to hockey life.
The couple tied the knot in 2016 after five years of engagement. The ceremony took place at The Windsor Ballroom in Montreal.
Martine has shared several pictures from their elegant wedding ceremony, including a video of them dancing to Ed Sheeran's hit Thinking Out Loud. Before their wedding, the hockey couple was also featured in the cover story of Wedding Vacations.
But two years before their wedding, the couple already had a child. Jonathan and Martine's first child, Tyler, was born on August 18, 2014.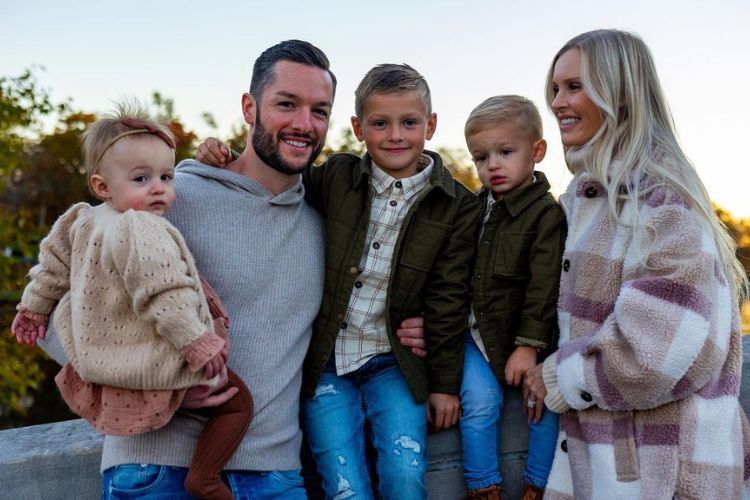 Throughout the years, Tyler has been featured in several of his mom's skits and has shown a bit of acting chops. The couple's second child, also a son, Brady, was born on April 5, 2019.
And the latest addition to the Bernier family was in 2020 on December 28, when their only daughter, Ivy Bernier, arrived in the world. The three kids of Jonathan and Martine certainly love to be part of the videos with their mom.
The Bernier family is also one of those families that goes all out on Halloween, with Jonathan and Martine having shared several of their looks throughout the year.
The two boys, Tyler and Brady, have already shown interest in hockey, having posed with their gears alongside their dad. Previously, Martine also shared a picture of Tyler playing baseball and doing yoga with his dad.
So, in the coming years, we might see not one but two Berniers taking on the rink.