JP Macura is a professional American basketball player who plays for Derthona Basket of the Italian Lega Basket Serie A (LBA).
Macura was active in sports since his school days, and he was so competitive that his teammates would look up to him to cope with challenges.
Although having a great college career, he went undrafted in the NBA and is currently playing in leagues in Turkey and Italy.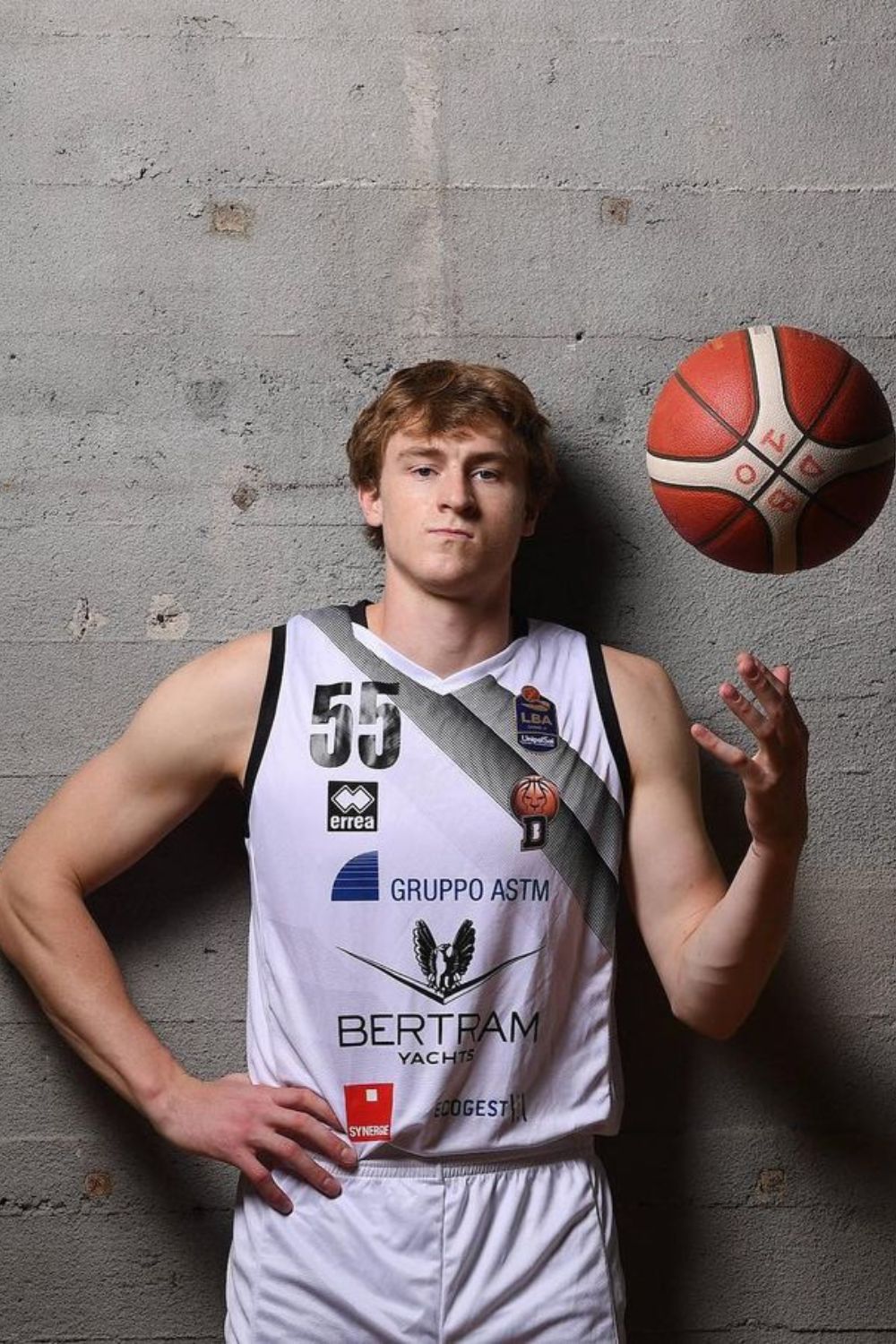 He is learning adult life profoundly, and his go-to quote is, "Love all. Life is beautiful."
To know more about his personal and professional life concisely and specifically, let's glance at the quick facts.
Quick Facts
Full Name
Jonathan Paul Macura
Nickname
JP Macura, Dennis the Menace
Birth Date
June 5, 1995
Birth Place
Lakeville, Minnesota, USA
Religion
Christian (Catholic)
Nationality
American
Ethnicity
Caucasian
Education

Lakeville North High School
Xavier University

Horoscope
Gemini
Father's Name
Paul Macura
Mother's Name
Sue Ann Macura
Height
6 feet 5 inches/1.96 m/196 cm
Weight
205 lbs/93 kg
Wingspan
6 feet 7 inches
Hair Color
Brown
Eye Color
Dark Brown
Relationship Status
Dating
Girlfriend
Simone Kolander
Children
Stella
Profession
Professional Basketball Player
Position
Shooting Guard
Jersey number
#55 (Derthona Basket), #55 (Cleveland Charge)
Team

Charlotte Hornets (2018–2019)
Greensboro Swarm (2018–2019)
Canton Charge (2019–2020)
Cleveland Cavaliers (2020)
Afyon Belediye (2020–2021)
Derthona Basket (2021–Present)

Net Worth
$500K
Active Since
2018-Present
Social Media
Instagram, Twitter
Last Update

March 2023
Early Life, Parents, And Education
J.P. Macura was born on June 5, 1995, in Lakeville, Minnesota, to parents Paul Macura and Sue Ann Macura.
He grew up in a catholic home with two siblings, a sister named Kari and a brother named David.
JP is extremely close to his grandparents, and they also love spending time with him. In fact, Macura is more excited to celebrate their birthdays than his own.
Talking about his education, Macura completed his schooling at Lakeville North High School, and later, he attended Xavier University in Cincinnati, Ohio.
Interests
JP played baseball and football until ninth grade. Later, he quit them and decided to focus on one sport to see how good he could get at it.
Macura likes to utilize his time properly when he isn't playing any sports. During his junior year, he worked at a bounce house.
Interestingly, his family owned one, where he helped out and made a few bucks.
In an interview, Macura revealed that his favorite movie is "I Am Legend." Along with that, his favorite artist is "Macklemore," and the TV show is "SportsCenter."
Vital Body Stats
JP Macura stands at 6 feet 5 inches tall (1.96 m) and weighs around 205 lbs (93 kg). Moreover, he has a lean and muscular body.
Career
Early Days At High School
In Lakeville North High School, he played for the school team. There, he won MSHSL (Minnesota State High School League) state title.
Not only that, Macura played a significant role in getting the victory in the 2014 4A state tournament.
States like Butler and Iowa offered him attractive scholarships; however, he declined them all.
Later, Macura joined the Xavier University of Ohio. In fact, he chose this college to compete in the Big East Conference.
Collegiate Career
Macura played for the Xavier Musketeers from 2014 to 2018. His first two collegiates were at Villanova and Marquette on January 14 and 17, respectively.
In Xavier, he recorded back-to-back double-figure scoring games for the first time in the 2014-15 season. Again, in another game, Macura scored eight points in only seven minutes.
However, his ankle injury forced him to be out of the game. Later, JP became the 2015-16 Big East Conference Sixth Man Award winner.
College Stats
Year
Team
GP
GS
MPG
FG%
3P%
FT%
RPG
APG
SPG
BPG
PPG
2014–15
Xavier
35
3
13.2
.413
.337
.762
1.2
.6
.7
.1
5.4
2015–16
Xavier
34
4
22.7
.470
.356
.807
2.6
2.0
1.1
.0
9.4
2016–17
Xavier
38
37
33.5
.426
.340
.785
4.4
2.9
1.4
.2
14.4
2017–18
Xavier
34
34
29.7
.479
.377
.821
4.5
2.9
1.4
.4
12.9
Career
141
78
25.0
.448
.352
.798
3.2
2.1
1.2
.2
10.6
Big East Conference Interview
In an interview with the Big East Conference team, J.P. shared how he spent his summer and talked about his workout and training routine.
Also, he talked about his favorite restaurant, Five Guys, and the burger with patties of the place.
He told about his favorite song, "Candy Paint" by Post Malone, and his favorite basketball coach- Chris Mack.
Likewise, he spoke about his infamous nickname. During his senior years, Macura got the nickname "Dennis the Menace," which meant to show that he was good at taunting opposing players.
Some people got offended, and ultimately they tweeted mean things about him. But, smart and online-fight refraining, Macura would reply, "Thank you, God bless."
Chris Mack's Opinion About Macura
According to coach Chris Mack, "JP always makes it big when the game is big. The stakes never shake his confidence.
Besides, he is the most fearless basketball I have ever seen. Xavier's jersey 55, Macura, loves winning and does everything to make it happen."
Further, he said the people that get to know Macura via interaction meet at the mall and around town would see a different JP.
They would know that J.P. Macura isn't anything like the aggressive guy they see on TV.
In many interviews, he has even said that "JP is my guy when it comes to the basketball game."
Teammates' View On J.P. Macura
Even though Macura is aggressive and competitive on the court, many of his teammates support him.
One of his teammates, Sean Omara, even praised Macura's competitiveness.
Likewise, Trevon Bluiett said, "The team looks up to J.P. for the energy. His forever readiness motivates the team."
Appearance In BeDFRNT Podcast
J.P. Macura joined the BeDFRNT podcast in 2018 and talked about moments at Xavier and NBA workouts.
In addition, they had quite a humorous interview about the Fortnite game.
NBA Career Of Macura
The shooting guard had to undergo undrafted in the 2018 NBA draft, but he signed a two-way contract with the Charlotte Hornets.
Later, J.P. was transferred to the NBA's Charlotte Hornets from the G League's Greensboro Swarm. In the first game with the Swarm, he scored 27 points against the Wisconsin Herd.
On January 2, 2019, Macura made his NBA debut, where he made 4 points, 2 rebounds, and 2 assists in a 122–84 blowout loss to the Dallas Mavericks.
Canton Charge (2019-2020)
Next, Macura signed the Cavaliers G League affiliate Canton Charge.
Cleveland Cavaliers (2020)
At first, J.P. Macura signed with the Cleveland Cavaliers in July 2019. But, on October 15, 2019, he was released from the team.
Again, on February 9, 2020, Macura signed a 10-day contract with the Cleveland Cavaliers.
Thus, Macura appeared in only one game for the Cavaliers, as his contract was for a small timeframe.
Afyon Belediye (2020-Present)
On September 8, 2020, Macura signed a contract with Afryon Belediye, a Turkish Basketbol Süper Ligi professional basketball team.
In fact, Macura is also learning Turkish with his teammates.
Derthona Basket (2021-Present)
On July 24, 2021, Macura signed a contract with Lega Basket Serie A team Derthona Basket.
Interview with Inside TBT
The team of Inside TBT invited J.P. Macura for an interview in 2020.
He shared how the pandemic affected his basketball career and how much he was excited to get back to the court.
Moreover, they played a game where they guessed pictures that appeared while searching for their names.
Awards and Ranking
J.P. Macura was also named Minnesota's seventh-most prolific scorer in 2011-2012. Also, he was awarded the BIG EAST Conference Sixth Man Award winner.
Likewise, Macura is ranked 28 on Minnesota's list of Best NBA Players.
NBA Stats
| | | | | | | | | | | |
| --- | --- | --- | --- | --- | --- | --- | --- | --- | --- | --- |
| Year | GP | GS | MPG | FG% | 3P% | RPG | APG | SPG | BPG | PPG |
| Career | 3 | 0 | 6.0 | .333 | .000 | 1.0 | 0.7 | .0 | .0 | 2.0 |
Legal Issues, Arrest, And Mugshot
On March 29, 2016, to enjoy the nightlife, J.P. Macura showed up at a bar in Cincinnati; but the next morning, he was caught with a fake I.D.
On top of that, police said he pulled down his pants at an Oakley bar. Also, he was found to be obstructing official business.
Unfortunately, he was charged with disorderly conduct, and he was held at Hamilton County jail.
However, the judge allowed him to participate in a diversion program, but he had to follow certain conditions for the charges to be dismissed.
Personal Life
At present, J.P. Macura is dating Simone Kolander, his long-time girlfriend.
She is a soccer player who previously played for AC Sparta Praha in Prague, Czech Republic.
Interestingly, both of them attended Lakeville North High School, which was the place where they first met.
She is delighted and proud of Macura and his international career. In their spare time, the couple often goes on vacation and dinner dates.
On April 29, 2022, they gave birth to a daughter, Stella.
Net Worth And Salary
As of March 2023, Macura has an estimated net worth to be $500K.
He earned around $183,431 when he was in the NBA. If he returns to the NBA, the basketball star can enjoy a good salary and bonus.
Nonetheless, J.P. is making a decent income by playing in the international leagues.
Social Media Presence
Macura is active on social media; he is primarily available on Twitter and Instagram.
He posts short videos of him and his teammates in games, having fun during training, and behind-the-scenes moments, such as time spent with the fans and charity work.
Likewise, he shares his online interviews, hilarious memes, and pictures of his family and friends.
Moreover, he has many Facebook fan pages dedicated to him.
Instagram: 14.4K Followers
Twitter: 9.7K Followers
Popularity Graph
J.P. Macura is a famous basketball player who has played in the NBA and other international leagues.
The line graph illustrates his 12 months search trend.
Frequently Asked Questions (FAQs)
Is J.P. Macura single?
No, he is dating his long-time girlfriend, Simone Kolander.
What draft pick is J.P. Macura?
J.P. Macura was not picked in the 2018 NBA Draft.
Who did Gator Chomp like J.P. Macura?
The American college basketball player of Wisconsin Badgers, Brad Davison, did the Gator Chomp back at Xavier after J.P. Macura did it to Wisconsin in 2017.
Where is J.P. Macura playing?
The athlete is currently playing for the Derthona Basket. He plays for the Italian Lega Basket Serie A (LBA).
What is J.P. Macura's full name?
The basketballer's full name is Jonathan Paul Macura.
When did J.P. Macura have the best dunk?
J.P. Macura threw down an awesome one-handed dunk for Xavier while playing against Seton Hall on Jan 20, 2018.