Fans like to keep watch on the details of American professional golfer Justin Thomas both on and off the golf court, including his religion.
Justin Louis Thomas, known as Justin Thomas, was born on April 29, 1993, in Louisville, Kentucky.
The former World Number One has won the PGA Championship two times, in 2017 and 2022.
In addition to that, the golfer won five PGA Tour events and the FedEx Cup championship in 2017.
Moreover, he is the fourth golfer in the PGA Tour season to win five times, including a major championship before age 25, joining Jack Nicklaus, Tiger Woods, and Jordan Speith.
Justin became the 21st player to hold the top spot in the Official World Golf Rankings in May 2018.
Before attending junior high school, he played in the Wyndham Championship on the PGA Tour in August 2009.
He became the third youngest at 16 years, 3 months, and 24 days to make a cut in a PGA Tour event.
Additionally, Justin was placed first six times when he played college golf for the Crimson Tide at the University of Alabama.
Religion Of Justin Thomas
Die heart fans of Thomas are interested in small details about his personal life to know him better.
Likewise, the admirers have a query regarding the player's religion. Well, his Instagram has an answer to this question.
Justin has posted pictures on Instagram on the occasion of Christmas almost every year, wishing his fans a Merry Christmas.
On December 26, 2022, he celebrated his first Christmas with his wife together as a married couple and extended their wishes to his fans.
Similarly, Justin is also seen celebrating with his cousins and family members on Christmas Eve.
On December 25, 2016, he posted with a heartfelt caption," Wouldn't be Christmas without the cousin squad having matching hats or shirts. Taylor is so excited she can't even open her eyes… Merry Christmas, everybody! From my family to yours."
So, based on the above facts, we can say that the professional golfer Justin Thomas follows Christianity.
Family
Justin Thomas was born to Jani and Mike Thomas in Louisville, Kentucky, United States.
Not to mention, the player came from a long line of professional golfers.
His father used to serve as head professional at the Harmony Landing Country Club in Goshen, Kentucky.
Currently, Mike is working as his swing coach. Meanwhile, Justin's grandfather played in the 1962 U.S. Open and was a 60-year veteran of the PGA Tour.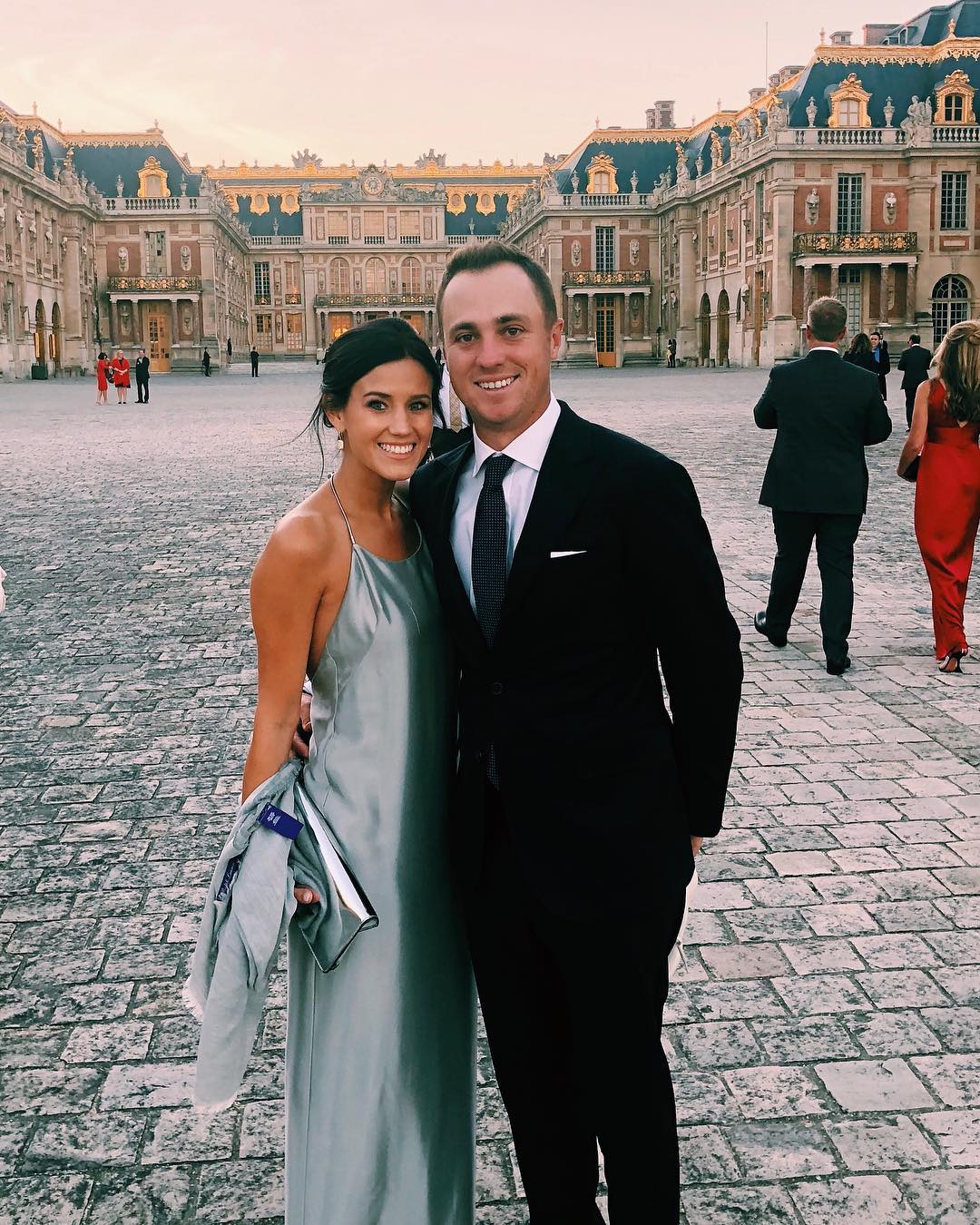 Talking about his relationship, Thomas dated Jillian Wisniewski for five years before eventually getting married in November 2022.
As per Golf.com, the couple met through their mutual connection in Kentucky, where she attended college.
Jillian attended Lincoln-Way Central Community High School and graduated with a degree in journalism from the University of Kentucky in 2015.
Not to mention, during her college time, Mrs. Thomas was not only a student center service representative but also a producer of the UK student radio morning show.
Jillian was also a reporter, producer, anchor, and writer for the UK Television News Network.
She has been working as a senior business manager at McGarry Bowen since February 2019.