Like every life, the path can not be smooth, and as expected, one should shine whenever one can. Similarly, here is a biography of athlete Leah Smith, who, despite having fame in several championships, could not participate in Olympics 2021.
Coming from an athletic family, many of her family members are into other sports professionally.
Just as Leah started her athletic career, she claimed several honors and achievements consistently. In fact, this swimmer marked records nationally and internationally.
Likewise, the athlete has some of the brand endorsements and sponsorships. Hence, Leah obviously has the worthful amount of net worth and spiritful back support from her family.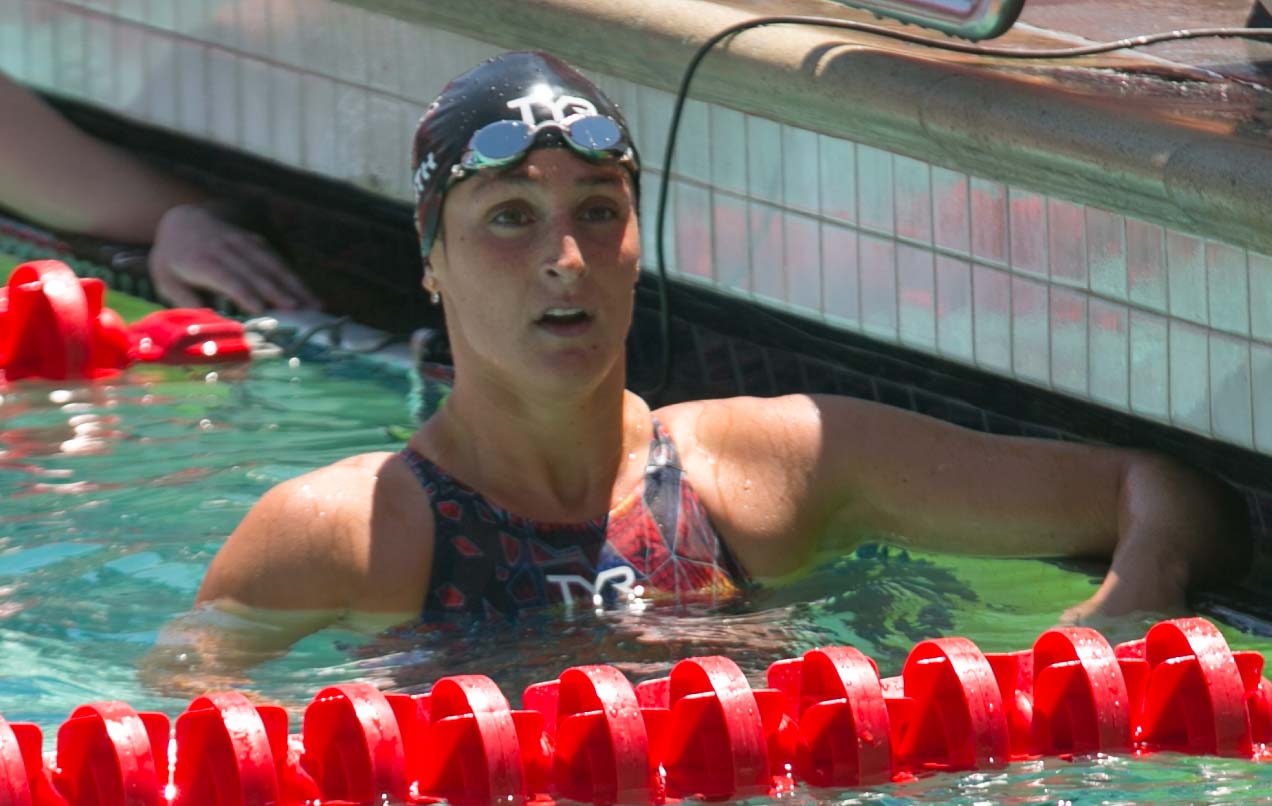 Overall, Leah claimed numerous medals in championships globally with a remarkable number of records. But, unfortunately, she could not qualify for the Olympic trials, ending her Tokyo journey.
Quick Facts
Detailing more about personal and career knowledge of Leah Smith, the following are some of her quick facts as below:
| | |
| --- | --- |
| Full Name | Leah Grace Smith |
| Known as | Leah Smith |
| Nickname | Le |
| Birth Date | April 19, 1995 |
| Birth Place | Pennsylvania, United States |
| Residence | Pittsburgh, United States |
| Religion | Christian |
| Nationality | American |
| Ethnicity | White |
| Education | Oakland Catholic High School, University of Virginia |
| Horoscope | Aries |
| Father's Name | Dan Smith |
| Mother's Name | Margee Smith |
| Siblings | 3 (Aileen, Daniel, and Neal) |
| Age | 28 years old |
| Height | 5'10" (178 cm) |
| Weight | 67 kg (148 lbs) |
| Eye Color | Grey |
| Hair Color | Blonde |
| Body type | Athletic |
| Profession | Swimmer |
| Marital Status | Unmarried |
| Beginning of Professional Career | 2012 |
| Retirement | N/A |
| Playing style | N/A |
| Sports team | Jim Click Team Elite, Inc (CLCK-AZ) |
| Coach | Peter Richardson |
| Victory | World Championships, Olympics, Pan Pacific Championships |
| Net Worth | $1.5 million |
| Prize Money | N/A |
| Social Media | Instagram, Twitter |
| Merch | Swimming equipment |
| Last Update | November, 2023 |
Lean Smith | Personal and Early Life
The American swimmer was born on 19th April 1995 in Pittsburgh of Pennsylvania, in the United States. Moreover, she was born to Dan Smith and Margee Smith with her other three siblings.
Moreover, her uncle is Late Billy, a former world light heavyweight champion. Her great-grandfather Jimmy Smith was a World Series Champion. Also, her sibling Aileen swims for Columbia.
In fact, the Smith family is considered one of the richest families in America.
Since she was interested in swimming, Lean joined Oakland Catholic High School and became a competitive swimmer.
Later, Smith joined the University of Virginia and became a member of the Virginia Cavaliers swimming team. Also, Leah was enlisted as one of the recruits in the class of 2013.
On the contrary, she completed her high school days with a Bachelor of Arts degree in Media Studies.
Here's Kathleen Baker Bio | Lifestyle, Charity & Tokyo >>
Lean Smith | Career
Early Career
It was in 2012 when Leah Smith qualified as a National Team member. After becoming the top recruit in 2013, Leah also qualified for the NCAA Championships as a first-year student at Virginia. The same year, she also earned the ACC Freshman of the Year.
Accordingly, in the 2014 NCAA, Smith made the best finish in the freestyle and claimed the bronze medal.
Meanwhile, being a university, Leah participated in the 2015 World University Games. Regarding her college career, she dominated from the early stages.
Hence, she broke the game's record, becoming the fourth-fastest time in the world in the 4*200-meter freestyle.
Similarly, Smith earned gold in the 400-meter freestyle and became the first Cavalier since 1999 to have gold at the World University Games. Despite all, the swimmer also ranked fourth in the 200-meter freestyle.
To sum up, all of the progression in Virginia made Leah one of the four finalists for the Collegiate Women's Sports Award. Meanwhile, the award was to put in for the running in the prestigious 2015 Honda Cup.
You might also have an interest in Christian Taylor Bio | Lifestyle, Charity & Injury >>
Pan Pacific Championships
In contrast, in 2014, Leah earned a spot at the U.S. Pan Pacific Championships, where she ranked ninth place in the 400m and 800m freestyle.
Overall, the young athlete claimed a gold medal as a member in the 800-meter freestyle relay.
Similarly, this athlete also got to participate in the 2018 Pan Pacific Championships. During this, she ended up with bronze in both 200 free and 800 on the first day.
Again in the B-final of the 200 free, she positioned 12th. But the other day, Leah claimed a silver medal for the 4*200 free relay.
Moreover, Leah again earned bronze in the 400 free and the same as finishing pan pacific in the women's 1500.
FINA World Championship
Just after the completion of Pan Pacific, the American team went to Kazan for the 2015 FINA World Championships. There Leah participated in the 4*200 freestyle relay team. Thus, stepping the second leg, the USA took gold in the event.
Nevertheless, Leah Smith ranked 10th position among 800 freestylers in the world.
Accordingly, in 2017, she claimed silver in the 400m freestyle along with Ledecky. Hence, the grabbing was one of her lifetime best.
Furthermore, for the 4*200m freestyle relay, Smith made her personal best again.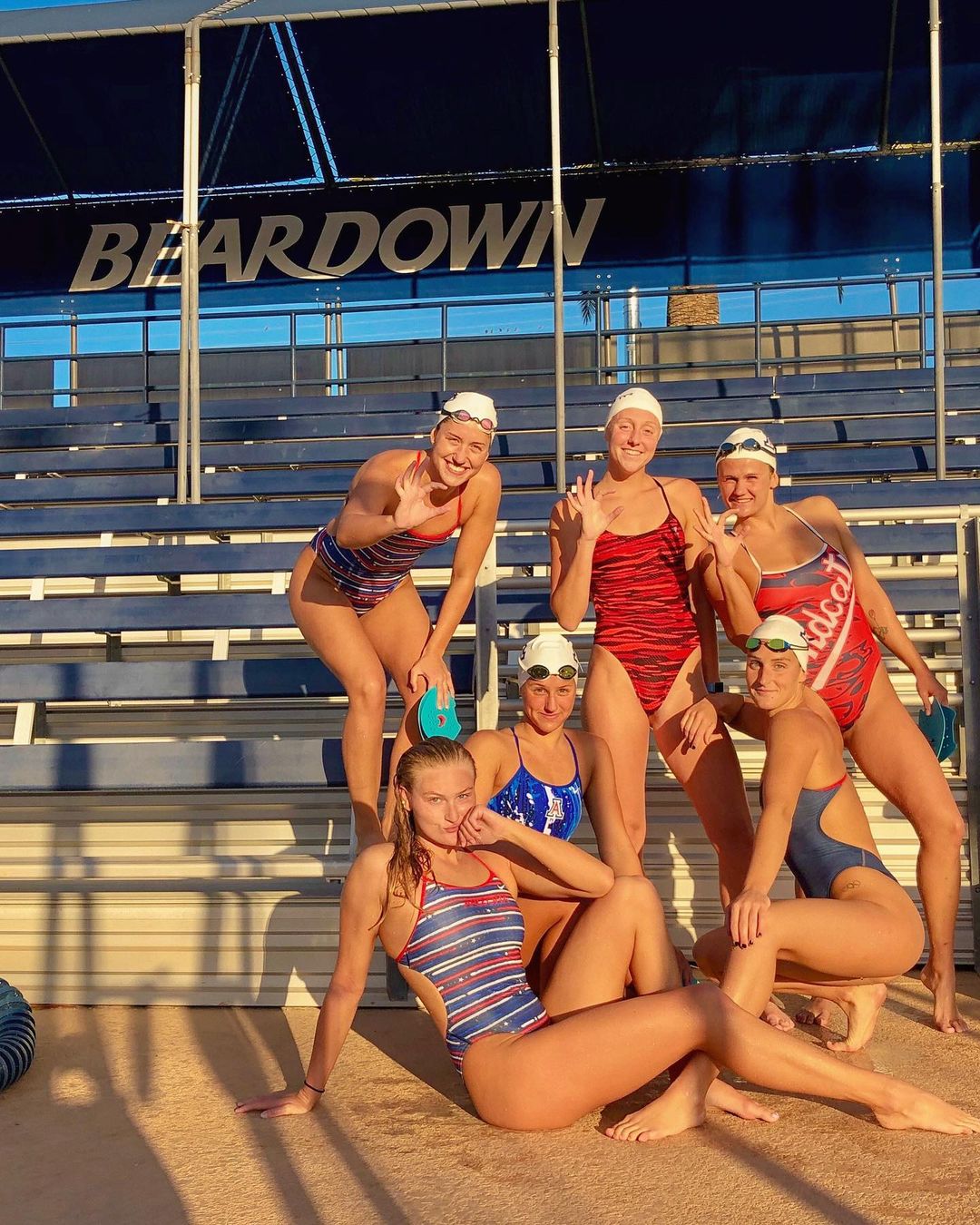 Similarly, on the other day, Leah won bronze in the 800m freestyle. Back again, the record was her first time to finish under 8:20.
Moving on until the year 2019, Leah was clarified as one of the World Champions after Australia's Ariana Titmus and her own teammate Katie Ledecky.
Subsequently, my partners competed in the 4*200 free relay prelims and earned a silver medal.
The same year, Leah Smith stated as a member of the LA Current ISL team headed by GM Lenny Krayzelburg.
National Championships
By the year 2018, Leah competed in the 800 freestyle and ended up as the runner-up. Meanwhile, in the 400 freestyle, she claimed silver behind Ledecky.
Furthermore, this swimmer placed fourth in the 200m freestyle and 400 IM as well.
Leah Smith | Olympics
Rio Olympics
Earlier for US Olympic Trials, Leah finished up second for the 400m freestyle by 2.5 seconds. Further, she again ranked second against Ledecky in the 800m free and secured second individual swim.
Moreover, Leah finished third in the 200m free and earned a 4*200m free relay spot. Thus, during the Olympics, she earned the bronze medal in the 400m freestyle.
Meanwhile, for 800m free, this Olympic swimmer finished in 6th position.
Tokyo Olympics
Consequently, despite having lots of hard work and previous achievements, Leah Smith could not make her cut for the Tokyo Olympics trials.
So, unfortunately, the USA female swimming team flew to Tokyo without her, the same as on the US Olympic team in 2012.
Leah Smith | Awards and Achievements
Second fastest 400m freestyle swimmer in American History
Third fastest 800m freestyle swimmer in American History
US National Team member
Rio Olympics (Bronze): 2016
World Championship (2*gold, 2*silver, 2*bronze)
2* National Champion
Pan Pacific medalist (2*gold, 3*bronze)
World University Game medalist (2*gold)
Leah Smith | Net Worth
In the final analysis, Leah has a primary source of swimming and earned several achievements internationally.
To sum up, following several resources, her net worth is estimated to be around $1.5 million.
See Nina Altuve Bio: Husband, Children, Baseball & Net Worth >>
Leah Smith | Social Media Presence
With fame, marketing brands, and sponsorships, Leah is actively posting on her social media accounts.
Similarly, she has a fruitful number of followers as she constantly posts about her athletic lifestyle.
Thus, this American Swimmer has the following number of fan followers on her respective social media accounts.
Instagram: 39.9k followers (@leahsmith19)
Twitter: 8810 followers (@lgsmith19)
Frequent Questions
To whom American Swimmer Leah Smith married?
Leah Smith, who is in her 20s, is not married. But, she is currently dating her boyfriend, Michael Jones.
Is Leah Smith on Facebook?
Unfortunately, American swimmer Leah Smith has no Facebook account. But she has Instagram and Twitter accounts.