Lisa Salters son and her personal life have recently made headlines and sparked intense discussion regarding her unique family dynamics.
Lisa Salter is a popular American Journalist and a former college basketball player. She has had a successful career in sports Journalism, primarily working for ESPN and ESPN on ABC.
Slater joined ESPN in 2000, and since then, she has become a prominent figure in the field.
Before her time at ESPN, Lisa covered the O.J. Simpson Murder case for ABC.
From 1988 to 1995, she worked as a reporter at WBALTV in Baltimore, gaining significant experience in the industry.
Salters has reported on various sporting events worldwide throughout her tenure at ESPN. She has also covered the Middle East extensively, reporting on the region before the Iraq war.
In 2006, she hosted an ESPN coverage of the Winter Olympics in Turin Itlay. Additionally, Salter hosted ESPN's coverage of the 2002 FIFA World Cup.
Lisa Salters Son:

Who Is Samuel Salters?

ESPN reporter Lisa Salters' inspiring journey into motherhood has touched the hearts of many fans.

As a proud single mother, Salters welcomed her son Samuel Salters into her life through adoption in 2013. The road to parenthood was quite challenging, as Salters had experienced unsuccessful attempts to have a child.

However, her determination led her to sign with an adoption agency, paving the way for her dream to become a reality. In February 2013, she received the long-awaited call that a young woman had chosen her as a potential adoptive parent.
They soon met, and their connection deepened as they moved on to the adoption process together.
A twist of fate added to the already emotional journey when Salters received a call while on assignment in Dallas for an ESPN NBA game.
The birth mother was going into labor two weeks ahead of schedule. Salters wasted no time, leaving the telecast at halftime to rush to the hospital.
There, she finally held her son Samuel in her arms, and in that precious moment, she knew she had found her true home.
Salters describes that period as the peak of contentment, a long-awaited fulfillment of her deepest desires.
News of her adoption made headlines. And her fans showered her with blessings and support, embracing her journey with open hearts.
What About Her Husband?
Lisa Salters has become a figure of intrigue regarding her personal life. To this day, she remains unmarried and does not have a husband.
While Salters' professional achievements are well-documented and widely known, she has managed to keep her personal life private.
Her personal affairs have remained out of the spotlight, and rumors of relationships or affairs have largely been nonexistent.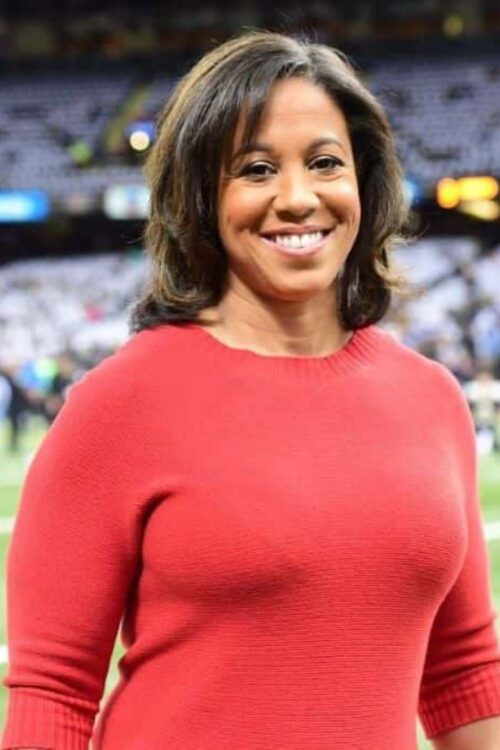 As a mysterious woman, Salters continues to captivate audiences with her professionalism and dedication to her career.
Whether or not she will choose to introduce a partner into her life in the future remains uncertain. And only time will reveal what lies ahead for the notable American reporter.
For now, Lisa Salters' personal life remains a fascinating subject of speculation.
Fans and admirers are wondering about the possibility of a significant other entering the picture.