Cameron Champ's sisters, Madison and Melissa Champ, remain away from the spotlight. Melissa Champ is Cameron's half-sister.
The American golfer, Cameron Champ, was introduced to golf by his grandfather, Mack.
Since turning pro in 2017, Cameron has finished in the top 10 of Masters and PGA Championship. However, he is yet to play in the Open Championship.
The 27-year-old has three PGA Tour wins to his name, and his last victory came at the 3M Open in 2021.
In 2023, Cameron hasn't had much luck, and the latest tournament Mexico Championship, was his best, where he finished T8.
The tournament featured some stellar performances from Tony Finau and Akshay Bhatia, with the former coming out on top as he secured his second PGA Tour victory this year.
Cameron Champ Sisters, Madison, And Melissa Champ
Cameron Champ's sisters, Madison and Melissa Champ, aren't professional athletes like him.
Melissa Champ is the older half-sister of Cameron Champ, as Melissa is the daughter of Lisa, Cameron's mom, from her first relationship.
Melissa Champ Is Married With Three Kids
Cameron's elder sister, Melissa, resides in Fair Oaks, California, with her husband, Dan Wiemer, and their three kids.
There aren't many pictures of Melissa and Cameron on social media.
By the looks of it, Melissa might've been closer to her dad, leading her to visit Lisa and her half-siblings only a few times a year.
On Facebook, Melissa has shared several photos of her family, including her two daughters and her only son.
Madison Champ Is A Graduate Of Highlands High School
Born on May 30, 1997, Madison Champ is the youngest sibling of Cameron Champ.
Madison graduated from Highlands High School in 2015 and has been previously seen supporting her brother in golf tournaments.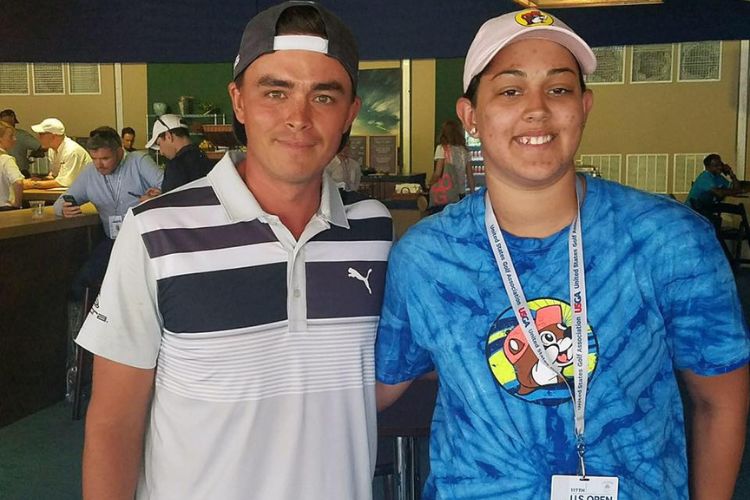 In 2017, Madison also had the chance to meet Robbie Fowler during the US Open. Madison is autistic and has received strong support from her family.
Previously, Cameron had shared an appreciation post for his sister, which also talked about understanding and acceptance towards those on the autism spectrum.
Cameron Champ Brother Brent Champ
There isn't much information about Cameron Champ's brother Brent Champ.
The only information known about Brent is that he is Lisa's son from her previous relationship and is a half-brother to Cameron and Madison Champ.
The older half-brother of Cameron Champ has also maintained his distance away from the limelight and he is not present on any of his siblings' social media pages.
Cameron Champ Held A Strong Bond With His Grandfather, Mack
The golfer shared a strong bond with his grandfather, Mack Champ, who introduced him to golf.
It was Mack who had brought Cameron his first set of golf clubs. Growing up, Mack caddied in Texas and wanted to become a professional golfer but suffered racial segregation.
By the time he became old, he saw his grandson become a star golf player in the same state. In an interview, Mack said Cameron was living his dream.
In August 2018, when Cameron received his PGA Tour Card, the first person he was pictured with was Mack. Prideful Cameron showed his grandfather the card he had dreamt of getting since he was 6.
In 2019, Mack passed away at age 78 due to stomach cancer. Cameron shared an emotional tribute post for his grandfather, thanking him for being a great role model.
In 2020, Cameron's non-profit organization, Cameron Champ Foundation, held an inaugural Mack Champ Invitational, honoring his hero.