Madison Bumgarner is an American professional baseball pitcher for the Arizona Diamondbacks in MLB. He was selected in the four National League All-Star teams and had the record with the most strikeouts in franchise history by a Giants left-handed pitcher.
He has won three World Series championships and two Silver Slugger Awards.
In his 2000 career strikeout, he got Luke Voit to strike out swinging in the bottom of the fourth inning at Petco Park on 22 June 2022.
MLB is one great platform where a player with a natural affinity for baseball can come out and explore.
Madison Bumgarner is a great player to talk about who is a four-time All-Star winner. He has already crossed a decade in this field and has conquered new heights.
It will be a genuine disregard if we do not put up this above all. Madison also has notched World Series Champions three times in a row.
This article will include his early life, MLB career, wife, net worth, and social media handles. So, stick with this and read until you complete it.
First, let's grab a look at the basic easy-going, quick facts about the pitcher guy, Madison Bumgarner.
Madison Bumgarner | Quick Facts
| | |
| --- | --- |
| Full Name | Madison Kyle Bumgarner |
| Birth Date | August 1, 1989 |
| Birth Place | Hickory, North Carolina |
| Nick Name | MadBum, Maddie, The Carolina Peach |
| Religion | Christianity |
| Nationality | American |
| Ethnicity | White |
| Education | South Caldwell High School, University of North Carolina |
| Horoscope | Leo |
| Father's Name | Kevin Bumgarner |
| Mother's Name | Debbie Bumgarner |
| Siblings | Late Dena Byrd (Two Brothers) |
| Age | 34 Years Old |
| Height | 1.93 m / 6 ft 3 in / 193 cm |
| Weight | 116 kg / 255 lb |
| MLB Debut | September 8, 2009 |
| Hair Color | Light Brown |
| Eye Color | Brownish |
| Playstyle | Bats: Right, Throws: Left |
| Build | Athlete |
| Marital Status | Married To Ali Saunders |
| Kids | N/A |
| Position | Pitcher |
| Profession | MLB Player |
| Net Worth | $85 Million |
| Salary | $14 Million Adjusted Salary |
| Currently Plays for | Arizona Diamondbacks |
| League | MLB |
| Active Since | 2009 |
| Jersey Number | 40 |
| Merch | Poster, Autographed baseball, Bobblehead |
| Last Update | November, 2023 |
Madison Bumgarner | Early Life & Family
Madison was born on August 1, 1989, to his parents, Kevin and Debbie, in Hickory, North Carolina.
Let's talk about the sapiens who have always stood behind Madison and showered him with immense support.
His father, Kevin, works nights at a food distribution company. There is a rumor that he prohibited his son from throwing the curveball until he turned sixteen. But anyway, he is supportive of his son.
His mother, Debbie, is an accountant by profession at PepsiCo, multinational food and beverage cooperation.
She frequently watches her son's games on tv and stands up in a queue to get her son's signature as his huge fan.
Debbie and Kevin got separated during Madison's high school days. Kevin currently resides with his wife, Tracy, in Hudson, NC.
He does not have his own sister or brother but has two older half-brothers, a step-sister, and a half-sister. Sadly, we are not aware of their names.
Madison was close to Dena, his half-sister, and they were close to each other as both were brought up in the same house.
Dena, Madison's half-sister, died in 2010 after taking an overdose of painkillers while battling cancer. She was engaged and had a son, too.
Moreover, he was nicknamed 'Bumtown,' as many people with the surname Bumgarner lived there.
Madison is a Christian by heart and holds up an American nationality.
Surprisingly, according to online sources, the first word he uttered was a ball, and since then, he has devoted himself to baseball from the age of four.
Madison Bumgarner | High School & College Career
Bumgarner committed to South Caldwell high school, where Madison was nicknamed 'Maddie.' He played for the school baseball team and the American Legion Baseball (where players aged 13 to 19 played).
As a junior, Madison led his team to a second finish in the 4A State Championship with a 12-2 win record, gathering 0.9 ERA, and 120 strikeouts in 84 innings.
No wonder, the next season, the guy grabbed a victory over the state championship.
Madison was titled the Most Valuable Player of the playoffs and North Carolina Gatorade Player of the Year. Following that, he was nicknamed 'The Carolina Peach.'
He attracted the attention of many scouts and agents in high school, and his father had to build a wall around the bullpen at his high school field to keep himself from being distracted as he warmed up.
Furthermore, Madison attended the University of North Carolina at Chapel Hill, receiving a college baseball scholarship.
He was also listed on the male athlete list of '100 To Remember' by the North Carolina High School Athletic Association.
The male athlete list included stars like Michael Jordan, Carl Eller, and Jim Beatty.
Madison Bumgarner | Professional Career
Draft & Minor Leagues
The San Francisco Giants drafted him in the first round, with the tenth overall pick of the 2007 MLB draft. Madison was regarded as the 14th-best prospect by Baseball America.
He was the first pitcher since Matt Cain from his high school to be selected for the NFL.
Madison played quite well for the Augusta Greenjackets, the San Jose Giants, and Connecticut Defenders and took the Triple Crown in between.
He was again ranked third by Baseball America in 2008. But in later years, there were ups and downs in his rankings in the sports magazine.
Career & Dirt Bike Accident
Finally, Madison had his dream come true when he arrived to play for the Major League in September 2009.
Baseball America, the sports magazine, again titled him as a starting pitcher in the 2010 All-Rookie Team. Madison, with the Giants, took over World Series Championship in 2010.
In 2011, at Dodger Stadium, he almost threw his career's first complete-game shutout in a play against the Los Angeles Dodgers. He hit his first home run in the Major League in 2012.
He was titled NL Pitcher of the Month for May 2014. Likewise, the MLB player became the first pitcher to hit a home run against Kershaw.
Madison signed an extension contract until 2017 worth $35.56 million. Unfortunately, the baseballer sustained a shoulder injury in a dirt bike accident in 2017.
As a result, he missed some of the games. After falling off a rented Honda bike, Bumgarner had to have his hand in a sling.
He apologized to each and every one of his teammates for not being there for them.
Madison also admitted that it was "not the most responsible decision." Besides that, he went on playing for the Giants until 2019.
Arizona Diamondbacks
After leading a long and playful journey with the Giants, Madison was a free agent until he inked a five-year contract with the Diamondbacks worth $85 million in December 2019.
He had a struggling and shortened season with the squad in 2020. Bumgarner completed 1-4 with a 6.48 ERA in 41+2⁄3 innings.
Against the Atlanta Braves on April 25, 2021, he pitched seven no-hit innings in the second game of a doubleheader.
Due to the game being only seven innings long, he was not credited with a no-hitter.
He won the National League Player of the Week Award in April.
Bumgarner finished 7-10 with a 4.76 ERA, striking out 124 batters in 146-1by3 innings pitched. He was a finalist for the Silver Slugger Award, which Max Fried won.
According to a report on 17 December 2022 by Fan Nation, Madison Bumgarner would not complete a full season with the Diamondbacks in 2023.
Bumgarner must exceed last year's and his projected performance for the team to run him out there 30 times.
He became the eighth fastest left-handed pitcher in four innings and the 86th pitcher in MLB history to reach the milestone.
This season, he finished 7-15 with a 4.88 ERA and lost a major-league-leading 50 doubles in 158.2 innings.
Madison Bumgarner | Career Stats
| | | | | | | | | | | |
| --- | --- | --- | --- | --- | --- | --- | --- | --- | --- | --- |
| Year | W | L | ERA | G | GS | IP | SO | WHIP | SV | SVO |
| Career | 134 | 121 | 3.42 | 354 | 351 | 2192.2 | 2060 | 1.15 | 0 | 0 |
Awards, Highlights, & Achievements
He is a four-time All-Star Champion from 2013 to 2016.
He was a three-time World Series champion in 2010, 2012, and 2014.
Madison won the World Series MVP for 2014.
He is an NLCS MVP for 2014.
He won the Silver Slugger Award two times.
Also, he won the Babe Ruth Award in 2014.
Madison earned the Willie Mac Award in 2014.
Sports Illustrated Sportsman of the Year in 2014.
AP Athlete of the Year in 2014
Records
0.25 career World Series ERA
52

+

2

⁄

3

innings pitched, single possession (2014)
2 grand slams by pitcher in a single season (tied with Tony Cloninger)
Madison Bumgarner | Personal Life & Children
Moving on to his personal life, Madison was a Baptist since his early days of life. He is considered outgoing and extroverted, but when you meet him in person, he is calm, composed, and friendly.
This is something precisely meant by a reporter, Andrew Baggarly. Well, this must be a well-known fact to the Madison fans out there, he married his long-time girlfriend Ali Saunders on February 14, 2010.
Almost a decade here again. It seems like Madison is lucky both in love and work. They went to the same high school and eventually fell in love.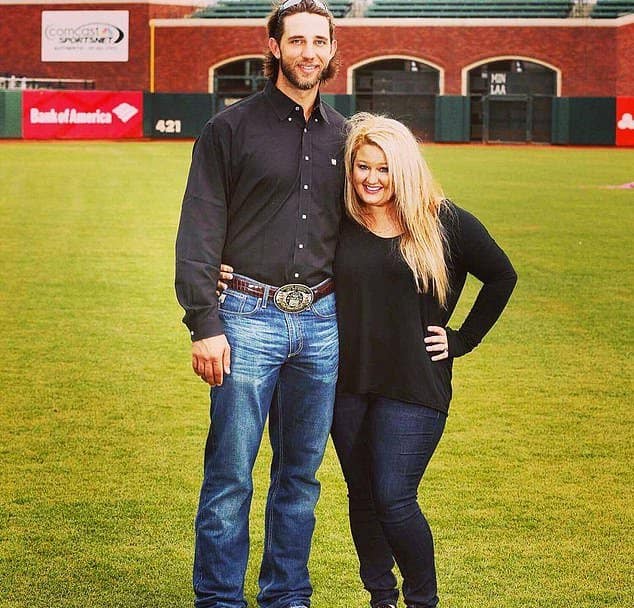 They exchanged the vows in a private ceremony, where Madison dressed up all cool and casual, wearing a white shirt and blue denim, and Ali wore a beautiful pink gown.
And meanwhile, the groom did carry a pocketknife too—in general, who carries a pocket knife, something unusual to hear of.
During high school, Ali played softball, was a former lifeguard, and currently serves as a fashionista. They both are together to date, and there is no controversial news about the couple.
There is no news of their separation by far. And there's no information when it comes to his kids. But he is awfully close with his friend Tim Hudson's children.
Sadly again, we are not aware of their names. The pair usually stay on a farm in Granite Falls, but off the court, they reside in San Francisco.
Outside Appearances
Madison appeared on Jimmy Fallon's The Tonight Show, where Fallon interviewed him.
During the interview, it was heard that he gifted Jimmy Fallon the MadBurn's underpants. In episode 154 of season 1.
In an interview for The Athletic on February 23, 2020, he revealed that he has competed in rodeo events as a team roper under the alias Mason Saunders, merging a shortened version of his first name with his wife's maiden name.
During his MLB career, he was involved in rodeos, and he added he was frequently recognized at events. He also won over $26,000 in a Wickenburg, Arizona, competition about two weeks before he signed the Diamondbacks contract.
He said he might pursue roping more seriously after ending his MLB career.
Madison Bumgarner | Age, Height, & Body Measurement
He is 34 years old by 2023. Madison is 1.93 meters tall and weighs around 255 lb.
We are still unaware of his body measurements, as in his biceps, waist size, etc.
Madison often comes to the news for his different hairstyle. He sometimes keeps it long, moves back to a short haircut according to his mood and vibes, and also keeps a beard most of the time.
But no matter what, he is clean-shaven or long-bearded.
Madison Bumgarner | Net Worth And Salary
What can we expect about his lifestyle if a sportsperson has already remained a three-time world series champion?
Of course, Madison is a very demanding player with experience and talent without any denial.
Talking about his contract and salary details, Madison signed up for the Arizona Diamondbacks agreeing to a deal worth $85,000000.
Also, they offered him a negotiatory salary of $14,000,000. The base salary would be $19 million.
Madison Bumgarner reportedly makes a net worth of more than $25 million as of 2023.
He signed up an endorsement deal with Carhartt and Ford, and Jockey.
Not to mention, Madison also owns a 100-acre property in Caldwell County, N.C. And he also had a customized car, Ford Shelby GT350, that he put for auction last January.
Moreover, Madison and his wife Ali are doing good in their profession, which adds to their healthy and wealthy life.
Social Media Presence
Sadly, Madison is not that kind of a Socialite. He is not at all active on any social media. He keeps his personal life really private.
Even his wife, Ali Bumgarner, now, previously Saunders, has kept her Instagram profile private. She has 547 posts on her Instagram handles and 1012 followers at the time of writing.
Popularity Graph
Madison Bumgarner plays for Arizona Diamondbacks as a pitcher in the MLB.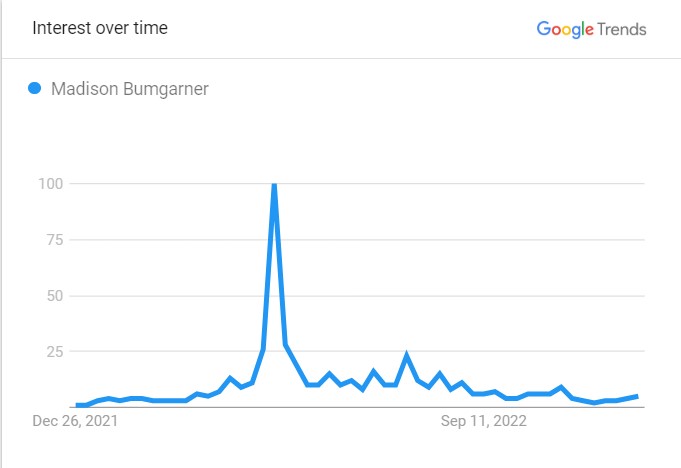 His search rate hiked as information regarding him, such as matches, throws, and net worth, were searched on the internet.
Frequently Asked Questions (FAQs)
What is Madison Bumgarner's velocity?
In 2019, the baseballer's velocity was 92.7 mph. However, in 2020, his velocity dropped significantly.
Does Madison Bumgarner have a child?
No, there is no information on Madison's kids. Though he married his long-term girlfriend Ali.
Where is Madison Bumgarner's ranch?
The Pitcher's ranch is near a small Hudson, North Carolina town.